10 Things You Didn't Know About Olive Garden
Though you're more likely to find it in a strip mall than a secluded Tuscan vineyard, Olive Garden has been serving Italian eats (and some very addictive breadsticks) all over America for three decades and change. At this point, you've probably acquired tons of facts on their Never Ending Pasta Bowl, but have you heard about their ties to Lucky the Leprechaun? We uncovered that whole story and more for your OG education, which, despite those initials, will not include any chapters on Ice-T. There are random acts of pasta and Andes mints, though, which are almost as cool (plus, Coco is an ingredient in chocolate).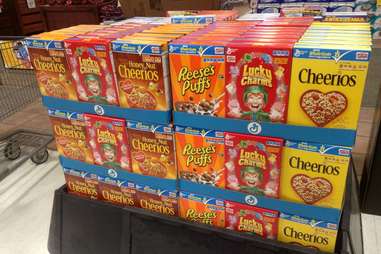 1. It was founded by a cereal giant
Olive Garden wasn't the brainchild of some scrappy, ambitious teenager or the president of the US Figure Skating Association. When it debuted, it was actually one of General Mills' many properties. See, the founder of Red Lobster, Bill Darden, had sold his fledgling enterprise to the cereal corporation in 1970 in the interest of keeping it alive. General Mills was pretty stoked about the growth they saw immediately with Red Lobster, and so they tested another restaurant concept, Olive Garden, in 1982 in Orlando. It also did great, and eventually Darden Restaurants Inc. spun off into their own operation in 1995, when General Mills decided to refocus attention on Count Chocula and co.
2. The Culinary Institute exists, but it's not really a school
Calm down, moon-landing truthers: Olive Garden didn't film any of those commercials featuring its Culinary Institute of Tuscany on a soundstage. The rustic estate really exists, except it's not exactly an institute of higher learning. As Time discovered, the place is actually a hotel which has a special agreement with Olive Garden. Small OG delegations will travel out there during the off-season, and they will spend time cooking in the restaurant kitchen, but Olive Garden doesn't own any part of the estate. Not even those perfectly hued bales of hay.
3. The breadsticks are scarring
While the Olive Garden breadsticks are 70% of the reason we go there, they come at a price. In a Reddit AMA, a former OG server and bartender claimed every single Olive Garden vet he knows has some sort of scar on their hands from handling the breadsticks' baking trays, warmers, or oven. We're not sure what's going on with the kitchen equipment back there, but we're down to donate oven mitts if it means a less painful flow of free refills.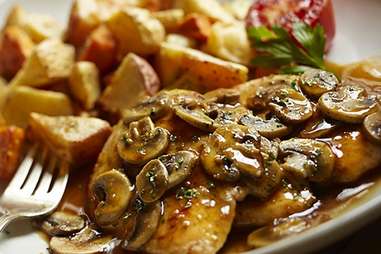 4. They've released a ton of official recipes
Of course they're keeping that breadstick recipe locked in a secret vault under the Fairview Valley Mall, but Olive Garden has released a bunch of their recipes right on their website. Several of them are for items no longer on the menu, but you can still find current stalwarts like chicken marsala. There's even a handy drop-down menu that adjusts the ingredients to your serving size, for those of us who never quite mastered the whole math thing.
5. NFL stars hang out in their parking lots
If you're after an RGIII autograph for your shoe, don't waste your time staking out the Redskins locker room. Apparently he's known to loiter in front of Olive Gardens, and will gladly sign stuff in between shrimp scampi burps. (You can spy the restaurant more clearly in the original Reddit post.)
6. You can buy their salad dressing
While Olive Garden has sold bottles of their Italian dressing in-store since the '90s, it was only in the last two years that they took this business mass-market. Sam's Club got a one-year exclusive in 2012, and after things went well in the trial run, Olive Garden expanded their scope. Now you can find the bottles at Sam's Club and Walmart, on Amazon -- or, if you like your dressing to come with a questionable expiration date, on eBay.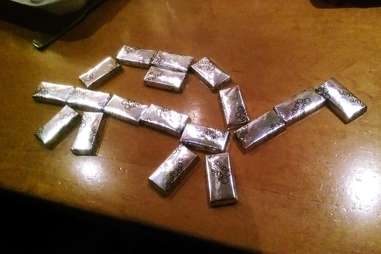 7. Those heaps of complimentary mints make beautiful art
When the Olive Garden check arrives with approximately 15 Andes mints, most of us eat one, and then stuff the rest in our pockets, where they will remain until a laundry day disaster. But some more creative guests have molded their mint mountains into elegant dinosaur, turtle, and scorpion art. You can also use the mints to craft a super-sad birthday cake for your friend that you hate.
8. Jimmy Fallon owns their slogan
Back in 2012, Olive Garden made the bold decision to ditch their long-running slogan, "When you're here, you're family." And while the nation collectively sorted through its feelings, Fallon (who was still doing Late Night at the time) pounced. His team reached out to ask Darden if he could have the tagline, and OG was so on board, its president Dave George went on Fallon's show to sign over the rights on-air. An Olive Garden-esque ad with Fallon and the Roots followed, which was hilarious, but also made us long to split some chicken alfredo with Questlove.
9. The Never Ending Pasta Pass inspired a black market, and random acts of pasta
Probably the buzziest story to come out of Olive Garden's Never Ending Pasta Pass stunt was that of patriot Alan Martin, who maximized his pass by eating at OG twice a day for six weeks. But while you were marveling at Martin's endurance, you might've missed the serious eBay black market that sprung up after the passes sold out (hopefully none of you bought the $399 one) or Matt Tribe's heartwarming "random acts of pasta." When Tribe acquired one of the coveted cards, he decided to treat friends, family, and even homeless strangers to free meals, racking up over 100 random acts of pasta. He even hit his mailman and UPS dude, so you know he's getting expedited shipping.
10. The "Olive Garden critic" got a legit journalism award
Remember Marilyn Hagerty, the food critic whose love for Olive Garden was more sincere than anything Hugh Grant ever said to Julia Roberts? She ended up nabbing the 2012 Al Neuharth Award for Excellence in the Media, an honor previously bestowed upon Katie Couric and Walter Cronkite. We assume the Pulitzer committee is already bracing itself for her inevitable review of TGI Fridays.
Kristin Hunt is a Food/Drink staff writer for Thrillist, and still wants to know why the chocolate lasagna disappeared... mainly because she loves Coco too. Follow her at @kristin_hunt.