Oreo Churros are coming, and they have cookie cream dip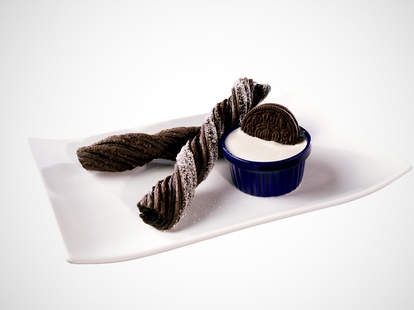 UPDATE: They've been spotted at Disneyland!
The Oreo has inspired many beautiful mutations over the years, though most of them have existed solely within the confines of cooking blogs. That's about to change thanks to a new partnership between the cookie's parent company Mondelēz International and J&J Snack Foods, which will bring Oreo Churros to arenas, convenience stores, and quick-service restaurants across the nation.
These chocolatey treats supposedly boast real cookie pieces in every bite. You can order them rolled in sugar, just like a regular churro, or, if you're feeling non-conformist, with ice cream or a special cookie cream dip. Just to give you even more options, J&J and Mondelēz are offering them in three forms -- traditional churro sticks, double-twisted churros, or bite-sized bits. Sadly, there isn't a timeline yet on when (or even where exactly) these snacks will roll out, but rest assured that the second we sniff one out, we'll send you its exact location.
Kristin Hunt is a Food/Drink staff writer for Thrillist, and plans to eat nothing but Oreo Churros at sporting arenas from this day forward. Sorry, Dippin' Dots. Follow her at @kristin_hunt.