Oreo
Oreo
We already know from careful scientific inquiry that Oreos pair excellently with bacon. But that revelation is nothing compared to the wonders milk's favorite cookie conjured when the Oreo people got together with such kitchen luminaries as Michael Voltaggio (ink.), Roy Choi (Kogi, POT), and Nguyen Tran (Starry Kitchen) to bring us some daring cookie hacks. Thrillist was lucky enough to see the hacks in action at a preview event with the California chefs. There's plenty more where these spins came from on the Oreo Snack Hacks YouTube channel, but for now, check out these glorious cookie mutations.
Oreo Shandy
The first of Voltaggio's "Fanatic Hacks", this Oreo shandy involves a simple syrup of sugar, water, and five dissolved Lemon Oreo cookies. Once your syrup is strained, you simply add in a light beer (Voltaggio used Corona), garnish with more Lemon Oreos, and enjoy your favorite day-drinking mainstay with the added awesomeness of cookies.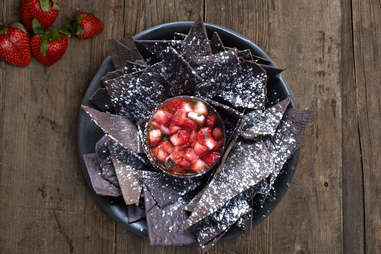 Oreo Tortilla Chips
Part deux of Voltaggio's hacks is this incredible take on gameday chips and salsa. The Oreo tortilla chips -- made by whipping up a dough of crushed Oreos, and then baking the paper-thin pieces -- are a stunning achievement, but what really makes this snack is the sweet dipping salsa of macerated strawberries.
Oreo Bread Pudding
After giving serious thought to an Oreo Fruit Roll-Up, Tran landed instead on this easy, tasty "Impulse Hack". All you gotta do is dissolve five Oreos in a glass of cherry soda for a minute, add the fizzy cookies to a bowl with peanuts and torn-up pound cake, and mix until you have an actual bread pudding. And also a cherry soda that looks like Cookie Monster backwashed in it.
Oreo Fried Chicken Tenders
Based on our informal polling of the cookie-loving crowd, Choi's oreo fried chicken tenders were the favorite of the bunch, and we can't argue -- his "Midnight Hack" kicked the crap out of our usual 12:45am pizza rolls. By adding crushed-up Golden Oreos to his more traditional panko, parsley, salt, and pepper seasoning, Choi introduced a very slight sweetness to the tenders. And the spicy banana ketchup he included for dipping? Let's just say Nicolas Cage would've stolen that bottle faster than the Declaration of Independence.
There was also Oreo-sprinkled popcorn to munch on while Voltaggio, Tran, and Choi went through their processes... and you can make that, plus Oreo lattes, by peeping the Snack Hack video tutorials. Sriracha better be quaking in fear, because pretty soon, we'll be adding Oreos to everything.
Kristin Hunt is a food/drink staff writer for Thrillist. She got a pretty severe sugar headache after eating and drinking so many Oreos, but regrets nothing. Follow her at @kristin_hunt.