Oscar Mayer Recalls 2 Million Pounds of Turkey Bacon
Here's another reason to just stick with real bacon... and not just because it tastes better.
The Kraft Heinz Foods Company said a whopping 2,068,467lbs of its Oscar Mayer "Selects Uncured Turkey Bacon" could be "adulterated" and could spoil ahead of the expiration date printed on the packaging, according to a press release from the US Department of Agriculture. The turkey bacon was produced between May 31st and August 6th, and has resulted in "reports of illness related to the consumption" of the faulty products.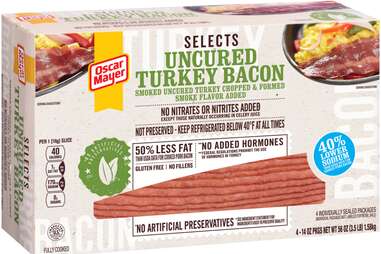 In other words, self-hating health freaks should check their fridge for the funky "bacon." For specifics on the products affected by the recall, check out the USDA's list.
Oscar Mayer apologized in a post on Facebook:
On the bright side, fewer people will be eating turkey bacon. Somewhere, Ron Swanson's mustache is smiling.
Tony Merevick is Cities News Editor at Thrillist and is disappointed every time he eats turkey bacon, but at least he hasn't gotten sick from it. Send news tips to news@thrillist.com and follow him on Twitter @tonymerevick.