When you're the founder of Oskar Blues Brewery (the makers of Dale's Pale Ale and Ten Fidy) and you get your bike stolen, you start a company that makes custom bikes. And a few years later, you open up a beer-obsessed taqueria and put that custom bike company inside of it, because you can do anything you damn well please. Opening on NYE is Cyclhops Bike Cantina, a Longmont, CO-based hybrid bike shop with a focus on Mexican street eats, tequila, and, of course, some of the best beer in the country.
Walk in, and immediately be confronted by beautiful custom-made bikes made by the guys at Reeb Bicycles, available in its own dedicated space in the restaurant. Commuter cycles run around $2500, or if you have a much less awesome bike, you can have a beer while they tune it up.
The bike theme extends to the restaurant, including this tequila room outfitted with a sweet gear light. To see a sweet Gere light up a room, you still have to rent Nights in Rodanthe.
20 beers are on tap, including 10 of their own, and 10 other rotating "hopcentric" taps, as hoppy brews pair nicely with spicy Mexican cuisine.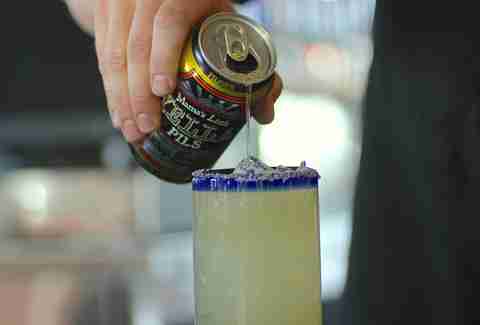 43 tequilas dominate the drink menu, with plenty of craft options like Cabo Uno. We recommend the Mamarita, a margarita with Suerte Blanco, orange liqueur, agave, fresh lime juice, and Mama's Little Yella Pils floated on top. Just like no one's Mama used to make.
Those chicken chicharrones and freshly-made guacamole look as good as they taste. Despite Colorado being land-locked, they also have crab + mango guac.
Continuing the trend of awesome food you wouldn't expect to find in the same space as a bike shop, these Ensenada Pescada tacos feature crispy catfish, shredded cabbage, and avocado salsa.
Those craving more tacos are in luck, with options to choose from like the chicken tinga with arbol chili salsa/ avocado suave, and the "Lil' Piggie" Pibil using pork raised on their own local farm, topped by orange Habanero salsa.
Lee Breslouer writes about food and drink for Thrillist, and ate at Taco Bell once a week in high school, as that was the best Mexican food in his hometown. Follow him on Twitter at @LeeBreslouer.