The world's first ostrich egg breakfast sandwich
We've all had one -- a bacon, egg, and cheese sandwich is one of the best breakfasts out there (besides, maybe, arepas). And sure, they're pretty damn good with tiny ol' chicken eggs. But let's face it: in this global stage, there are so many ways out there to take breakfast sandwiches to the next level, and it's frankly surprising that they haven't been done before. With that in mind, we teamed up with New York chef Chris Miller of Miller's Near & Far to make what is unequivocally THE MOST GOLIATH bacon, egg, and cheese in the history of mankind -- using one whole ostrich egg. Was it absolutely necessary? No. Was it effin' amazing? You bet your flightless ass it was.
And here's how it was done:
First, we had to crack open these bad boys, which were imported from an ostrich farm out West. Yes, they arrived wrapped in diapers.
... two custom-made, 18in rounds of focaccia bread, which were essentially the size of large pizzas and would serve as the BEC's buns. The cheddar and bread (both rounds) were put under a broiler to melt the shreds into a thick layer of cheesy goodness.
Since it's more than 20 times the size of a chicken egg, an ostrich egg needs a bit more time on the heat to get to the right eating consistency -- the perfect opportunity to catch up on some Dude, Where's My Car? references about ostriches.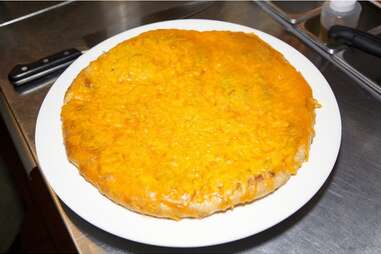 Once the buns came out of the broiler -- looking kinda like unsauced Domino's pies -- the bacon layer was constructed out of the eight full-length bacon rashers. We let the ends of the bacon stick out of the sandwich because, well, you've gotta know what you're getting yourself into.
Finally, our ostrich egg was done cooking -- and a beautiful sunny-side-up! Transferring it from the pan to the sandwich was a big task, since you really couldn't slide it off as you would a chicken egg. Chris had to get his spatula underneath the entire thing to try and make sure the yolk didn't break.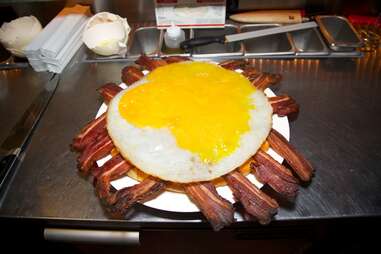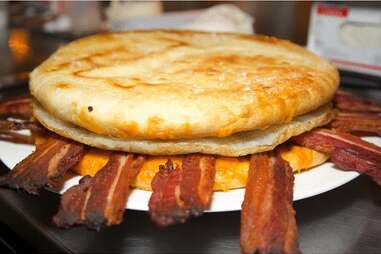 Then came the time we had been waiting for: slicing and serving. The plate for the SINGLE sandwich was basically a family-style serving platter, and the quarters we cut it into were easily the size of some dude's head. It was awesome.
Here's a standard bacon, egg, and cheese quarter for comparison/feelings of total inadequacy.
This is what it looks like when four exceedingly hungry guys eat the world's first bacon, ostrich egg, and cheese sandwich (which Chris estimates to be around 10,000 calories total). We each promptly had a heart attack after this photo was taken. Please send bacon flowers.
Adam Lapetina is a food/drink staff writer at Thrillist, and thought that was a llama egg at first. Read his musings on Twitter at @adamlapetina.