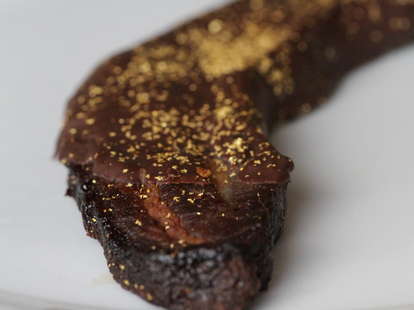 Gold has captured the hearts and minds of humanity for centuries. Civilizations have emerged because of it. Throngs of people have relocated just to get a glimpse of it. It is an elusive treasure, the thirst for which has driven men mad.And now you can get it on top of a chocolate-covered slice of bacon, for $40 a pop.No, you're not having a gold-induced hallucination (again), prospector. This is the real deal: the Baconery, based in New York City but previously online-only, now offers a chocolate-slathered rasher of bacon that's been dusted with 23-karat gold flakes for the most luxurious bacon-ingesting experience in the entire United States. Seriously, this is, like, the Scrooge McDuck of bacon confections. Wesley Klein, the store's owner and operator, came up with the idea for Father's Day, and at a time when so many of us are trying to impress Dad with a newfangled gizmo, isn't the simplicity of bacon (...with a bunch of gold on it) an alluring alternative? I had to find out for myself, so I decided to stage my own gold rush to CaliforniaAustraliaSouth Africa the Upper West Side. What I discovered was nothing short of glorious.
Here it is. The bacon in its natural habitat, fresh out of the freezer -- yes, these bad boys are cool(ed). When asked what the next step in bacon-volution could be, Wesley said maybe platinum- or jewel-encrusted bacon, provided they can get those materials to be edible. Certainly beats eating Mom's cubic zirconia. Oh, did Dad not tell you? Yeah, those aren't diamonds.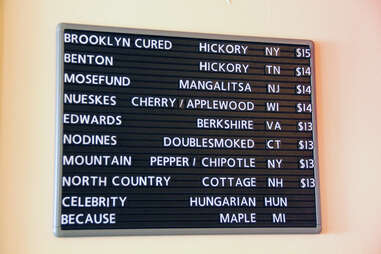 At the Baconery, the menu displays where the bacon is sourced from, much like you'd find at a craft beer bar.
They take bacon pretty seriously here. The only thing the place is missing is an actual altar to it. Hopefully this is forthcoming.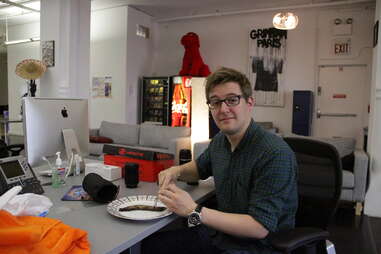 I brought the precious cargo back to our office in Soho (on ice, because it was as hot as Smaug's belly that day) and prepared to chow down. Here, I survey the bounty, which was placed on the finest china we had available, because bacon royalty deserves a bacon throne. Also, I used a fork and knife, because I am attempting to become an adult.
Portrait of the bacon as a young man. No, wait, that's not right... Whatever. Here's the bacon, gold flakes, chocolate coating and all.
Going in to cut off the first bite, I noticed just how thick-cut this bacon is. It's made with a particularly hefty Nueske's apple/cherrywood-smoked slice that's got a distinct fruity smokiness which wafts off of it and stuns any potential predator.
BAM. Into the ol' bacon-hole. Right off the bat, the texture was astounding; it had a very meaty tenderness that was laced with melt-in-your-mouth fat, making the whole package kinda like a porcine Mallomar (call me, Nabisco). The chocolate is semi-sweet and somewhat nutty, and definitely provides a candy bar-esque eating experience.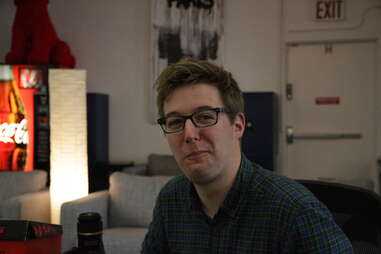 This is the face of a happy customer... so much so, that I went in for several more bites, which each took a good amount of time to carve off due to the frozen-ganache surface. My effort was duly rewarded by the bacon gods. The gold leaf flakes on top were thin enough that they melted into the chocolate, leaving nothing but a distinct hint of obscene wealth as they fell down the gullet. It was at this point that I began to feel all the more rich for undergoing this experience.
"Thar's gold in them thar chunks of bacon!"

Next time I'm up on the UWS, I'll bring a sieve for added gold retention, but for now, leaving this encounter with $40 in my stomach imparted upon me an improved sense of self-worth, and a healthy dose of awe for our crazy world.

You can order some bacon for Father's Day here.