Why Oysters Are Ridiculously Important to the History of New York City
<a href="https://www.flickr.com/photos/virginiaseagrant/6755685221" rel="nofollow" target="_blank">Margaret Pizer/VASG/Flickr</a>
<a href="https://www.flickr.com/photos/virginiaseagrant/6755685221" rel="nofollow" target="_blank">Margaret Pizer/VASG/Flickr</a>
For bivalve lovers in the 1700 and 1800s, New York was their oyster... literally (figuratively). In fact, oysters were so crucial to the city's history, author Mark Kurlansky wrote an entire book about their impact: The Big Oyster. We shucked through all 280 pages and did even more research to find these pearls of wisdom on how clutch this hero in a half shell has been for us. Why? Because we're throwing a ridiculous oyster bash featuring a horde of farmers, chefs, and enough slurp-worthy dishes to KO the most gluttonous mollusk fan. And what better way to get psyched for a sweet party and the future of oysters than a nod to their epic and historic past?
New York used to be lousy with oysters
When Henry Hudson arrived in what is now New York City in 1609, there were approximately 350 square miles of oyster reefs in the harbor and its surrounding waters. These waters contained nearly half of the world's oyster population -- some of which are said to have been, gulp, almost one foot long.

They've always been cheap
There are few things present-day New Yorkers love more than dollar oysters (see this list of 64 oyster deals). And oysters have always been cheap. The oyster cellars on Canal Street originated "the Canal Street plan" (real inspired, guys), an all-you-can-eat offer for just six cents. Of course, if someone slurped down several dozen in one sitting, management would slip in a less-than-ideal oyster to thwart the eater for the next few days... or worse (not a lot of antibiotics back then).

The city was basically built from oyster shells
As the city expanded, many of the buildings (including Trinity Church) depended on the burning of oyster shells for lime. It was so common, private homes in the city built their cellars with one side open for burning shells whenever household repairs became necessary. But it turns out, the smoke was so thick and acrid, New Yorkers started to freak out and wonder if it was healthy for their precious air. So, on June 19, 1703, the New York provincial government passed an act that prohibited the burning of oyster shells within the city limits. Probably a good call.
Oyster carts were the original hot dog carts
Before there were hot dog carts on the corners, there were oyster carts on the streets. Oysters were also sold off boats tied up along the canals. You basically couldn't throw an oyster shell without hitting another oyster vendor.

Oyster cellars were totally a thing
These taverns, cellars, houses -- whatever you want to call them -- were everywhere in the 19th century. But to ensure you couldn't miss them, cellar owners started marking cellars with balloons made of bright red muslin stretched over wire and lit by candle. Some oyster cellars were super respectable places to hang out (think: wealthy businessmen) and some were more dive-y (read: not filled with businessmen). One even doubled as a post office for the Bowery village.

...But not really for women
Back in the 1880s, women were not to be unaccompanied in restaurants. But oyster houses had became so popular, someone decided to open one just for gals. It was uncreatively called the Ladies Oyster Shop and opened just off Union Square. A Ladies' Bowling Alley also opened around the same time. Two huzzahs for the ladies!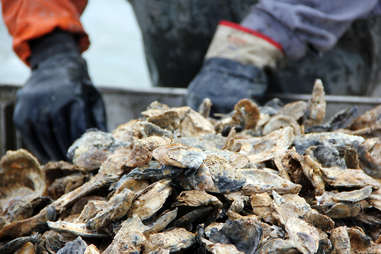 Pearl Street would be nothing without oysters
You know that little street in Fidi? Some people say it got its name because it was covered with oyster shells crushed by the Dutch in the 1700s. But Kurlansky says it was named after a nearby midden (a pile containing a thousand discarded oyster shells). Either way, the word pearl was also synonymous with wealth, which is why basically every Dutch town had a Pearl Street.

Bluepoints were basically just a marketing ploy
Joseph Avery is credited with being the first to plant seed oysters off of Blue Point, his childhood home. (He is also said to have patrolled his oyster bed with a loaded musket for two years while he waited for the bivalves to grow.) Bluepoints became such a successful brand name in NYC, that soon any large oyster from the Great South Bay were called Bluepoints.

That rule about months without the letter R was never taken all that seriously
In 1599, William Butler called it "unseasonable and unwholesome" to eat oysters during months without the letter R. His claim, based on an old myth, wasn't uncalled for: New York oysters begin spawning when the water warms up (May) and the time off would give them time to grow. As a conservation measure, the rule became a law in 1715, banning the collection from oyster beds. The law was suspended in 1807. Almost 50 years later, Mayor Henry Wood tried to reinstate the restriction in response the 1854's cholera panic. But by 1855, New Yorkers were over the scare -- and so obsessed with oyster consumption -- they jokingly turned August into Orgust (these guys with the names).

Like all good things in New York, the locals ruined the oyster beds
By 1910, oyster bed populations were declining rapidly due to increased overfishing and water pollution (600 million gallons of untreated sewage were being dumped into New York City water every day). Even still, it took the government until 1927 to officially shut down the last of the city's oyster fisheries.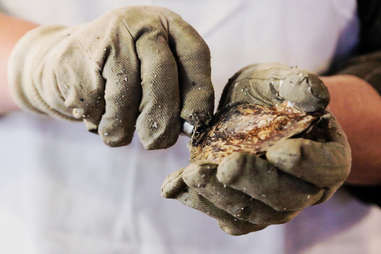 Oysters can save today's sludge-y Hudson River
A single oyster can filter about 30 to 50 gallons of water every day. And, in case you haven't noticed, New York's waterways aren't exactly the cleanest. The folks behind the Billion Oyster Project are trying to change that by recycling shells from partnering restaurants and getting them back in the water to build oyster reefs. The goal: To add a billion oysters to the water by 2035. So far, they've restored 1.05 acres of reefs and count 11.5 million newly grown oysters.

You're about to be able to drink in a 19th century oyster barge
Almost 100 years ago, an 1850s-era oyster barge that once floated in the East River of Manhattan was moved to the Fair Haven Marina in Connecticut. There, it had several lives (as a speakeasy, a restaurant, and a dive bar) before closing for good in 1987. It sat empty and dilapidated until recently, when Alex and Miles Pincus bought it for a dollar. The hope is to eventually bring it to Red Hook as a restaurant, a museum, or both.