Kanafa cup

| Photo courtesy of Kanafa Cups
Kanafa cup

| Photo courtesy of Kanafa Cups
We all explored different hobbies during quarantine—whether it was doing yoga, crocheting, playing Animal Crossing, or baking. Shadin Hamdan, founder of Kanafa Cups, went for the latter, spending hours in the kitchen making the Middle Eastern dessert knafeh.
You may have seen it before, spelled in a multitude of ways—knafeh, kunafeh, and kanafa are just a few. The beloved Palestinian dessert is made up of dyed shredded phyllo dough, filled with cheese and topped with chopped pistachios and qattar, a rosewater-infused simple syrup. Traditionally, the dessert is the size of a standard cake and served in slices. Hamdan decided to put her own unique spin on it, baking the dessert into personal sizes, and thus Kanafa Cups was born.
"I wanted to make a dessert for Ramadan. I thought, 'Why don't I try to make a traditional dessert with a modern twist?'" says Hamdan, who runs the business herself while also pursuing a masters in education. "It didn't go right the first couple of times, but my family loved it."
What started as giving out knafeh on paper plates to friends for Eid-al-Fitr during quarantine became a small business with thousands of followers overnight. "In two days [of making the Instagram account], I started ordering supplies because people were already placing orders," Hamdan remembers. "I was not prepared!"
Three weeks in, Hamdan did a pop-up event at her father's Bay Ridge bagel cafe after hours. She wanted an opportunity to serve her cups hot and watch people enjoy them while also giving back to the community, donating her profits to multiple charities. She ended up serving 600 cups that night.
"When we break fast, it is so hard to find something that's open to satisfy our craving for something sweet," she says. "I wanted to give something for people to go to and enjoy during Ramadan, something to remember."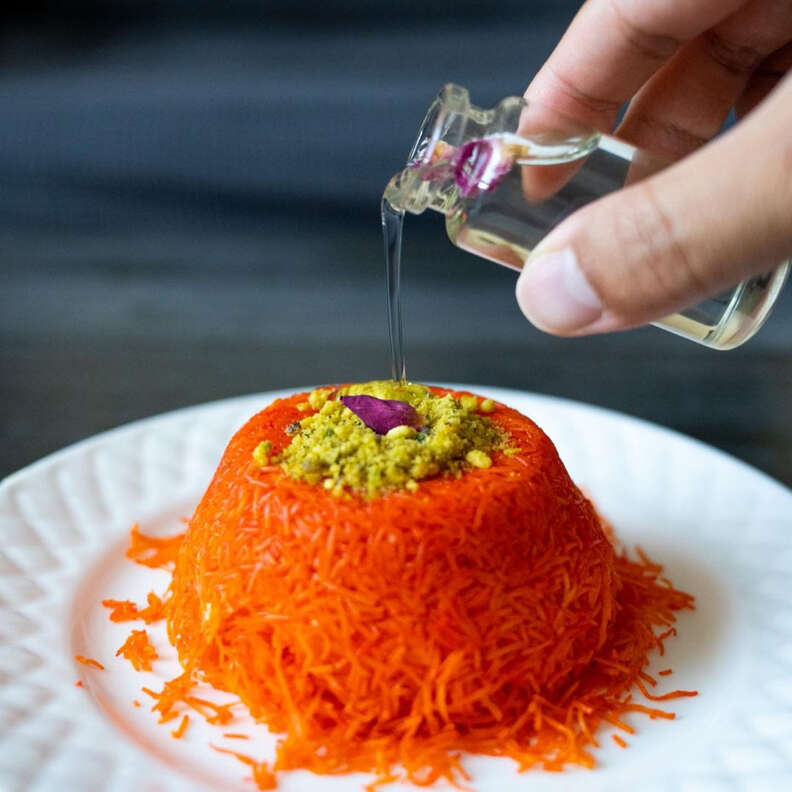 Hamdan sells the cups in boxes of four, six, and nine, as well as in traditional cake sizes. The cups are outlined with crushed pistachios and neatly packed into boxes along with small bottles of the rosewater syrup. They can be made into many different shapes, in the form of hearts, Christmas trees, footballs, and more (for this coming Ramadan, Hamdan wants to experiment with a crescent moon shape). She sells them half baked—they are meant to be finished in the oven so customers can eat them hot and experience the warm cheesy goodness at home with their loved ones.
While Hamdan makes every cup herself, the process is a family affair. Taught to bake knafeh by her grandmother and born into a close-knit family of grocers and entrepreneurs, Hamdan has her family taste-test new fillings and shapes and physically helps her transport boxes.
"My father owns supermarkets, so it starts with him bringing home the ingredients," she says. "My sister helps with the social media as well as the baking, and my brothers pick up the orders to take them to pickup locations in Brooklyn and Queens."
Hamdan's dream is to open up Kanafa Cups cafes all around the United States while bringing awareness to the injustices occurring in Palestine. Regardless of how much her business grows, however, she prioritizes community and her relationships with her customers.
"I am sharing a piece of my culture, and I am so proud of it," she says. "I wouldn't want to be making cupcakes—I'm making something that's a part of my roots."