All the Entrees and Appetizers from Panda Express, Ranked
Where does the famous orange chicken stand?
Design by Chineme Elobuike for Thrillist
Panda Express is an ever-evolving celebration of American Chinese food. From the iconic woks of Orange Chicken to the Sichuan-inspired Kung Pao Chicken to classic Broccoli and Beef, there's something for everyone. Even seafood is available in the form of fried shrimp tossed with candied walnuts.
But among the 12 different entrees and three appetizers, there are clear winners and losers. Here are all 15 of those items, ranked, so the next time you visit the fast casual chain, you'll know exactly what to order.
A note on selection: Each Panda Express location has a different menu, so this ranking is based on the selection available at a Pasadena, California location. This ranking is missing Black Pepper Chicken and Sweetfire Chicken Breast, and in its place are the regionally available Eggplant Tofu and Black Pepper Angus Steak.
15. Cream Cheese Rangoon
There's something mildly off-putting about snacking on warm cream cheese globs, lest it be stuffed in a jalapeño. In theory, a fried basket of scallion cream cheese should rock, but actually eating these from Panda Express felt off-putting instead. Maybe it's the lack of fresh scallions, or the desire to have bits of crab meat or really any other flavor aside from sour cream cheese. Either way, I'd rather save my cream cheese for bagels.
14. Veggie Spring Roll
The veggie spring rolls are so soggy that the experience of consuming them is akin to eating warm, bland coleslaw wrapped in a wet paper towel. Had they been fried longer and had a shattering shell, perhaps the textural difference would save them. Alas, there are much better ways to get your veggie fix at Panda Express, so skip this appetizer.

13. Beijing Beef
Of all the incredible entrees served at Panda Express, I'm always amazed at people who order Beijing Beef (which, admittedly, I've witnessed maybe once). For starters, it's so, so sweet—cloying and sticky. Although the beef bits are fried, the entire thing is overly sauced and therefore super wet. The redeeming qualities is that the onions and bell peppers maintain some bite, and the onions are surprisingly acidic—almost pickled—to provide some relief to the sugar content. Despite that, this is my least favorite entree of all the entrees.
12. Mushroom Chicken
Mushroom chicken is like a worse version of the String Bean Chicken or Kung Pao Chicken and here's why. Instead of cutting the zucchini into chunks like the Kung Pao Chicken, zucchini is sliced into thin disks and therefore set up to be floppy and soggy. The mushrooms are meaty but compete with the chicken for superiority. Like the aforementioned entree, mushroom chicken is also drowned in sauce and loses any semblance of texture.
11. Black Pepper Angus Steak
This entree sounds like it'd be set up for success: steak cubes, a savory black pepper sauce flecked with garlic, streaks of baby broccoli. It's even a wok-smart item! But the steak here is disappointing. Chewing on each bit of steak is like biting into wet cardboard—it's stringy and falls apart, giving too easily. Beef should have some chew to it, so although the vegetables and the sauce here are delicious, the namesake protein is a letdown.
10. Honey Sesame Chicken Breast
I don't know if my location had an off day when it came to this particular dish, but the chicken breast was very dry. The other chicken entrees were completely fine, but this one in particular felt like it was fried up several minutes too long. The bell pepper also overpowers any other flavors aside from honey, so it's really sweet. I appreciate the earthy aroma from the sesame, but I think it needs a different veggie to balance it out.
9. Broccoli Beef
Broccoli Beef is a classic. The ginger-tinged soy sauce is the right amount of salty and the broccoli was cooked just right. My only gripe with this dish is the same gripe I have with the angus steak entree: The beef just has a strange grittiness to it. Will I still devour the entire carton? Probably.
8. Honey Walnut Shrimp
I am a sucker for Honey Walnut Shrimp. The creamy sauce, the balance of sweet with nutty walnuts, the crispy tempura batter encasing succulent shrimp. For a fast-casual version, it's good! But so many other mom-and-pop spots do this so much better that although I can appreciate its excellence, I know it pales in comparison. On a trip to Panda Express, I'd rather opt for one of their more famed creations.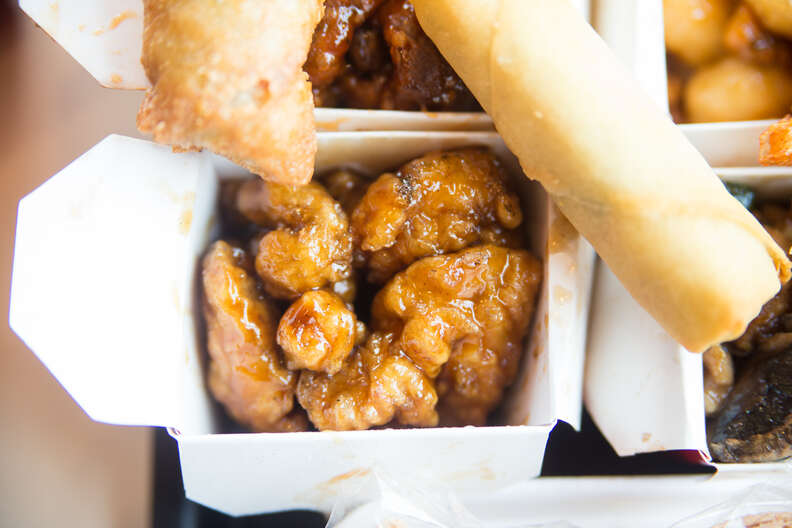 7. Chicken Egg Roll
This is the best appetizer at Panda Express and it's kind of a bummer that an order of this only gets you one egg roll. The exterior is ultra crunchy, while the interior is stuffed with cabbage, carrots, chicken, and translucent strands of glass noodles. It's the perfect beginning for your Panda meal; no complaints here.
6. Eggplant Tofu
Eggplant Tofu is a regional dish, but should really be served nationwide. It's the perfect vegetarian option at Panda. The braised eggplant is soft, and just when you think things will be too mushy, a crispy cube of tofu arrives for you to gnash your teeth on. The sauce is both sweet and spicy, and squares of bell pepper maintain their crunch. It's seriously good.
5. String Bean Chicken Breast
String Bean Chicken has never led me astray. It's perfectly sauced and the flavor of ginger lingers, the slivers of onion are sweet, each string bean in my takeout container was crunchy, and the chicken tender. This was my go-to in high school and remains a top five item. Plus it's wok-smart!
4. Kung Pao Chicken
Of all the options at Panda Express, Kung Pao Chicken is maybe the most interesting. There's peanuts, roasted whole chilies that add smokiness, zucchini chunks (not discs), and bright bell peppers. Panda Express says it's Sichuan-inspired, which makes sense because it's likely the spiciest option available (though it's really not too spicy at all). Other Panda entrees can feel one note, but Kung Pao Chicken is anything but.
3. Grilled Teriyaki Chicken
The Grilled Teriyaki Chicken at Panda Express is severely underrated. It's chopped right in front of you and every time I've ordered it, it's been perfectly cooked—juicy, subtly sweet, tender. The folks who came up with it are geniuses for using chicken thigh over breast, which ensures the chicken doesn't dry out. If you haven't tried it yet, you're seriously missing out.
2. The Original Orange Chicken
What can I say about Orange Chicken that you don't already know? It's zesty, it's sweet, it's somehow both crunchy and perfectly glazed at the same time. The orange flavor is almost floral and works in tandem with the mild heat from chilies. It's a classic for a reason, and would be in the top spot if it weren't for a new contender.
1. Crispy Almond Chicken Breast
This is the newest addition to the Panda Express menu and perhaps the very best. It's reminiscent of Panda Express's star item, Orange Chicken, but with added crunch and nuttiness. You know how sometimes, when chicken steams in its takeout container, the batter turns mushy and falls apart? There is no such thing with the Crispy Almond Chicken. And where Orange Chicken can be too acidic thanks to the titular addition of orange juice, the crispy almond chicken has a rounder flavor—a balance of sweet, savory, and mild heat. It's the best innovation Panda has had in a long time and I hope it remains on the menu indefinitely.
Kat Thompson is a senior staff writer of food & drink at Thrillist. Follow her on Twitter @katthompsonn.