Cole Saladino/Thrillist
Cole Saladino/Thrillist
Panda Express Does One Thing Very Well, and It's Not Orange Chicken
The best item isn't actually a Chinese dish.
Editor's Note: Welcome to Too Fast Too Casual, a new review series where our National Writer-at-Large Kevin Alexander takes a close look at both classic and up-and-coming fast-casual chains. The rising fast-casual trend is defining how Americans eat today, and in this series we'll look at the food, history, decor, and branding of fast-casual chains to see what these restaurants are really trying to do, and where this is all going. Read Kevin's previous reviews of Jersey Mike's, Panera Bread, Lemonade, Blaze Pizza, and Chipotle and check back in every other week for a fresh takes on more chains.
One night in June, I took my mother to a Panda Express in a mall. Under the neon light of a Panda Express video on the wall above us extolling the virtues of joining the Panda Express team, we tried 18 different Panda Express menu items.
I told my mom what was happening -- that I needed to taste through the menu and wanted her opinions, so she was not fazed when I ordered three "big" plates featuring three entrees each, plus all the sides, plus all the various appetizers, plus the chocolate chunk cookies sitting in front of the cash register. Perhaps more shockingly, neither were the Panda Express workers.
Once comfortably seated in a booth (Mom: "I chose one away from everyone else so we could talk honestly about the food."), I opened the clamshell containers one by one revealing a steaming-hot, sumptuous Panda Express repast and looked across the table to my mom.
"We'll start with the appetizers," I said.
She nodded, her fork raised. Perhaps involuntarily, the adductor pollicis muscle in her hand twitched.

"Let's begin."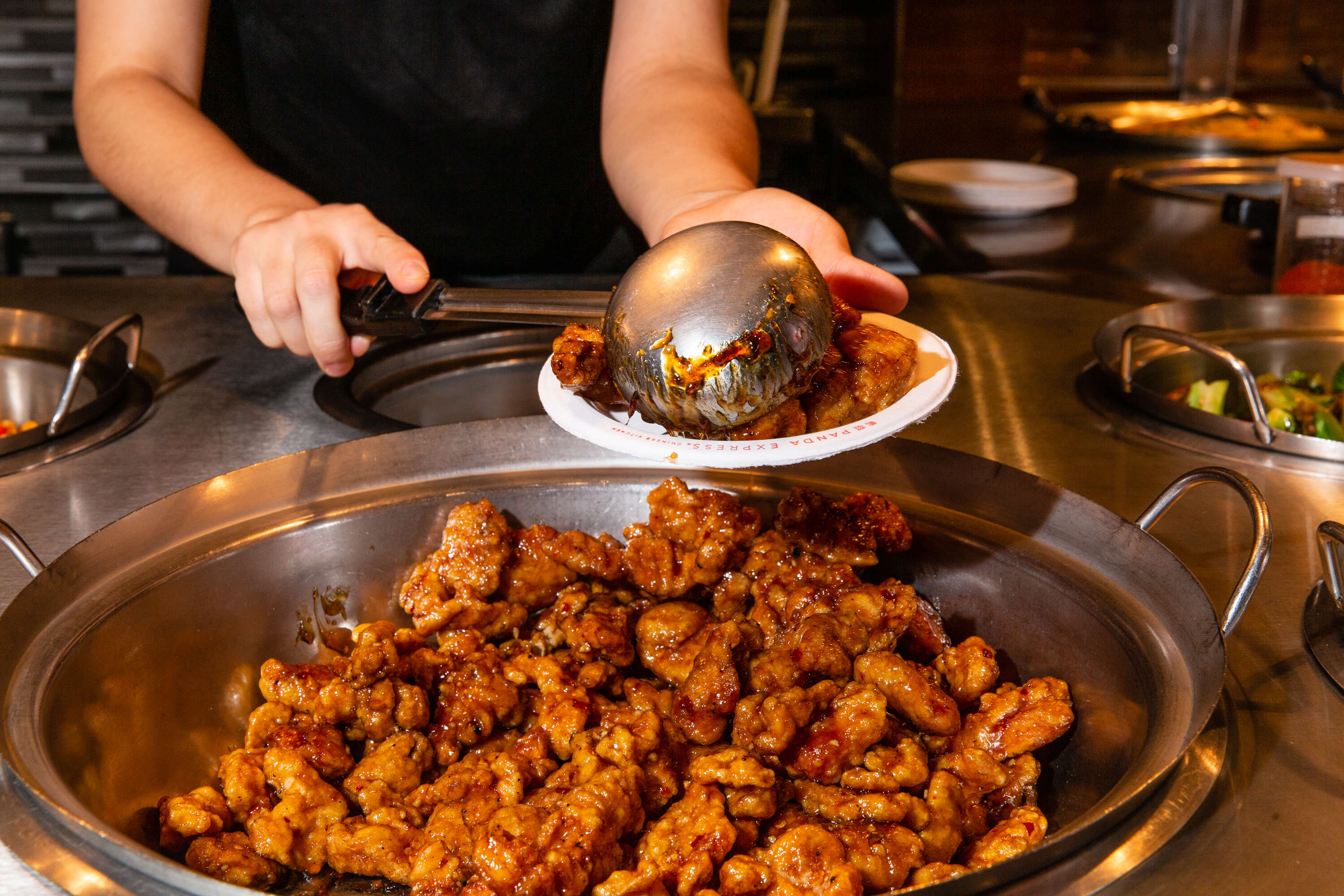 Where did Panda Express come from?
In the mid-1960s, Andrew Cherng left China to study mathematics at Baker University in Kansas. While there, he met another Chinese expat, Peggy Tsiang, and they fell in love while acquiring various fancy degrees (Mrs. Cherng has a PhD in Electrical Engineering and a Masters in Computer Science; Mr. Cherng a masters in applied mathematics). Despite said fancy degrees, restaurants were in the Cherng bloodline -- his father Ming-Tsai was a chef -- and so in 1973, the Cherng's opened The Panda Inn, a sit down Chinese restaurant in Pasadena, California.
Ten years later, the Glendale Galleria mall real-estate developer had an idea to open a quick-serve version of their restaurant. The Cherngs said yes, and Peggy left her job in software development to work for the family business and develop their operating system. Four years later, Chef Andy Kao created the original recipe for their signature Orange Chicken. From there, the company began a steady stream of expansion (without franchising or going public), opening its 100th restaurant in 1993, and its 1000th by 2007. Currently, they have over 2,000 restaurants in nine countries, do over $3 billion in sales, and sell 90 million pounds of Chef Kao's Orange Chicken annually.
Competitor context
Panda Express's main competitor Pei Wei (originally developed by PF Changs restaurant group in 2000, though in 2019 the two separated) has around 200 locations in the US, Dubai, and Kuwait. No one else is even close.
What is Panda Express trying to do now?
Panda Express is currently in a great position, but heavy is the head that wears the crown. What Panda must do is figure out how to maintain their dominant lead in the category without suddenly seeming like the uncool Goliath vulnerable to nimble David-sized restaurants slinging stones at it. So basically, they need to be a giant, nimble fusion of the best parts of David and Goliath. That's the lesson in the Bible too, right?
But how are they marketing themselves?
An anonymous creative director at a fancy ad agency tells us how Panda Express is marketing itself to us:
"Panda Express! This one holds a special place in my heart from when we were (very) young professionals, and health/digestion was not a concern when making lunch choices. Which is why it came as a great surprise to see these ads focused on the quality of the food! But such is the way of the world. McDonald's is using fresh beef now, so maybe that was the tipping point for Panda Express to shift focus.
"As for the execution, I find it quite charming (if not mildly offensive?). A Chinese translation of Johnny Cash, artful, creative food shots with matching focal points (my favorite was the pepper slicing!), and the "Wok On" tag at the end. There are obvious creative limits to a food shoot, but I give the agency credit: This is better than average."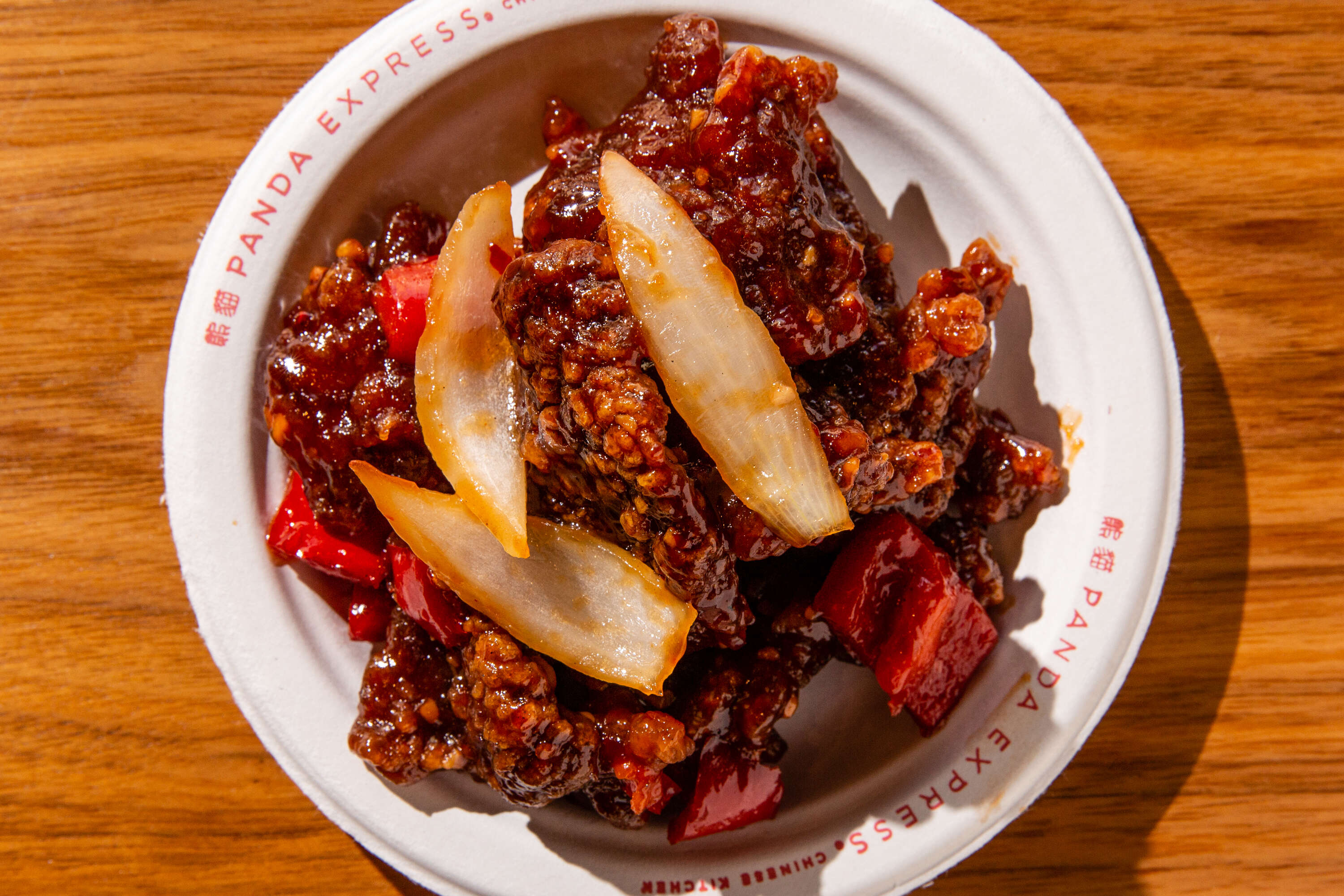 Panda Express Menu Review
How I did it:
Over the course of two weeks, I ate at two Northern California Panda Express restaurants a total of three times, though only once with my mom. I tried every entree and side and rice and dessert, and even ate those Panda Express-branded chocolate chunk cookies.
Special note:
By the time this story comes out, Panda Express will have released its new limited-time-only "Sichuan Hot Chicken," which -- according to the press release -- is basically breaded chicken strips that use a Sichuan peppercorn spice "in the form of one of America's favorite dishes, Nashville hot chicken." I am so curious to find out what that actually means, but unfortunately I will not have had the chance to try those beforehand, so you'll just have to let me know.
Food That Is Better Than the Orange Chicken:
The item that stands out above all at Panda Express is actually from Japan. The teriyaki chicken thighs sit in a silver warming tray like the other food, but behind it, there is a cutting board and a cleaver, and the chicken is actually chopped right there. Then sauce is added before it hits your plate. That little tweak in the preparation keeps the chicken moist, and the fact that it isn't sitting, drowning in teriyaki sauce the entire time, makes it actually quite excellent. My mom's take: "Ooohh, I want to learn how to make this at home."
The Beijing Beef was also very good, with a crispy texture, sweet and sour flavors, and acid from the onions to keep balance. So was the Kung Pao Chicken, which had some serious spice and a solid combination of peanuts and not-overcooked vegetables. My mom's take: "Kevin, you know I'm not eating the spicy stuff. You should've told me that was spicy. Don't laugh, that wasn't nice. I'm getting more tea."
Finally, from the appetizer menu, the chicken egg roll was satisfying and its crispy wonton wrapper was shockingly not incredibly greasy. Eating it made me feel nostalgic for my middle school days when my friends and I would all get the $8 lunch special plate at the pretty bad Chinese place in my suburban Boston town's center, then bring the egg rolls that came with said plate to eat on the walk to Sam Goody to peruse Stone Temple Pilots cassette tapes. Also, I am old.
A special note on the Orange Chicken:
If I had to rank the Orange Chicken, I would put it fourth out of the Panda Express entrees (my friend and former Thrillist LA colleague Jeff Miller put Orange Chicken second in a 2017 Panda Express ranking. If you'd like to read more of said ranking, which I respectfully believe is incorrect, you can do so here!). To me, it was overly sweet and the breading on the chicken was soggy, but even so, I do like that sweet/savory tinge of orange flavor, plus it's fried and breaded, and who doesn't like fried, breaded things even with faults?
Something else that stuck out -- though most other entrees have vegetables mixed in with them, the orange chicken stands alone. It is engineered for speed consumption, which is kind of genius, and likely helps explain why I shoveled three in my mouth at a time, even as I was trying to be a professional and eat strategically.
The iced tea at Panda Express:
Though I was just at the World Tea Expo (humblebrag?!?), and so I know from Serious Tea Heads, the iced tea at Panda Express definitely goes above and beyond most fast-casual joint iced teas. The tea is "sustainably sourced 100% pure Ceylon green tea with lemon and lemongrass infusions." And it was very good! Seriously, my mom drank four cups of iced tea in 35 minutes and didn't even go to the bathroom. Actually hold on, I need to check on my mom.
Food That Is Not As Good As the Orange Chicken:
The bottom three entrees in the Panda Express lineup were Beef with Broccoli (the beef and sauce were mostly flavorless other than salt, though the broccoli was well-cooked); the Sweetfire Chicken, which had lots and lots of sweet, and very little fire; and the Shanghai Angus Steak, which had fine soy and ginger flavors, but mostly gristle-y pieces of steak that were tight and dry from being overcooked.
In the appetizer category, the vegetable spring rolls were mushy on the outside, and bland and mushy on the inside, and if I was picking the worst thing I ate during all of my Panda Express visits, these would get the bouquet and crown.
Dessert Corner:
The Fortune Cookies -- which PE has made exclusively by a local California fortune cookie manufacturer -- were pretty good (the only fortune I saved said "Make Time for You," FYI). The cookie had a nice, crisp crunch and wasn't overly sweet. The chocolate chunk cookies, on the other hand, were chalky and dry... I'm guessing probably because I was the first person to ever purchase chocolate chunk cookies from Panda Express.
The Best Panda Express Order:
A plate (2 entree + 1 side) featuring Teriyaki Chicken, Beijing Beef, and chow mein -- add a chicken egg roll and an iced tea.
Final Verdict
Is it strange that the main reason I would continue to frequent an American Chinese fast-casual joint was their Japanese chicken teriyaki? And more importantly, should that even matter?
Panda Express is in the pole position in the Asian fast-casual arena. They continue to be privately held, they haven't gotten too far away from the stuff that got them here, and unlike many of the older fast-casual joints I've reviewed, they seem to know exactly who they are, even under this constantly changing landscape. You are going to get perfectly serviceable American Chinese food quickly and cheaply, and if you choose the winning dishes, you're going to have a very enjoyable meal. There is a subtle confidence about Panda Express that speaks to the Cherng's steady leadership, and I don't see anyone pulling their crown soon.
In fact, the day after I gorged on PE with my mom, she was wandering my house, telling me about a Boston Bruins hockey fight from 2009 when suddenly she stopped.
"I think I'm craving that chicken teriyaki," she said. "When do you have to go again?"
Sign up here for our daily Thrillist email, get Eatmail for more food coverage, and subscribe here for our YouTube channel to get your fix of the best in food/drink/fun.