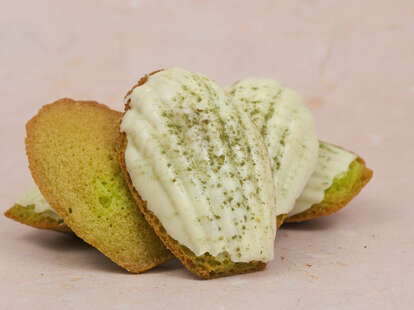 Photo by Ken Camara
Photo by Ken Camara
It's hard to believe that From Kora, the viral bakery born in a Woodside, Queens apartment, began as a small word-of-mouth, donut pop-up in the summer of 2020. Like many emerging food businesses founded during the pandemic, From Kora was the direct result of hospitality industry layoffs.
"I was honestly just bored and trying to pass the time doing a lot of baking myself," explains Kimberly Camara, the chef and cofounder of Kora. Camara had a brioche dough she was prepared to bake, but when she noticed her mom's oven was stuffed with pots and pans—a common storage place for immigrant families—she decided to fry the brioche instead of playing Tetris with the oven's interior.
That first donut, filled with an ube pastry cream leftover from a cake she had baked, has since changed Camara's life. She began frying more donuts and dreaming up new recipes inspired by her grandmother and Filipino roots, expecting to share her creations with a small circle of friends and family.
Instead, word of her donut boxes spread and by the fall of 2020, waitlists for the donuts had formed and lines that spanned over seven city blocks emerged for pop-up sales. The donuts became the hottest pastry commodity in New York City, reminiscent of the cronut craze of 2013.
"I feel like [our initial pop-up] was very special in the sense that we brought people back together in a way that felt safe again," says Kevin Borja, Camara's partner and Kora co-founder. The first pop-up was held in Queens, where Camara was born and raised, and seeing the throngs of people—many of whom were Filipino and also from Queens—was encouraging.
"No matter what we do as a business, I want to make a statement and I want the flavors to really speak to people—either in a way that intrigues them and teaches them something new or brings people back to a time and place in their lives, perhaps reminiscent of something they ate in the Philippines or growing up," Camara says.
The desire for Filipino-inspired treats only grew, and since its initial launch From Kora has now collaborated with Kith Treats, expanded their portfolio to include pies, and are even working on cookie recipes.
Christmas is a big deal in the Filipino community. The celebrations start weeks in advance of December 25—sometimes upwards of four months—and most of the big parties actually fall on Christmas Eve. The timing felt right for developing cookie recipes, something Camara has wanted to explore since her first viral donut.
In honor of Christmas, she's dreamt up a pandan madeleine "cookie-cake," as she describes it, noting the texture is both chewy, like a cookie, with a softer interior crumb like a cake. The hybrid treats are full of the floral fragrance of pandan and dyed green to be extra festive. If you want to lean into decorations, a drizzle or dip of white chocolate is reminiscent of snow on a Christmas tree.
"I knew that if I could connect with these cookies and they were sentimental to me, that they would be the same for many people," Camara says. She pours herself and her family's identity into the recipes she thoughtfully prepares, and gaining the support of not only her Woodside community, but the greater New York area, has been gratifying—especially as a Queens native. "I was born here, but being able to have people feel and see and recognize my Filipino identity—I think that's what has made all of the work and efforts worth it."
Pandan Madeleine Recipe by Kimberly Camara
Ingredients:
100 grams unsalted butter, melted, cooled slightly, plus some for pans
2 large eggs, room temperature
100 grams sugar
100g AP flour
15 grams Homemade Pandan extract (see below)
1 grams baking powder
1 grams salt
Green food coloring, optional
White Chocolate and Pandan Leaf Powder for garnish, optional

Directions:
1. In a mixer, using whisk attachment, whip together eggs, sugar, and Pandan extract and a couple drops of green food coloring (if using) together until light, thick, and fluffy, about 5 minutes.
2. Meanwhile, sift flour, baking powder, and salt into a bowl.
3. When egg mixture is ready, fold flour mix in gently with a spatula until fully incorporated.
4. Slowly drizzle melted butter while stirring. Set in the fridge covered in plastic wrap to set, at least 45 minutes. Can be made up to 3-4 days ahead of baking.
5. Preheat oven to 350°F. Brush madeleine pans with a thin layer of melted butter and place in the fridge to set, approximately 10 minutes. This can also be done ahead. Dollop or pipe about one tablespoon of batter into the buttered molds. Bake for about 9 minutes (depending on your type of pan, size of cookies and oven) until the edges are golden but the center is light and springy.
6. Allow to cool in the pan for 5 minutes before removing to cool completely on wire racks.
7. Optional: After the madeleines have completely cooled, melt a little white chocolate and pipe or spoon about a teaspoon inside the cavities of a cleaned and thoroughly dried madeleine pan. Press madeleine cookies into the pan, the same side that had been baked facing inward to follow the contours of each mold. Place in freezer to set. Pop madeleines out of molds, and lightly sprinkle Pandan powder over chocolate side to finish. Best enjoyed the same day.
Homemade Pandan Extract
Ingredients:
20-30 pandan leaves, fresh or frozen
240 grams cold water

Directions:
1. Rinse pandan leaves thoroughly and remove thick white stems, if any. Cut into 1" pieces.
2. Add Pandan leaves and water to a blender, and pulverize completely.
3. Strain through a fine cheesecloth, squeezing as much as possible to get as much extract as possible.
4. Can be stored in a jar in the fridge for 3 days, or in the freezer for 6 months.
Kat Thompson is a senior staff writer of food & drink at Thrillist. Follow her on Twitter @katthompsonn.