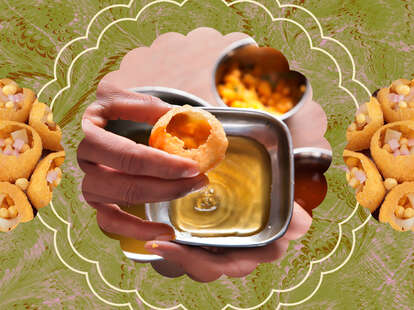 Design by Maitane Romagosa for Thrillist
Design by Maitane Romagosa for Thrillist
For me, pani puri is the most texturally interesting dish in all of Indian cuisine. A popular street food, it's somewhat similar to a hard taco, with the joy of luscious guacamole, smooth sour cream, juicy tomatoes, and spicy chilies within a crispy, crunchy exterior. There are all sorts of versions across India—as puchka, golgappa, fulki, gup-chup, and so on. Now, Indian chefs around the world have created experimental iterations that are served at Michelin-starred restaurants in New York, London, Bangkok, Los Angeles, and more.
What is pani puri?
To make pani puri, semolina or refined flour dough is cut into rounds and deep fried into golden globes. Each puri, or ball, is gently punctured with the thumb, so you can crack open just half an inch of the cover without shattering it. That way, you can fill it with cooked potatoes and sprouted mung beans before dunking it into water infused with mint and spices.
Pani puri falls in a category of foods described as chaat. The Indian equivalent of tapas, chaats are served in small portions and include such dishes as bhel (puffed rice mixed with chutneys), sev puri (crispy fried canape topped with potato, tomato, chutney and coriander), and dahi bhalla (lentil fritters dunked in yogurt and chili powder), among others.
This is snacking at its finest. You can eat pani puri in one bite, almost like an amuse bouche that always leaves you hungry for more.
The history of pani puri
The exact origins of pani puri are unclear, but many believe they have been served since India's Mughal Empire (1526–1857). According to one legend, when Emperor Shah Jahan fell ill, a royal hakim advised him to eat food loaded with spices to strengthen his immunity. The palace khansama came up with chaat, a dish that was light on the stomach but tasty.
Another theory from the same period involves the Yamuna River. As the story goes, the river had become polluted, so the court hakim advised locals to cook using healing herbs like tamarind, coriander, and mint.
I believe that these are just tales. While chaats may have been popular during the Mughal period, some version of them can be traced back all the way to Manasollasa, an ancient Indian scripture that mentions the existence of dishes that combined purikas, which are similar to the puris of pani puris or papdis, curd, and a variety of spices.
Where to try pani puri
Pani puri has widespread appeal, and has gone from Indian street food to American fine dining. Sona, a stylish New York City restaurant helmed by Hari Nayak, serves a Delhi version of pani puri known as golgappa. The crunchy shells are filled with jaljeera (cumin water) and boiled potato, tequila and avocado, or vodka and pickled beets.

In Asheville, North Carolina, Chai Pani restaurant serves sev batata dahi puri, or crisp balls filled with sweet yogurt, green and tamarind chutneys, potatoes, onions, and cilantro. They're topped with crunchy chickpea noodles, or sev. Recently, when Indian chef Prateek Sadhu traveled to San Francisco's Michelin-starred restaurant Saison, he made pani puris over an open fire rather than by deep-frying a mighty innovation in the dish. Simpler versions of pani puri can be found at Indian street-food style spots like Kailash Parbat in Manhattan and Tumbi in Santa Monica.
Or, if you'd like to make your own version, here's my no-fail pani puri recipe. While there are a few steps, it's easy to break them up by making the filling a day in advance. And the resulting dish has colors, textures, and flavors unlike any other snack in the world.
Pani Puri Recipe
Ingredients:
For the puri
• 2 cups semolina
•⅓ cup all-purpose flour, plus more for dusting
• Pinch salt
• 1 cup warm water
• Vegetable oil for frying
For the pani
• 1 cup mint leaves, finely chopped
• 1 cup coriander leaves, finely chopped
• 1 green chi, finely chopped
• 1 tablespoon cumin powder
• ½ tablespoon chaat masala
•5 tablespoons tamarind paste
• 1 tablespoon jaggery, or unrefined sugar
• 1 tsp black salt
• 1½ cups cold water
For the filling
• ½ cup mung beans, boiled until tender and then drained
• ½ cup potatoes, boiled, drained, and finely cubed
• 1 tablespoon cumin powder
• 1 tablespoon chilli powder
• 1 tablespoon rock salt
• 1 tsp chaat masala
Directions:
1. In a large bowl or rimmed dish, mix semolina, flour, and salt. Add water and knead it into a tough dough. Cover and allow it to rest for half an hour.
2. Dust a surface with flour and roll the dough out into a thin sheet approximately ½-inch thick. Use a small circular cookie cutter to cut the dough into 1 inch-inch circles. 3. Heat oil in a large pot over medium-high heat. Deep fry each circle in hot oil until it fluffs up and turns golden. Drain on paper towels and allow it to crisp.
4. Make the pani by combining mint, coriander, and green chile in a blender or food processor, and blend into a smooth paste. Strain into a bowl, and then add cumin powder, chaat masala, tamarind paste, jaggery, black salt, and cold water. Stir until the jaggery melts. Chill in the refrigerator until use.
5. In another bowl, make the filling. Mix cooked mung beans and potatoes with cumin, chili, salt and chaat masala.
6. To serve the pani puri, tap the top of the puri to create a tiny hole on the shell. Fill it with the potatoes and mung bean mixture. Pour the chilled pani in it and serve immediately.