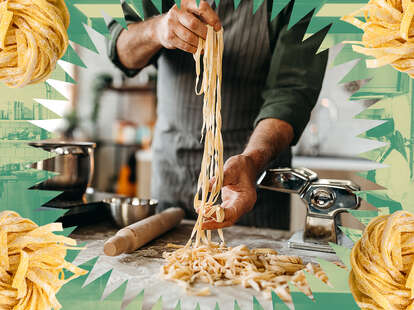 Pasta only requires eggs, flour, salt, and facing your silly fears.

| Design by Maitane Romagosa for Thrillist
Pasta only requires eggs, flour, salt, and facing your silly fears.

| Design by Maitane Romagosa for Thrillist
Welcome to Thrillist 50, your guide to fun and adventure in 2023. Think of it as your comprehensive roadmap for checking out exciting events and new attractions coming over the next 12 months, going on bucket-list trips, reconnecting with yourself and your community, expanding your mind, and of course, experiencing the flavors we're most excited about this year. There are so many reasons to live like there's no tomorrow. Start here.
I've long wanted to make pasta from scratch, but have been too afraid to attempt it. Compared to other ambitions—jumping out of moving airplanes, clambering up treacherous mountain peaks—forging pasta from scratch doesn't seem that scary. But for someone who's a bit of a culinary perfectionist, the idea of creating a rubbery or crumbly noodle, and the mess that comes with it, keeps me hesitant. I love pasta so much. What if I'm absolutely awful at making it? It's a ridiculous thing, to be intimidated by flour, eggs, and salt.
Instead of spending a lifetime wondering what could be, I decided to take a class on making pasta so I'd have a steady sage to guide me. I enlisted my mom to come with me, both as moral support and for double the amount of pasta to take home. After scrolling through a dozen different classes and settling on one about fundamentals of pasta-making, we were off to see our very own pasta wizard.
Chef Luana Venturino has only been teaching for a handful of years, but carries a lifetime of culinary experience to draw from in the classroom. She was born and raised in Ascoli Piceno, a town in central Italy nestled between the Adriatic sea to the east and Apennine mountains to the west. This is where she mastered her grandmother's recipes, beginning when she was nine years old. "She was this soft, plump older Italian lady who loved to cook and to eat—her food was divine," Venturino reminisces. "It was for fun at first, but I lost my mother a few years later and cooking quickly became one of my responsibilities as I raised two younger sisters."
From there, Venturino moved to Tortoreto Lido and opened up a restaurant and pizzeria with her husband in 1978, which she ran for three decades. "I was responsible for all kitchen and pizza-making operations," Venturino explains. "In Italy, pizza was still a male-dominated field and as a young woman establishing myself as a pizzaiola and a hospitality entrepreneur, I was a pioneer back then." The restaurant had over two dozen pizzas to select from, and Venturino made, on average, 120 pizzas per evening.
"I think the best part of teaching culinary classes is showing my students they can do it."
These days, Venturino lives in Los Angeles with her husband, after moving to be closer to her daughter who lives stateside. Cooking was always on her mind. "I wanted to share my culinary culture and Italian traditions," she says. "I offered my cooking services for takeout and very much enjoyed hosting people for lovely and delicious meals at home."
Without the restaurant to occupy her, Venturino began teaching Italian cooking classes through the platform Cozymeal in her La Brea home. "Their class and meal combo was absolutely perfect for me," she says. "I get to teach, empower people through knowledge, and share my love for authentic Italian food and hospitality."
There's no mistaking the Italian presence in Venturino's home. A cluster of panettone sits in one corner, waiting to be gifted. There's a sign in the kitchen that reads 'Vino Cucina' and a pot of fresh basil growing on the kitchen counter.
My mom and I stand at attention under Venturino's watchful eyes, scrambling eggs into a flour well and getting our hands dirty kneading dough. Our dough goes from shaggy to smooth, and while it rests Venturino feeds us, dishing out a duo of bruschetta: eggplant and sausage and classic tomato and basil.
Then, Venturino wheels out her fleet of KitchenAid stand mixers and it's time to roll. The dough should be even and rectangular as it feeds into the pasta roller so you can maintain consistency as the dough is flattened. My mom and I tried our best to feed the dough gently but were often left with distorted, uneven rectangles. Whenever Venturino wasn't looking, we would cheat and fold the dough to resemble a perfect four-sided figure.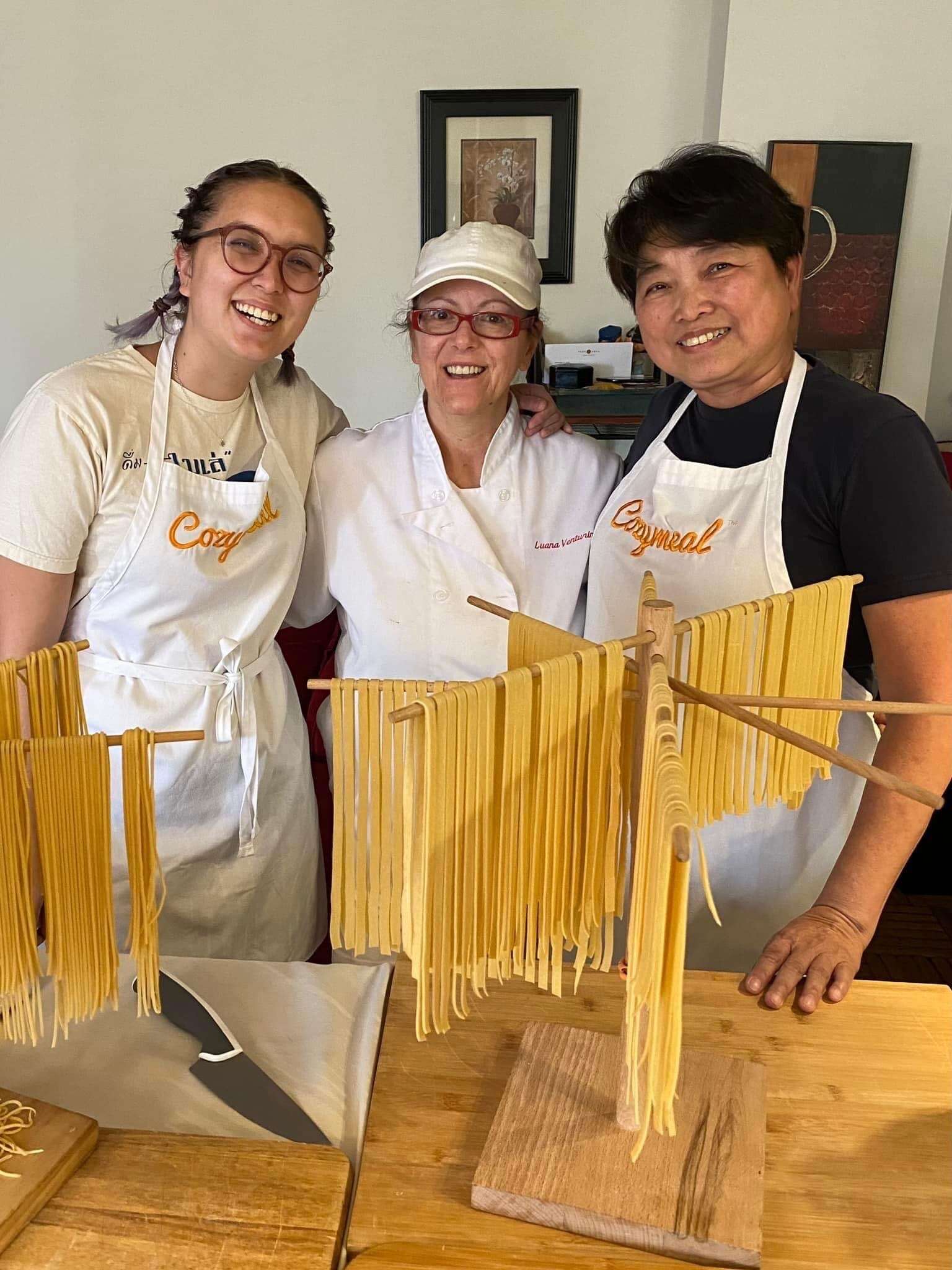 After several rounds of flattening, it's time to cut the dough. This, to me, was the most difficult part. As the pasta cutter whirs, you have to confidently feed the dough in and catch the strands of spaghetti. Venturino physically held my hands during this part. What came out were flour-dusted strands of both spaghetti and fettuccine, which we hung on drying racks.
Aside from the basic of dough, Venturino also oversees classes on sauces, risotto, gnocchi, and pizza. On this day, she serves our homemade spaghetti with a pomodoro sauce while the fettuccine is dressed with creamy mushrooms. As all fresh pasta should be, ours is satisfyingly chewy and perfectly al dente. The tomato sauce is bright and well-rounded, thanks to the addition of a knob of butter, while the mushroom sauce is creamy and clings to yellow threads of fettuccine. I go back for seconds.
Pasta plates emptied and leftovers packed, we sit and enjoy espresso while Venturino tells us about her love of teaching. "I think the best part of teaching culinary classes is showing my students they can do it," she says. "I teach them to have fun and to pour love into their cooking. The secret ingredient is always love."
For those inspired to make their own pasta at home, Venturino suggests buying high-quality, seasonal ingredients and encourages getting hands dirtied. "Everyone can make great pasta," she encourages. And if you're too intimidated to try it on your own, you can always take a class.
Kat Thompson is a senior staff writer of food & drink at Thrillist. Follow her on Twitter @katthompsonn.