Paula Deen continues to ride her giant stick of butter all the way to the bank with a new line of -- well crap, guess we should've seen that one coming -- butter.Starting today, you can choose from five Paula Deen butter varieties on sale at Wal-Marts nationwide: garden herb, lemon dill, southern grill, sweet citrus zest, and -- suck it, 1930s American isolationist governments! -- European style. We could try to break these flavors down ourselves, but really, no one says it better than Paula herself. In her own carefully chosen words (via her website):
Garden Herb
"I just love this finishing butter on fresh vegetables or pieces of fish. The herbs just explode in my mouth and it makes me feel like I'm standing outside in my garden; reaching down, plucking herbs and chewing on them."
Lemon Dill
"My Lemon Dill Butter is perfect for a tangy and creamy grilled chicken y'all or any type of seafood - especially a piece of fresh fish; because dill and lemon really bring out the seafood flavor."
Southern Grilling
"Paula Deen Southern Grilling Butter is the perfect finish for a good steak or a piece of fish – it's made with my house seasoning and it really 'thrills-up' Grilling up. It's also a great garlic butter with potatoes or pasta and melted it's a terrific dip for shrimp and shellfish. Garlic goes with everything."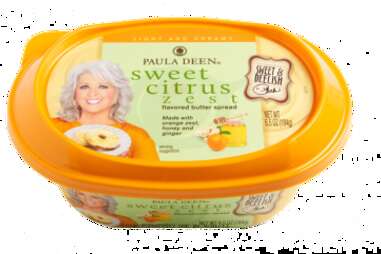 Sweet Citrus Zest
"My Sweet Citrus Zest butter is hard to practice in moderation - it's so good on a biscuit or cornbread and it's the perfect butter to have in the morning - it feels so fresh and clean on your palette."
European Style
"Y'all know that I love my travels to Europe and I call my European Style Butter 'Bread's Best Friend.' Using just a little bit is a great alternative to using a lot of regular butter and it's made with olive oil and sea salt - you'll love it!"

Now that you've got all the facts, head over to the closest Wal-Mart and grab your own tub of Paula Deen butter. It goes great with cornbread diabetes!