It's that time of year again when the only things in the candy aisle are Cadbury Creme Eggs, "seasonal" jelly beans, and, of course, Peeps. Sure, they might just seem like little yellow chicks and pink bunnies, but dozens of newspaper contests have proven that they're the best diorama props around. Check out these incredible Peeps scenes, then use the inspiration to finally complete your all-candy replica of Critters 2.
We hate to argue with such a detailed Peeps diorama, but for this to be a proper Tarantino tribute, that pink bunny needs some serious Buscemi eyes.
Once discovered, the Mona Lisa beakface cannot be unseen.
Here we see a classic rendition of A Sunday Afternoon on the Island of La Grande Jatte. We definitely knew it was called that, and certainly didn't refer to it as "that Ferris Bueller painting made of Dippin' Dots" for the past 15 years.
Anyone who's ever attempted to microwave 35 Peeps knows this candy comet isn't too off-base.
It's a cute slice of life until you realize holy crap Grandpa is about to get the 'mallow squeezed out of him by that Murphy bed!
Not to call the integrity of Tour de Peeps into question, but our buddy swears he saw that purple rabbit shooting corn syrup right before the race.
"GET IT?! BECAUSE THEY'RE ALREADY BUNNIES!!" said the very eccentric man who constructed this Playboy Club replica.
Still a better movie than Pirates of the Caribbean: On Stranger Tides.
Another close, nail-biting Westminster competition that no one watched thanks to Macy's Day Parade fatigue. And football. And turkey.
The iPeep is superior to the iPod in several ways: it's quieter, more compact, and it doesn't ask you to update every five effin' minutes. Drawbacks? Diabetes.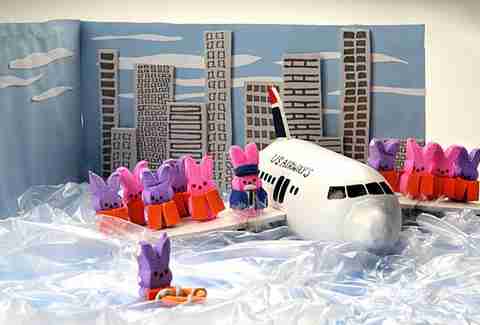 In this photo, one Peeps artist captures the "Miracle on the Hudson", a stunning and heroic landing that you totally already forgot about.
The Edward Hopper joke six decades in the making.
They're happy now, but just wait until that CGI'd-in Hayden Christensen marshmallow shows up and starts griping about sand.
Well, Sweeney and Mrs. Lovett were always saying they wanted to branch out beyond savory pies.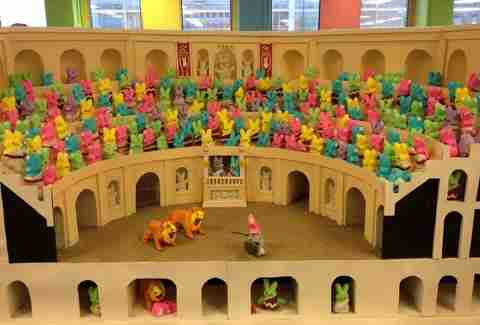 Any small children by the computer should avert their eyes: artificial coloring is about to be spilled. Also, one of those Peeps is the real Joaquin Phoenix doing his performance-art thing.
Kristin Hunt is a food/drink staff writer for Thrillist. She's never made a Peeps diorama, but she was pretty great at making Playmobil ones in 5th grade English class. Follow her at @kristin_hunt.