This Is 100% the Coolest Cutting Board You Have Ever Seen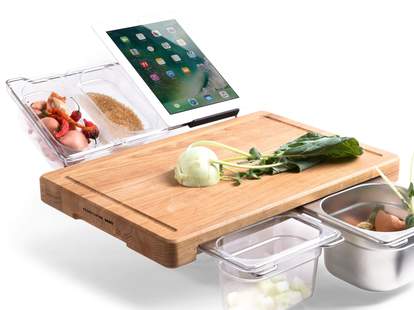 I cannot lie to you, reader, cutting boards don't usually excite me. They aren't quite the coal that makes my train roll, so to speak. But this cutting board currently tearing up Kickstarter is like if a mid-00s Xzibit rolled up to your cutting board and pimped the shit out of it. And it's making me thirsty (for cutting boards).
The Frankfurter Brett BASIC has an extremely catchy name (OK maybe not), and may be the best kitchen organization tool in existence. It looks complicated, but it's actually incredible simple. The board features slots of removable, collapsible, and retractable containers, add-ons, and compartments. It's meant to simplify your cooking experience -- adding prime space for trash, ingredients, cookbooks, and even your trusty tablet (so nothing will get in the way of binge-watching that new Netflix show), right onto your cooking board. You can snag your ingredients from up top, slice and dice them like a pro, and then put your trash into a container down low, without ever leaving the counter. It's a culinary Swiss Army knife.
The board is the brainchild of professional chef Johannes Schreiter, and designer Joseph Schreiter (they're related), and comes (from lowest-priced, to highest-priced) in Beech, Bamboo, Maple, Oak, and Walnut -- with Beech starting at $135.
The self-proclaimed "First Kitchen Workbench" will start to ship to contributors in March of 2016 after already quadrupling its initial goal of $106,044. The basic sets come with a set of plastic containers, and you can always spring for upgrades through the Frankfurter Brett website. I can't believe how cool I think this is. I must be an adult now. 
Damn.
Sign up here for our daily Thrillist email, and get your fix of the best in food/drink/fun.
Wil Fulton is a staff writer for Thrillist. He actually blames Gwyneth Paltrow for most of the world's problems. Follow him @wilfulton.