Phish concerts are about a lot of things -- great jams, good people, and balloons filled with helium, which make you laugh uncontrollably for about 60 to 90 seconds, because everyone's voice sounds super funny. That's why they're all laughing, right?!?
And in the hours before and after the show on Shakedowns across the country, they're also about the wholly unique cuisine subset known as parking lot food. We sent an intrepid show-goer to last weekend's show at Saratoga Performing Arts Center to eat everything in sight, and then very professionally rank it all before the helium kicked in.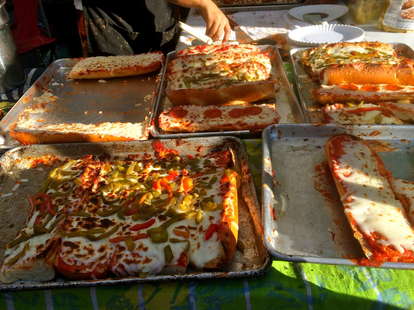 Erich Onzik
Erich Onzik
9. Pork tenderloin shish kebob
Time for the meatstick? Indeed it is. Bury the meatstick? In my stomach. This no-frills kebob gets a rotisserie seasoning and hints of black pepper for a little kick. They're solid if not altering, although there are plenty of other opportunities to take care of that at a Phish show.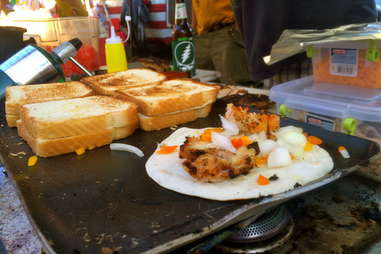 8. Grilled cheese + chicken wraps
The grilled cheese in a lot-scene isn't really a novel concept, but the real star of this setup was the chicken wraps. A zesty enterprise, the sauces are so good you could probably bump them.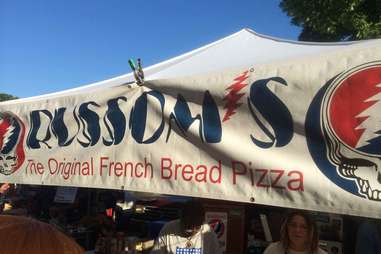 7. Russom's: the Original French Bread Pizza
For a good old-fashioned face stuffing, head to Russom's. Their long-ass pizzas that will almost definitely color-up your tie-dye come with an array of peppers, pepperoni, and melted cheese that's flecked with crispy brown freckles. What's more French than that?
6. Christy's Quesadillas
With huge quesadillas, Christy's almost makes you feel like you're in a Mexican Wonka-verse where you can eat the plate, as well as the food on it. Definitely go for the tender pulled chicken with jack cheese and an acidic sting that's probably related to the scallions.
Also, don't actually eat the plate.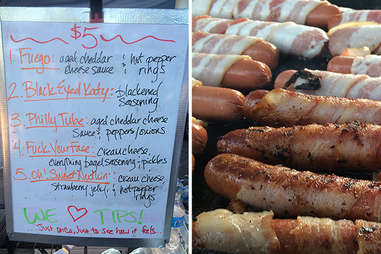 5. Bacon-wrapped hot dogs
These salty rods force a man down a Freudian wormhole that is not altogether unpleasant. You can get most any topping you want -- from blue cheese to banana peppers -- but the signature dogs all reference Phish songs and covers. The Fuego is delicious despite any haters of the new album.
4. Black bean burger, pesto grilled cheese, Wookie Wrap
It's not nearly as cool as that metal thing Chewbacca wears, but the WW's still delicious, and filled with balsamic-marinated artichokes, sun-dried tomatoes, olives, spinach, and roasted red pepper hummus. The grilled cheese is closer to French toast with a savory filling. The black bean burger, topped with a little aioli and corn, has enough protein to punch you in the stomach (not the eye), in the best possible way.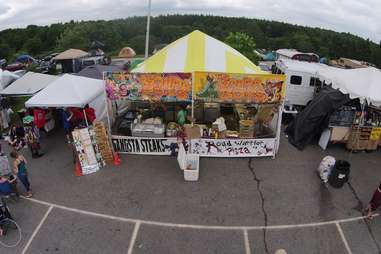 3. The Gouda Boys
Undoubtedly the biggest operation on Phish tour (they vend a handful of other Summer festivals too), Gouda's food is consistently over the top and quite delicious -- the Scarface, a steak sandwich covered in mac & cheese, gouda cheese sauce, AND maple bacon, is a big crowd-pleaser. Also, after eating some suspicious chocolate, I stared at their sign for a couple of hours and forgot my name.
Drift closer, and you're greeted by a post-apocalyptic future where road warriors viciously vie for resources and have pizzas named after them. The Toe-Cutter pizza makes an interesting growl with its chicken pot-pie foundation, and they even have veggie options like the Aunty Entity and her panko-fried eggplant.
2. The Gravy Guy
I like this guy because he's made of gravy. He also makes some fine gravy. Perfected over the years thanks to his mother-of-seven's gastronomical love for her kids, the sauce can best be described as simultaneously profound and basic. They've got it simple.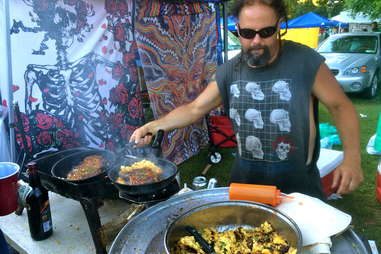 1. Falafel… and a pickle baby!
Word travels fast in the Phish stream -- I heard about this guy before I even got to the lot. Then I went. RJ is the man-beast behind the pans of falafel and cilantro, and he's in complete control of it all. Rather like an artist's cartoon because he's so goddamned animated and just as freakishly fast, he easily appeases the hungry masses waiting in line at his tent. So there it is: a vegetarian option cooked by this dude with lots of skulls on his shirt is our number one eat. Hopefully SPAC won't be his only appearance.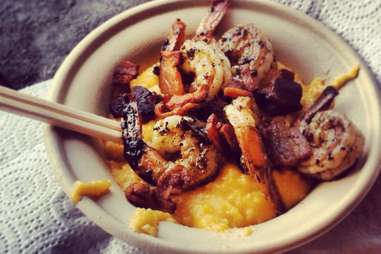 Very sad honorable mention we really miss: Shocks My Brain Catering
Undoubtedly the best food you'll ever eat on Phish tour -- hell, even off Phish tour, if you're the kind of person who stops being on Phish tour -- these guys have been conspicuously absent from the scene this year. They used to step the whole damn game up with shrimp and grits, homemade sausages, duck confit tacos with blueberry sauce, gourmet grilled cheese, and even a (Theme From The) banh mi sandwich, all of it homemade, quite punny, and absolutely delicious. Here's hoping they at least make it to Dicks.
Erich Onzik is a writer, filmmaker, and comic book artist who lives in Chinatown above a restaurant he wishes catered the Phish tour. He'll see you at Randall's Island, or you can find him on Tumblr.