As of today, you should go ahead and disregard any nonsense the pizza guy gives you about a "delivery radius". Because after one daring Pizza Hut employee's quest to deliver a 'za to a customer on a moving train, it's pretty clear a limit does not exist. Reddit user photosoflife posted an inspiring set of pictures yesterday chronicling the delivery challenge she offered Pizza Hut: bring me a pizza in the middle of my four-hour train ride. After telling the Hut where her next stop was (the Newport Station in South Wales), she gave the conductor a heads up and waited to see if her pizza would actually arrive. SPOILER ALERT: It totally did.
Recommended Video
Spinach and Artichoke Dip Pizza, the Ultimate Party Appetizer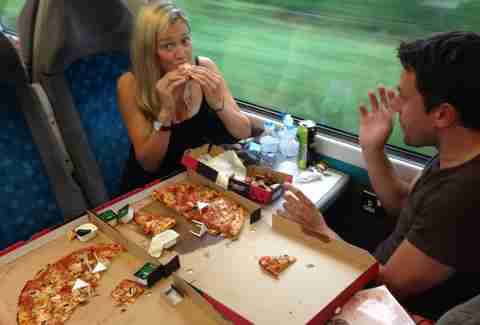 See, the conductor rang the station ahead of time to tell them to let the delivery guy in without a ticket, and he was waiting right on the platform when the train pulled up. The lady got her food and everyone gave a dignified golf clap for Pizza Hut. The one person who came away from this unhappy? The Dominos employee who answered photosoflife's initial call and turned her down. He's probably sobbing into a pile of cheesy bread as we speak.