Pizza Will Make You More Productive at Work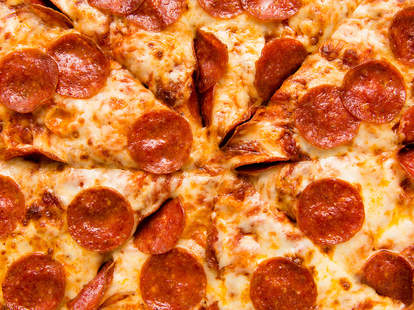 ... Or, rather, the promise of pizza, not the actual eating of the pizza, will make you more productive. At least that's what this wacky new study suggests.
Psychologist/suspected pizza magnate Dan Ariely, author of the forthcoming book Payoff: The Hidden Logic That Shapes Our Motivations, did an experiment at a semiconductor factory at Intel in Israel (where workers assemble computer chips -- so productivity is easily measured) to better understand human motivation. It involved four groups of employees: one group was sent an email message at the beginning of the week that promised them pizza if they hit each day's targets, one was promised a cash bonus (about £20), one was promised texted compliments from the boss, and the last group, the control group, got no email at all. 
Pizza was the top motivator after the first day, as productivity increased by 6.7% as compared to the control group. The group that received compliments was right behind with a 6.6% increase in output, which is a statistic we should just accept without questioning why these people are down with getting personal text messages from their boss. Folks that were promised a cash bonus only clocked in at a 4.9% increase above the control. At the end of the week, however, the cash-bonus folks ended up doing 13.2% worse than those in the control group. 
The group with the compliment incentive was the most productive at the study's conclusion, just ahead of those who wanted that piping-hot pizza, but it's unconfirmed if this is because of the positivity or simply because the boss was hawking over day-to-day goals. Either way, one thing's for sure: money is not the only thing that motivates employees. Pepperoni (and feeling valued by your employer) works too. 
Sign up here for our daily Thrillist email, and get your fix of the best in food/drink/fun.