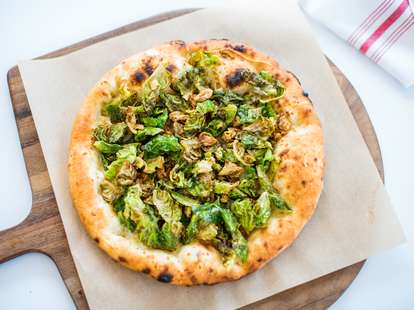 Courtesy of Ray's & Stark Bar
Courtesy of Ray's & Stark Bar
Pizza is typically seen by the eating public as an edible table on which to stack piles of pepperoni. But there are so many more foods you could be deliciously piling onto pizza, and they have nothing to do with faux-crazy toppings like pineapple, which is boring as hell.
We surveyed some of the best pie-makers in the country to see what toppings people don't use enough of at home and when they go out. Find out which toppings should be on your next pizza, ranging from the exotic to random stuff you have taking up space in your fridge.
Sun-dried + roasted peppers
"One of the most underused (and best!) toppings is sun-dried and roasted peppers. People are familiar with a regular sweet pepper or a roasted pepper, but what we offer is a sun-dried, roasted pepper -- it's a different process [to create it] and the flavor is unbelievable. It has some sweetness to it, so anything you pair it with will be good, but we recommend it with Kalamata olives, because the saltiness of the olives and sweetness of the pepper makes for a great combo." -- Margaret Mieles, Di Fara Pizza (Brooklyn, NY)
Leftovers
"I'm a big fan of leftover pies, [which are] pies made with leftovers from takeout. Perhaps the best is char siu from the Chinese place up the street. I mean, char siu, Chinese broccoli, and chili paste is a solid pie." -- Tommy Habetz, Pizza Jerk (Portland, OR)
Potatoes
"A staple on traditional Italian pizza, potatoes don't occur to most home chefs as a topping. Sliced thinly with olive oil and herbs, or on a breakfast pizza with eggs and guanciale, potatoes add a creamy and indulgent layer." -- Emily Blount, Saint Leo (Oxford, MS)
Root vegetables
"I'm a fan of seasonal pizzas, but I always got stuck [on what to make] in the winter. That is, until I tried celery root and baby turnips, combined, in a pizza I came to call The White Owl. It's one of [our] top-selling whole pies: a layer of mozzarella topped with shredded celery root and sliced white baby turnips tossed in olive oil -- nicely balanced and just enough gooeyness. You don't see a lot of root vegetables on pizza, but they work amazingly well." -- Ken Forkish, Ken's Artisan Pizza & Trifecta Annex (Portland, OR)
Gravy
"Tomato isn't your only sauce option for pizza; gravy is awesome! We use sausage gravy on our brunch pizza, and when it's topped with a poached egg: you've got a meal." -- Nate Cayer, Dolce Italian (Chicago, IL)
Brussels sprouts
"I never had Brussels sprouts before I came to California because they weren't available in Brazil, where I grew up. I fell in love with them the moment I tasted them for the first time. Crispy and slightly bitter, they are perfect for a pizza. We combine them with anchovies, capers, and garlic confit." -- Fernando Darin, Ray's & Stark Bar (Los Angeles, CA)
Garlic
"There are oh-so -many underused pizza toppings by people at home and at pizzerias. This may seem pretty mainstream and obvious: fresh chopped (or whole-clove) garlic! Goddamn it, people just don't throw enough of it on their pizzas! It makes me so fucking upset! It is such an incredibly fucking delicious addition to your home pie.
"It goes with nearly everything you could ever want to top your pizza with! It pairs perfectly with every ding-dang pork topping (and there is usually loads of garlic in that pork), and will make even the most bland vegetable taste like heaven... even though hell is coming out of every one of your pores after. I assume that since garlic powder is used with most (let's just say all) pizza sauces, people tend to neglect baking the fresh stuff on top. Classic friggin' garlic ignorance!" -- Dave Bonomi, Coalfire Pizza (Chicago, IL)
Sweet ingredients
"Balancing sweet and savory on a pizza is always fun, and offers a unique alternative to the standard (although delicious) classic savory pizza. Adding aged balsamic, really sweet tomatoes, or caramelized onions can take a pizza to an entire different level, and is so simple. One of my favorite pizzas we do at Milo & Olive when the stone fruit starts to hit the markets is the nectarine, braised bacon, and fontina pizza with fresh thyme and aged balsamic. The combination of sweet, savory, nuttiness, herbs, and acidity is so satisfying, especially on top of a crispy, chewy pizza crust. All the things in one -- that's what I'm talking about." -- Erin Eastland, Milo & Olive (Santa Monica, CA)
Corn
"Corn is an underappreciated pizza topping. It's fantastic with many different cheeses and other toppings, and it's improved greatly with a charred cooking technique. We offer charred organic corn and feta on our seasonal pizza, Pesto Primavera." -- Nicholas Eckerman, PizzaRev (Studio City, CA)
Anchovies + artichokes
"Anchovies are certainly the most underused/least popular. Artichokes are underutilized, but are very complimentary to many types of pizzas. They work well with chicken, spinach, and tomato.​" -- Jeffrey Kalt, Pizza Lotto (Las Vegas, NV)
Butternut squash
"Butternut squash is great on pizza because it can be used so many different ways. Roasted, sliced thin, or pureed into a creamy sauce with sage and toasted pine nuts. We feature a butternut squash pizza on our menu when it's in season." -- Burton Koelliker, Osteria Marco (Denver, CO)
Tuna
"I like preserving tuna, [which is] essentially making my own canned tuna, and I love helping it find its way onto a blistered wood-fired pizza. [It can be accompanied by] the addition of a nice and briny Gaeta olive, some bitter greens like dandelion or Castelfranco, and spicy Calabrian chili oil, with a light sprinkle of smoked provola or Grana Padano to finish." -- Chris Thompson, Coda di Volpe (Chicago, IL)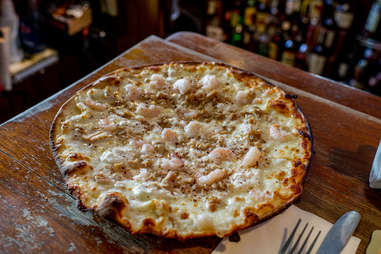 Clams
"Clams are a classic topping typically used on a white pizza in my hometown of New Haven. (See: Pepe's, Sally's, or Modern Apizza.) It's probably underused at home only because most of the country just isn't familiar [enough] with clams to think about using them. My suggestion, as is with most of our pies, is to keep it simple at home, using just olive oil, pecorino, or Parmesan, with or without bacon." -- Bill Jacobs, Piece Brewery & Pizzeria (Chicago, IL)
"Clams can be considered quiet achievers, but they are the perfect pizza topping if made with freshly shucked clams; tender, deliciously briny, and naturally juicy, they match perfectly with a garlicky white pizza base! I love using freshly shucked littlenecks." -- Mike Price, The Clam (New York, NY)
Roma tomatoes
"We are pretty traditional when it comes to toppings, but one topping that I feel is totally underrated is sliced Roma tomatoes. We use it as a key ingredient on our signature pizza, The Lou. But aside from The Lou, we don't see a lot of people order it. Personally, I think it pairs really nicely with our pepperoni." -- Marc Malnati, Lou Malnati's Pizzeria (Chicago, IL)
Canned seafood
"Being a part of the Blue Ribbon Task Force for the Monterey Bay Aquarium Seafood Watch, I am all about canned seafood as a pizza topping right now, but it hasn't totally caught on in the mainstream quite yet. Ditch the anchovies; sustainable canned seafood -- such as sardines, octopus, cockles, and smoked trout -- is the future. [It's] delicious and good for the planet. You can add any of these to a pizza at Cart-Driver, and we serve canned sardines at Basta on the Maritime pizza, with tomato sauce, garlic confit, thyme, and Calabrian chili." -- Kelly Whitaker, Basta (Boulder, CO)
Broccoli rabe
"Broccoli rabe is an underrated pizza topping. When combined with guanciale and fresh mozzarella, there's nothing better." -- Tony Mantuano, Bar Toma (Chicago, IL)
Figs
"The combination of sweet and salty with pizza is a staple, but you can think beyond your typical Hawaiian pineapple/ham toppings. Figs are a great seasonal topping that adds a sweetness and earthiness that pairs perfectly with the richness of gorgonzola cheese and the acidity of the pickled red onion [in our Figura pizza]." -- Mike Randolph, Randolfi's (University City, MO)
Sign up here for our daily Thrillist email, and get your fix of the best in food/drink/fun.