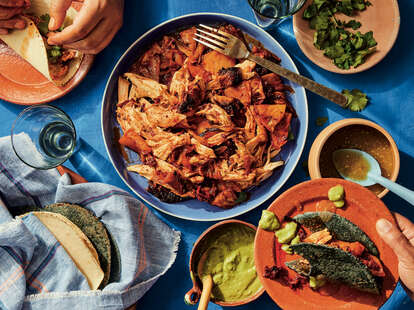 Photo by Ren Fuller
Photo by Ren Fuller
When Rick Martinez first wrote the proposal for Mi Cocina, his debut cookbook, he knew he wanted to travel all over Mexico and share recipes from his adventures. There would undoubtedly be tacos and enchiladas, the kinds of recipes he has developed over and over again throughout his career in food media—the recipes that American readers come to expect from a Mexican chef, with their limited understanding of the country. He marketed the book as "simple" and "modern" and even contended with a dreaded word in the recipe development world: "authentic."
But trying to subscribe to this type of cookbook felt false and meaningless to him. "Authenticity is a very American construct and what I believe to be the intersection of marketing and real racism," Martinez explains. "The way that these books by people of color about non-white American food are sold is by this idea of it being a hyper authentic, genuine representation of that country. But the reality is, having lived in Mexico now for almost three years, if I invited 10 people to my house and I all told 'em to bring the same dish, there would be 10 wildly different versions of each of those dishes."
And none of those versions would be wrong or inauthentic—just different. So how could Martinez make an "authentic" cookbook? For starters, he ditched the buzz words, and instead decided to be wholeheartedly himself—sharing the actual food, experiences, and stories he came across during his 586 days traveling across the different regions of Mexico.
"40 years ago, Italian food in the U.S. was just red sauce—but then you started getting authors that were exploring Italian cuisine from a regional perspective and all of a sudden we had a language to start talking about Tuscan cuisine and Sicilian and Northern Italian," Martinez says. "I wanted to do that same thing for Mexican cuisine because there is such a diverse culture and geography and climate, and that obviously impacted the food."
The regionality of Mexican cuisine is the backbone of Mi Cocina, and Martinez jumps from the winding oceanside cliffs of Oaxaca where he eats whole fish on the beach, to the mountainous rainforests of Veracruz complete with indigenous white mole thickened with masa. Each page and subsequent recipe is a new and delicious recipe, certain to satisfy the hunger for any reader with a pang of wanderlust.
Although Martinez—who is a former senior food editor at Bon Appetit and hosts food and travel show Pruébalo for Babish Culinary Universe—has had professional culinary training and a wealth of knowledge when it comes to cooking, he devoted his time in Mexico as a space for learning. Everywhere he went, instead of ordering the most popular dish, he would ask chefs across Mexico about their favorite dish to make and serve.
"The food I love eating the most, whether it's at a restaurant or somebody's house, or from a cookbook, I want to taste the cook," Martinez explains. "I want to be able to understand what motivates them—what is their passion? What are they excited about? What ingredients do they love?"
Naturally, Martinez writes in this way, too. His cookbook has a section devoted to what he stocks his pantry with—from capers to light beer to an assortment of chilies, both dry and fresh. Each recipe in the cookbook's eight chapters is paired with a story, whether it be a mouthwatering treatise on garlicky fried lobster tacos, a fascinating history on chorizo verde, or a soliloquy about swimming in the ocean all afternoon following bowls of zippy ceviche sure to incite jealousy.
The recipes within Mi Cocina are so diverse and colorful, it's hard for Martinez to pick a favorite. But if he had to, it would be his pollo al pastor (which he concedes shares the number one spot with tacos gobernador). "The pollo al pastor was a hard one to get right," Martinez begins. "It's difficult to replicate the flavor in a dish that has a very specific cooking method." (Al pastor, typically, is cooked on a rotating spit, ensuring there are speckles of char and deep caramelization.)
Martinez's version is made in the oven, which is why when he finally nailed the flavor down, he was overjoyed and deservedly filled with pride. "One of my cheats for anything that I want to impart a smokey flavor, and I think this is a great tip for home cooks, is to use something with some smoke built into it. In this case, I use the chili chipotles, which are smoked jalapeños."
The aroma of chipotle peppers provides the signature smokiness of al pastor, without a rotating spit. That, paired with agave syrup, mimics the caramelized burnt edges. The result, in Martinez's words, is "the ultimate, absolute most incredible chicken you'll ever eat." And if you don't want to bake it, Martinez has had great success grilling the chicken using a gas stovetop or over coals with indirect heat.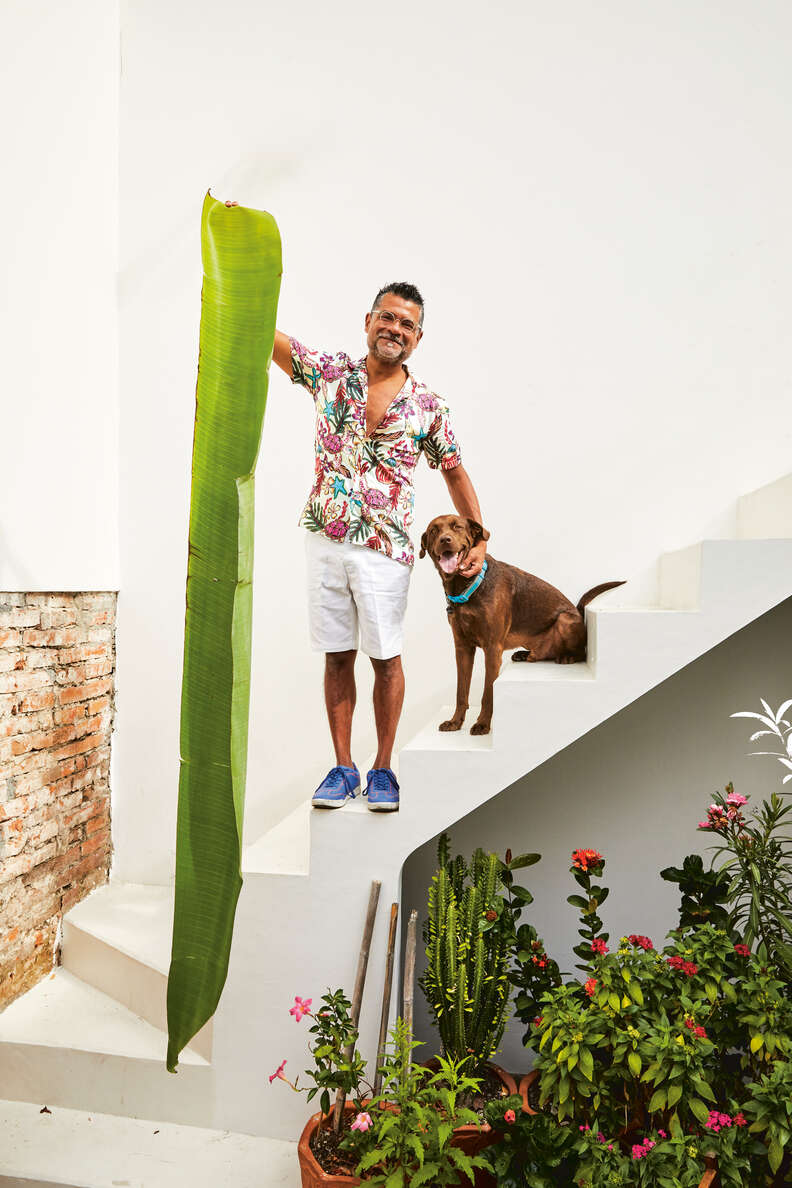 The cookbook Martinez produced is nothing like he had initially envisioned, but in all the best ways. It is colorful and witty and full of his own personal anecdotes. It is uncompromising in its celebration of the cuisines across Mexico and the people who cook them. "When I decided that I was not going to write the book that I had originally proposed, I was free," Martinez explains. "I decided to lean into what I am—a gay Mexican American living in Mexico—and just decided that I'm going to be happy here, regardless of fame or fortune or deals."
If there's one wish Martinez has for Mi Cocina, it's that his readers can move beyond the preconceived notions they have about Mexico and become empathetic in their own explorations of identity. "I want to change the conversation—moving beyond the food—so people can see the beauty of this country," Martinez says. "I think I am genetically predisposed to enjoy certain things: the parties, the bright colored beautiful houses, the vibrancy. Even if I didn't grow up in Mexico, I feel it deep within me and I think it's important to explore that."
Pollo Al Pastor Recipe by Rick Martinez from Mi Cocina
Yield: Serves 6-8
Ingredients:
2 tablespoons Recado Rojo, or achiote paste
3 garlic cloves, finely grated
2 canned chipotle peppers in adobo sauce, finely chopped, plus 2 tablespoons adobo sauce
2 tablespoons apple cider vinegar
2½ teaspoons Morton kosher salt (0.7 oz/20 g), divided
1 tablespoon agave syrup or honey
¼ cup plus 2 tablespoons extra virgin olive oil, divided
1 whole chicken (4 lb/1.8 kg)
1 medium pineapple (2.2 lb/988 g), peeled, quartered, cored, and thinly sliced crosswise
1 large white onion (14.6 oz/416 g), halved and thinly sliced
For serving:
Warm Tortillas de Maíz
Salsa de Aguacate
Salsa de Chile de Árbol
Cilantro leaves
Directions:
1. In a medium bowl and using a fork, break up the recado rojo so no large clumps remain. Add the garlic, chiles, adobo sauce, vinegar, and 2 teaspoons of the salt and stir, using the fork to smash into a smooth paste. Vigorously whisk the agave syrup and ¼ cup of the olive oil into the achiote mixture until completely smooth.
2. Pat the chicken dry with paper towels. Place breast-side up in the center of a 13 × 9-inch baking pan. Liberally brush the chicken with the achiote sauce, getting into every nook and cranny, as well as inside the cavity. The chicken should be completely coated, and there shouldn't be any sauce remaining. Tie the ends of the drumsticks together with kitchen twine; tuck the wings underneath the back.
3. In a medium bowl, toss the pineapple, onion, and the remaining 2 tablespoons oil; season with the remaining ½ teaspoon salt. Arrange around the chicken. Let sit at room temperature for 1 hour; if you have more time, cover the pan (skip letting it sit at room temperature) and refrigerate for at least 3 hours and up to 12. Uncover and let sit at room temperature for 1 hour before roasting.
4. Arrange a rack in the center of the oven; preheat to 350°F. Roast the chicken, tossing the onion and pineapple with the juices in the pan halfway through, until the pineapple is lightly browned, the chicken is deep burgundy, and an instant read thermometer inserted into the thickest part of the breasts registers 155°F (the temperature will climb to 165°F as the chicken rests), for 60-70 minutes.
5. Remove the pan from the oven and let the chicken rest uncovered in the pan for at least 20 minutes and up to 2 hours. Transfer the chicken to a cutting board and carve. Serve with roasted pineapple and onions, tortillas, salsas, and cilantro.
Reprinted with permission from Mi Cocina: Recipes and Rapture from My Kitchen in Mexico by Rick Martínez, copyright © 2022. Published by Clarkson Potter/Publishers, an imprint of Penguin Random House.
Kat Thompson is a senior staff writer of food & drink at Thrillist. Follow her on Twitter @katthompsonn.