8 restaurants that presidents love
This week, the fates of so many congressmen, senators, and aldermen will be decided when an entire 37% of the public hits the voting booths for the 2014 midterm elections. And if those politicians were at all serious, they made scheduled stops at these eight important restaurants. At each, the walls are lined with photos of famous customers. A visit from the mayor isn't exciting; it's expected. If you're looking to be the dark horse of 2016, book some appearances at these establishments now.
Iowa City, IA
When a fire broke out at this essential breakfast spot in May, one of the first questions was not, "How are we gonna replace all these singed seats?"; it was, "What will this mean for election season?" Though political appearances were cancelled there for a while as they made repairs, it came back with a vengeance in September when it hosted an event with RNC chairman Reince Priebus and, of course, opened up its "Coffee Bean Caucus", in which customers cast coffee bean votes for their preferred candidates. (Politicians have dropped by over the years for a photo op next to their own jar of beans.) The place is already preparing to roll out jars for 2016 presidential hopefuls as people announce their bids -- from the looks of it, Hillary's will be out any minute.
New York, NY
This Harlem institution boasts a lot more than serious soul food. Politicians have been taking advantage of Sylvia's community roots for ages, from Bob Dole's running mate Jack Kemp to Obama, who showed up during his first presidential campaign. Al Sharpton also practically lives there, and the Sylvia's peeps are frequently invited to the NYC mayor's digs -- for electorate matters, not their killer collard greens.
Le Mars, IA
As you might've gathered from that Obama photo, ice cream is a key component to any campaign trail diet. So it's no surprise that this shop, conveniently located in a battleground state, has garnered visits from people like Mitt Romney, John McCain, Mike Huckabee, and John Edwards. But some of those candidates clearly need a lesson in proper scoop selection -- sugar-free strawberry, Huckabee? Seriously?
Miami, FL
In recent years, John McCain, Michele Bachmann, and Newt Gingrich have all visited the Cuban cafe during presidential runs, but Versailles has long been a prime location for politicians. For the local guys, it's especially crucial. Versailles is so central to Florida elections that one political analyst even moved his office across the street to get a better feel for the city's political pulse. He probably also didn't mind all the Cubano sandwiches.
Multiple locations
As The Wall Street Journal noted, the Midwestern chain has become a hotspot among GOP hopefuls in the last two presidential elections. Apparently Mike Huckabee kicked off the trend in 2008 -- he was low on campaign cash, so he made a habit of stopping by Pizza Ranches around lunchtime, buying a few pies, and "trying to lure voters into the party room". And you know when Huckabee gets in the "party room", he gets turnt up. By the time the next election rolled along, it was basically a mandatory stop for each of the 500 contenders for the Republican presidential nod. Newt Gingrich and Ron Paul both passed through, Rick Perry made repeat visits, Rick Santorum stopped by at least 11, and Michele Bachmann put face-time in at no less than 18.
Milwaukee, WI
Mader's first made waves when American playboy John F. Kennedy stopped by during his run to the White House. Presidents Ford and Reagan would later visit, albeit in non-election years. Still, the place maintains a distinctly bureaucratic vibe, as well as an impressive schnitzel selection.
Philadelphia, PA
Obama ordered a hoagie wit whiz in the middle of his first presidential bid, and Bill Clinton loved Pat's so much, he had it three times in the space of one Philly stop. But, most crucially, Pat's played a role in the undoing of a candidate. When John Kerry visited in 2003, he made the devastating mistake of ordering his sandwich with Swiss cheese. He was widely mocked for his choice, and while you could blame his eventual loss on Swift Boat, clearly he lost the Pennsylvania vote early on.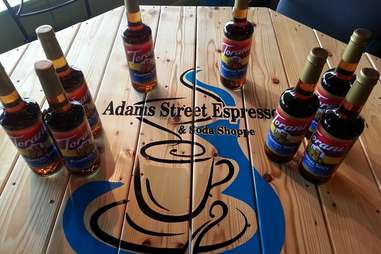 Creston, IA
Though this cafe/soda fountain only opened its doors in 2010, it quickly rose to campaign prominence when four presidential candidates stopped by in the space of a week. Expect anyone with a prayer for the 2016 ticket to start showing up in approximately one month. Who are we kidding? They're probably outside the front door as we speak.
Kristin Hunt is a Food/Drink staff writer for Thrillist, and would love to know which bars and hunting lodges Teddy Roosevelt "campaigned" at. Follow her to TR trivia at @kristin_hunt.