For a few brief hours this weekend, junk food will unite us. In a divisive national climate, where fans are pitted against fans and their spectacle is punctuated by Lady Gaga, a Puppy Bowl, and disgustingly expensive advertisements, Super Bowl snacks will redeem and revive us across the nation. We know this because, thanks to Google, we have data on the most-searched Super Bowl recipes for every state. Like all of our opinions, our country's culinary contours do not always spread evenly -- buffalo chicken dip is a favorite in five states, whereas Michigan is the only one to consistently seek out hamburger sliders the most.
Ultimately the choice of what to make is yours no matter where you live, and with that logic in mind we've presented (at least) one recipe for each dish in each state. Savor whichever you land on, and know that we'll be savoring our choices too.
Recommended Video
Here Are the 4 Craziest 'Game of Thrones' Theories (Spoilers)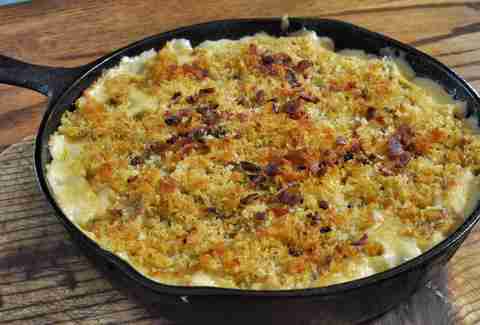 Maine: Spinach Caesar Salad
Maryland: Chickpea Soup
Massachusetts: Buffalo Chicken Dip
Michigan: Hamburger Slider
Minnesota: Chili
Mississippi: Sweet Potatoes Shepherd's Pie
Missouri: Chili
Montana: Buttermilk Biscuits
Nebraska: Chicken Wings
Nevada: Cake Pops
A decision about a thousand times easier than actual cake, especially if your cake pop recipe involves football.
New Hampshire: Taco
Tacos are all about options and varieties, so we've got a few for you: sloppy grilled cheese, Korean BBQ, a cheese quesadilla-taco combo thing, ramen, a grilled cheese sandwich-taco thing, teriyaki chicken, and -- obviously -- bacon mac 'n' cheese.
New Jersey: Buffalo Wings
Your standard buffalo wings are already great, but if you want to kick it up a notch, try a super-hot recipe for pepper-spray hot wings.
New Mexico: Fried Jalapeño Poppers
This is how you make fried jalapeño poppers perfectly every damn time.
New York: Jalapeño Poppers
This is how you grill 'em up perfectly every damn time. Want another tip? Buffalo chicken poppers.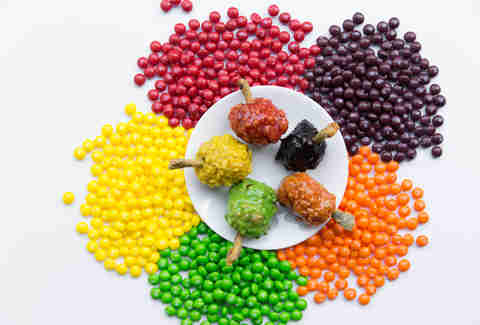 North Dakota: Jalapeño Poppers
This is how you stuff jalapeño poppers in a turkey burger for maximum effect.
Ohio: Pulled Pork Pita Nachos
Make these Hawaiian-style pulled pork nachos, if you're not scared of pineapple guac.
Oklahoma: Oven Mac N Cheese
If you're going to invest the time into crafting a beautiful, baked mac 'n' cheese, attempt these garlic, bacon, and beer mac 'n' cheese balls instead. Try not to eat 10 of them on your own.
Oregon: Tater Tot Casserole
A well-placed tater tot casserole will give you life, but I'd also recommend these bacon cheeseburger tater tot bombs. A video accompanies that recipe, and I defy you to watch the cheese ooze out of them and not run to the grocery store.
Pennsylvania: Buffalo Chicken Dip
Ah yes, the trusty buffalo chicken dip. Nothing wrong with it, but if you like that, give buffalo chicken lasagna a try.
Rhode Island: Bean Dip
You can whip up this simple black bean dip recipe in 20 minutes flat.