An adult film star talks food, sex stuff, and pizza delivery guys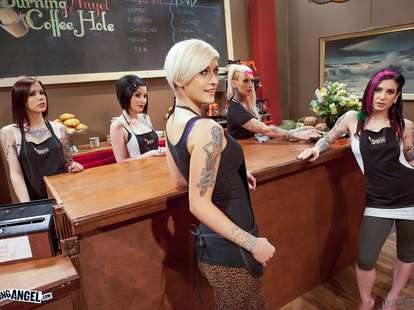 It may seem like porn just magically appears in the browser history of people who definitely aren't you, but the reality is that it takes a crew to make that magic happen, and, like any crew, they've gotta eat.
To peek behind the scenes and learn a little about how a porn crew eats, we talked to Joanna Angel of BurningAngel.com, a veteran actress, director, producer, and sometimes-cook behind hundreds of adult films.
So read on to learn about the best foods to eat before a scene, what the industry thinks of pizza delivery guys, and her ridiculous take on BBQ Pitmasters. And as a bonus, she even shared some photos from a recent shoot.
So let's talk about food in porn...
Well, I can only speak for myself, I can't really speak for others. A lot of people think porn is one thing, but just because I experience something, it doesn't mean the entire industry is doing the same thing.

How do you think your perspective differs?
Everybody shoots differently. Some people shoot one scene in a day, then usually there's not much food, just water and soda maybe. If the call time is 8 or 9 [in the morning], and you're done at 2 or 3 [in the afternoon], there's no break for food. I have food on my sets because I always shoot three to four shoots in a day... my days are probably longer than average.
How many people are on set?
Between the talent and crew, it's about 15 people.
So you're cooking for 15 people?
If I do have a kitchen, I prefer to cook food because getting stuff catered gets really expensive, and most of the time it's not good unless you can afford fancier catering. I've gotten the 10- or 15-person party platters from Chipotle or Baja Fresh, and there's never enough food.
Are you usually breaking for lunch?
We don't take breaks. We have working lunches and dinners.
What do you usually bring to set?
I always get water and Coke Zero. And I'll get a small amount of Red Bull that I keep hiding somewhere. I can't let everyone have it, or it'd get too expensive. I keep it for the crew because they're working from 10am to midnight.
Then I'll get two loaves of bread, deli slices, a veggie tray, a big thing of hummus, bananas, grapes. Grapes are great because you can leave them out all day, and they're okay, not like strawberries.
And I'll get a package of mixed bags of chips. Now I also get Pirate's Booty, because it seems to make everyone really happy. It's always gone in two hours. My crew will take it and hide it in their bags. And then I'll usually get a 10- or 12-piece baked chicken from the supermarket. And coffee.
How do you make the coffee?
I have a coffee maker that I bring to set. I buy a big thing of Folgers or whatever. Sometimes, if we've had a really long night and we've gotta be there early, I'll get Starbucks as a treat. By now I know the whole crew's Starbucks order. But those drinks add up!
What about for dinner?
If I'm going to make dinner, I usually just get a big package of frozen turkey burgers or hamburgers, because you can cook them anywhere. Or I'll make pasta, something that doesn't have a lot of ingredients and that everyone can eat. Also, veggie burgers for the vegetarians. And sometimes I'll get a frozen thing of mixed vegetables and throw some spices on it and put it in the microwave.
Or, on a special day, my boyfriend will come by and make tacos. He's really good at it. Everyone gets really excited when he walks in because they know he's going to make tacos.
Are people snacking all day?
Everybody's busy at different times. The makeup artist doesn't have anything to do once everyone's shooting. The videographer will eat while the photographer is taking photos. We don't really have a break for lunch.
Do the performers like to eat before the scenes?
Some people don't want to eat anything before, but then they'll get tired. It's probably similar to athletes: they don't want to eat a huge meal before a game, but they don't want to play on an empty stomach either. But you don't usually see performers eating big meals before their scenes.
I'll always put aside food for the performer though. It's really common that once the scene is done, the food will all be gone and the performers won't get to eat. I've definitely been that girl on set, where I'd do a scene, and all day I was thinking, 'I really wanted to eat that mac and cheese, I can't wait until my scene's done so I can eat it', but then it's gone.
Have you ever been doing a scene and thinking about food?
Yeah, I've done that. I think we all have.
That's like at an office when you're just thinking about what you're going to have for lunch.
It's not like it's all you're thinking about, but I've definitely thought about that while [FLUID REDACTED] is going on my face. 'Ah, I'm so close to getting that hamburger!'
For you personally, what are the best or worst foods to eat before a scene?
I think a granola bar, bananas, fruit... they give you energy but they won't weigh you down. Or a light sandwich. I'll just take a piece of bread and put turkey on it and just eat it. It also depends on how early. If we're shooting three scenes in a day, the last one isn't shot until 7 at night, so you've gotta eat.
Have you ever had any experiences when you eat a burger before a scene, and it's the worst idea ever?
If there's no kitchen and the crew is tired, I'll always just order pizza. The smell of pizza makes everybody happy. There's definitely been a time when it was a really late night, when I didn't get to do my scene until 3am, and I ate three slices of pizza and I was like "uhhhh". It's hard to turn down pizza. You need a lot of willpower to say no.
When you order pizza and the delivery guy shows up... is that hilarious?
No. I don't really find pizza guy porno funny. We'll pick it up, or leave an instruction to call when they get there. We don't let people inside.
I get it though. Typically people think, pizza guy, porn. But in all my years of shooting porn I've never done a pizza guy setup, so it's not like something you have to do. Mainstream media has killed the pizza guy fantasy, now nobody in porn wants to do it.
Are there any food porn ideas that aren't played out?
Well, I made a movie called Baristas about girls who worked at a coffee shop and all had sex with each other.
How do you feel about the term 'food porn'?
I'm not offended by it. Plenty of people in porn take pictures of the good meals they eat and put them on Instagram. And use that phrase.
Is there alcohol on the set?
I don't allow it. Every once in a while if it's been a really long day someone will get a few beers for the crew, but I can't let any talent drink. It's such a liability. You don't want anyone to say that they were forced into doing porn because they were drunk and 20 years later they regret what they did.
I think people assume that there's no structure to porn. I understand it's funny, and people are having sex and that's taboo. But I remember posting a picture on Instagram of a script and someone said, "I can't believe there are scripts on a porn set". Did they think whenever anyone is speaking that they made it up?
Maybe people like to think it's just the two people having sex and that there aren't 15 people around them.
People think it's crazy that there's a lighting guy. Any porn you've ever seen, how do you think you saw it? People assume that because it's porn, every traditional thing you need to make a film happen goes out the window. I feel like people think porn just magically happens.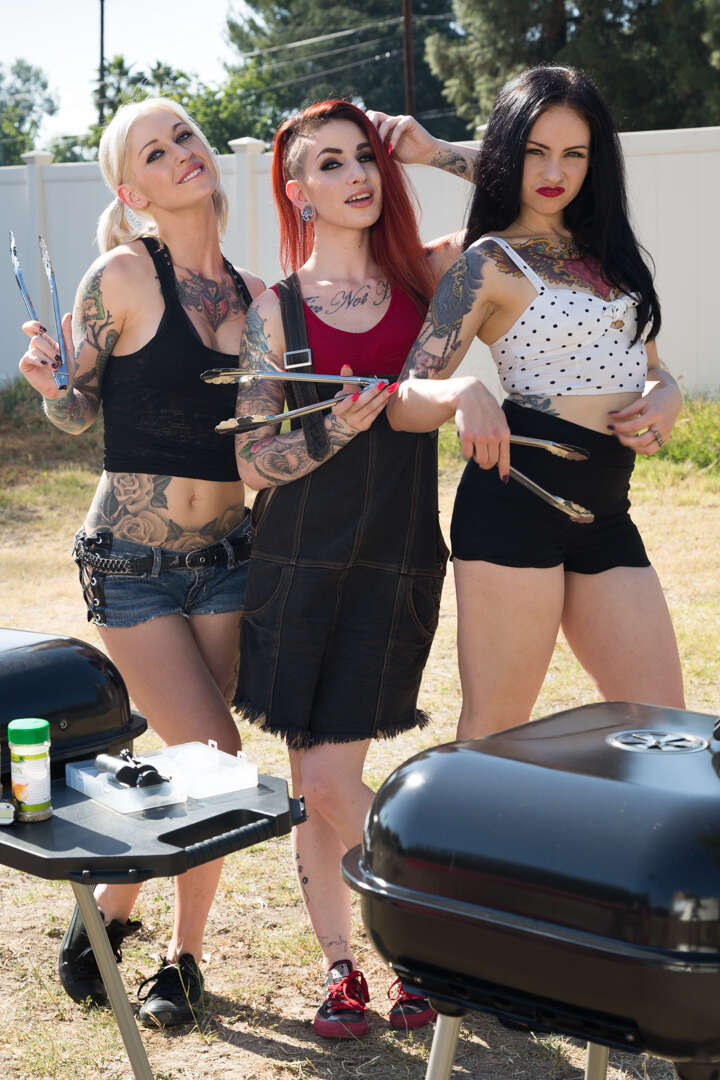 Does any of the talent you work with have weird requests for food?
I don't know, we ask if anyone's vegetarian, but generally riders don't really exist in porn. We're not spoiled divas. Everybody's in the same room, we don't have trailers. Even if there's a big star on set, she's getting dressed in the same room. I've been on a couple TV shows where the stars of the show have their own food, but it's just not like that.
Bananas. If you're ever using a banana in a scene, you aren't just taking that off the food table?
No. We have penises on set, we usually don't have to use the bananas.
So no food on that table would ever get used in a scene?
No, all of it is for when people get hungry, not for any other purpose.
For scenes taking place in kitchens, is that kitchen going to be dedicated for only sex?
Yeah. We don't shoot that often in kitchens, but when we do the food will live somewhere else.
You're not wiping down the countertop and throwing burgers on the stove?
No.
That sounds very reasonable.
Yeah.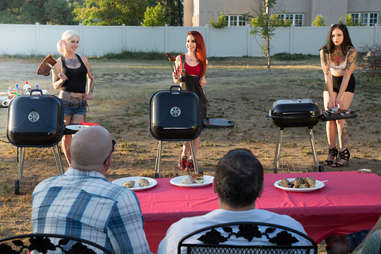 Are there any food-related things in the industry that would surprise people?
I'm not sure, but I really do like to cook! I'm really into those BBQ reality shows. I made a parody of BBQ Pitmasters because I love it so much. I'm not in that one, I directed it. The girls were grilling in the movie, and then all the food that we were grilling winded up being lunch.
Buying three crappy Walmart grills for that movie really inspired me to start copying the food I see on those reality shows. I actually just got one of those Big Green Egg grills. I BBQ'd a whole chicken and injected it. I made my own secret rub. I was really excited about it.
How did the plot of the BBQ movie work?
I called it BBQ Titmasters. There were three girls in a competition against each other. I was kind of making fun of reality TV shows. There was one really die-hard girl, one that's really nice, and one that didn't really care about cooking, but just wanted to be on TV. Each girl had her own style of BBQ, since people are always fighting over the best kind. One did North Carolina, one did Memphis. Whenever there was a tie between the BBQ, they'd judge their tits. Then one of the girls has sex with the judge to try to sway the vote. Then at the end...
(Spoiler alert!)
... everybody has sex.
Dan Gentile is a staff writer on Thrillist's national food and drink team. He was interviewing Joanna over the phone from our New York office and forgot to tell his coworkers what the phone call was about, and they gave him some really uncomfortable looks. Follow him to explanatory hand gestures and improved workplace etiquette at @Dannosphere.