Chicken & Waffles and Maple Bacon Donut Cereals Exist Now, So We Tried Them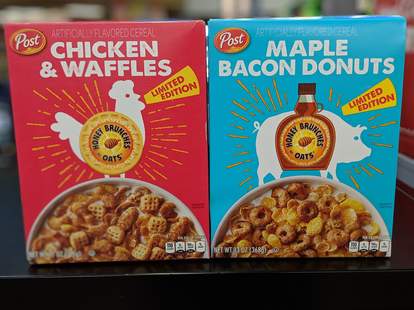 Back in my day, the cereal game was all about eating spoonfuls of sugary, colorful corn pieces at the urging of talking tigers and characters from Irish folklore. My, how things have changed! In 2019, you can't just roll out the same frosted this and chocolate-filled that to gain attention -- you have to go big or go home.
The cereal-makers at Post, who recently released Sour Patch Kids cereal and Hostess Donettes and Hostess Honey Buns in cereal-form, are going real big in honor of National Cereal Day on Thursday, March 7th. They're flooding Walmart locations with two limited-edition Honey Bunches of Oats variants so crazy they just might work: Maple Bacon Donuts and Chicken & Waffles. We got our hands on two boxes to try these morning treats out.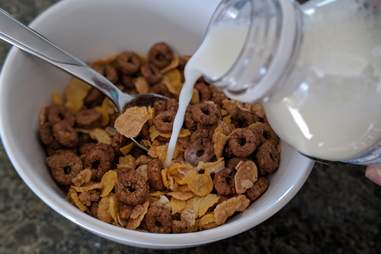 Lee Breslouer/Thrillist
Maple Bacon Donuts
Years before maple bacon flavors went mainstream and were infused into vodka, Maple Bacon Bars wowed crowds at Portland, Oregon's Voodoo Doughnut. When I visited Portland in 2008, I lined up at Voodoo, ordered one, and thought I'd never eaten anything so wild. It was a different time, you know? While that maple bar was topped with a massive slice of bacon, this box of cereal says that "absolutely no pigs were harmed in the making of this cereal," which immediately lowered my expectations for how this might taste. But hey, products like Baconnaise and Bac'n Pieces replicate the taste pretty well without using pork, so maybe this'll be good!
After opening the box, I stuck my schnoz in there and smelled maple, honey, and something vaguely resembling a donut. But no bacon, which is a real shame because the smell of frying bacon is often more enjoyable than eating it. The cereal pieces are your standard Honey Bunches of Oats ingredients along with darker colored, knockoff Cheerios presumably meant to be donuts. My first bite was a surprisingly tasty mix of honey and maple, and a bit of a smoke flavor. But nothing that screams "BACON!" If anything, it whispers "bacon."
Eating Maple Bacon Donuts cereal makes me feel like I'm eating maple syrup-covered pancakes after bacon fat seeped into it. Overall, its unique flavor profile makes eating this a fairly pleasurable cereal experience, and a nice change of pace from the one-note sugary stuff you're used to on Saturday morning.
Lee Breslouer/Thrillist
Chicken & Waffles
Ooo, look at the cute little waffle and fried chicken shapes in the cereal! Once again, this is a base of Honey Bunches of Oats with two additional cereal pieces. And just as I couldn't smell bacon in the Maple Bacon Donuts cereal, this doesn't smell anything like chicken (it's also completely free of actual chickens). But I'll admit that the ingredients in this cereal are getting me hyped: onion powder, garlic powder, and a spice blend with black pepper, marjoram, sage, and thyme. That gives me the impression that Post committed to making this cereal taste like chicken and waffles as much as possible. The last guy I saw get upset from a lack of commitment was Colton on The Bachelor, and if this doesn't taste like chicken or waffles, I'm also going to freak out and jump over a fence.
One bite was all it took to be impressed. Post did not tone down the onion and garlic flavors up front. Thankfully the savory flavors didn't linger, and the finish reminded me plenty of a waffle, along with some familiar buttery, maple syrup notes that I'm guessing was also in the Maple Bacon Donuts. My brain is confused as to how the cereal-makers were able to make a cereal taste this complex. Ah, the magic of artificial flavoring!
Here's the bad news: This cereal does not taste like chicken. Despite the cereal's onion powder, garlic powder, and spice blend, eating this doesn't make me think I'm eating chicken. Instead, it tastes like the flavor of chicken once removed, like I'm somehow eating a memory of a time I ate chicken. (That sentence was directed by Christopher Nolan.) Suffice it to say, if you eat this while you think hard enough about eating chicken and waffles, maybe you'll be convinced. Here's the good news: It does tastes like waffles! Hmm, I wonder if this would taste more like chicken and waffles if I threw some shredded chicken in the bowl.
On second thought, maybe the next time I'm in the mood for a sugary cereal, I'll just stick to Honeycomb.
Sign up here for our daily Thrillist email and subscribe here for our YouTube channel to get your fix of the best in food/drink/fun.