Perry Santanachote/Thrillist
Perry Santanachote/Thrillist
While it's plain stupid to smoke a bowl in your cubicle, no one will fault you for eating a brownie, right?! Not that we're saying get high on the job... but admit it, work would probably be a lot more fun. Many of these recipes pack a real punch, so it's probably best to bookmark them on your phone until the weekend. Here are nine delicious cannabis recipes that integrate marijuana into all kinds of foods that go beyond brownies. Except for this brownie recipe, which is really, really good and pairs well with a Lord of the Rings marathon. Extended cut. Because it's the weekend, right?
THC Finder's pig + cannabis mashup involves shaking cannabis flour over Canadian bacon and baking it. Ha, we said baking it. We're such rascals!

This one is as simple as melting chocolate and cannabis coconut oil in the microwave, dipping in your cherries, and waiting. Eat Your Cannabis has all you need for a romantic evening with someone. Or alone.

Get a taste of the Mediterranean/Humboldt County by simply blending together all the ingredients in Leafly's recipe.
The folks at Original Weed Recipes say that "hiding the flavor of cannabutter is difficult," but that tacos usually can accomplish it. Thank god for Taco Tuesday.

High Times published a cookbook that included this healthy recipe. Eat this and get a runner's high without ever doing the actual running.

The Stoner's Cookbook marries kief, chocolate chips, and half-and-half for the most decadent/calming hot chocolate ever created.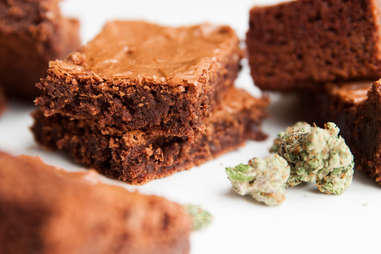 This recipe from Cannabist requires you know how to make cannabutter, but we've got you covered on that front. Mostly the recipe involves stirring and then having the patience to wait 30 minutes for them to bake in the oven. Be warned: the recipe creator said these are strong.

A recipe perfect for the Paleo stoner in your life, the author of the Wake & Bake cookbook offers an easy way to start your day off right with cold brew coffee and cannabis-infused coconut oil.

The full recipe is actually called "Jeff's Buzzin' Broccoli Cheese Bread," as Jeff's the guy who came up with this recipe -- he also happens to be touted as the "Julia Child of weed" by The Daily Beast. Solid endorsement. Fun fact: broccoli makes this dish approximately 99% healthy!
Sign up here for our daily Thrillist email, and get your fix of the best in food/drink/fun.
Jon Sumpson writes about cannabis and sex for Thrillist.