Julia Sherman Gives Advice for Hosting a Perfectly Imperfect Potluck Party
The author of 'Arty Parties' offers a creative approach to home-entertaining.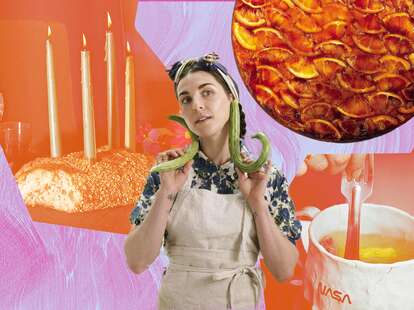 Image by Chineme Elobuike for Thrillist
The potluck party is a spontaneously fun, community-building concept where each guest contributes to an eclectic feast. Perhaps you experienced one long ago, at some kind of rec center housing casseroles and Jell-O salads. Now, as we ease back into the idea of gatherings, it's the perfect time to channel those sweet memories and bring the potluck party back—this time with a modern twist.
As the author of the entertaining handbook Arty Parties, Julia Sherman believes in doing dinner parties the unconventional way. The artist has hosted a book launch in the aisles of her corner supermarket, a New York crawfish boil to the accompaniment of a punk rock marching band, and her own potluck party on a museum rooftop. For Sherman, there's beauty in the unpretentious, and we spoke to her about her best tips for hosting and attending a pitch-in dinner.
Embrace the art of letting go
No matter how far we've come from the Martha Stewart ideal, it's hard not to sweat the small stuff. But it's important to remember that hosting in the comfort of your own home affords you the luxury of keeping things casual. "A lot of people get this sort of misguided idea that to host a really stellar party, you have to emulate restaurant service or catering," Sherman says. "But I think that's missing the point of what it means to invite someone into your home—your intimate world—and what it actually looks like."
And if you're stressed about maintaining a seamless flow, guests will be able to pick up on that energy. "When I look at a lot of entertaining books from a certain era, I feel like they really guide you towards this futile pursuit of perfection. And I don't think that's fun for anyone" she explains. "If you're having fun, the people who you invite over will be having fun, too. I find that kind of messiness—that free-flowing, everybody's-in-it-together vibe—makes people feel much happier to be there."
But a few guidelines will ensure that the meal comes together in a cohesive way. "I never do a spreadsheet, but I think saying either, 'Here's a general theme,' or 'I'm making the main and here's what we need—a vegetable, a starch, and a dessert' is a good idea," she says.
If only five people are attending, you'll want to ensure that every aspect of the meal is covered. But if you have a larger party, specificity is not as important.
Don't be afraid to delegate
You should never feel embarrassed about asking your guests for help—especially when it comes to a potluck, which is collaborative by design. "Delegating is a really good way to kind of take the focus off of you as the host," Sherman explains. "You're already doing your part by inviting people to your home and creating the context for a good time."
Sherman finds that people actually like contributing to parties. So play on your friends' strengths and ask them to make something you know they're good at making, or for advice on how to best decorate. "People enjoy being given a little bit of space to add their personality to the mix," she says.
If your friends aren't cooks, don't fret
When sending your potluck invitations, you'll inevitably get a few "But what if I don't cook?" responses. If there are varying degrees of enthusiasm among your group, save some opportunities for sourcing ingredients. "List off some other things that you could use—everything from ice to different toppings for an ice cream sundae bar," Sherman advises.
If you're a guest, try to branch out and bring something that's a little less predictable than a bottle of wine. "I always love tinned fish. There are so many beautiful boxes on the market right now," Sherman says. "We once had a tinned fish potluck where everybody just brought different conservas." Some of Sherman's other suggestions include smoked fish, which always feels a little decadent, or a box of seasonal fruit—no preparation necessary.
Create different heights
Sherman is an expert in innovative food styling. In Arty Parties, for example, she suggests repurposing stale bread as a candelabra centerpiece. For potlucks, though, simplicity is key. "The whole point of a potluck is to try to reduce the amount of dishes you're doing," she says. "You don't want to be transferring people's food into your own, because then you're going to have a lot of dishes to clean at the end."
Instead, focus your energy on creating different heights on your tablescape. Not only will it make the layout more visually appealing, but it'll also save you some space. Sherman says, "You can use whatever objects you have—whether that's a cake stand or objects that are not traditionally found on a table—so that people can put their things on varying heights and create a much more dynamic space." And if you're serving seasonal fruit, scatter it around the food for a playful touch.
The point is to embrace the unpolished look. After all, there's something charming about a platter that doesn't match. "I think with potlucks, you might not want to try so hard to make it feel so put together," Sherman says. "Part of the joy and the beauty of it is that it is homespun."
Consider having the potluck elsewhere
So you have a small space. You might want to save the effort of making room for everyone and drop your home setting entirely. "In this day and age, you don't necessarily have to have people at your house," Sherman says. "You can go to a park. You can host in places that are not your home, which I think is a really fun thing to do."
Otherwise, try to open up your entire apartment or house, rather than limiting everyone to a dining room. "Allow people to sit and mingle wherever. It's not weird to let people be in your bedroom," Sherman says.
Be mindful of friends who aren't drinkers
When it comes to drinks, Sherman likes to create a range of options with a single, non-alcoholic cocktail mixer that people can add alcohol to if they'd like. This way you're not creating a separate mocktail," she says. "It's just a choice whether you add the booze." Her favorite concoction, featured in Arty Parties, is a mixture of elderberry syrup, apple cider, and lime. From there, people can add vodka and soda water if they want.
Don't forget to bring the host a gift
It's easy to mistake a potluck contribution as a gift for the host, but it's always a good idea to show your gratitude with a little something extra. Sherman has a chapter dedicated to homemade food gifts, like celery salt, boozy cherries, and fermented chilies. "If you're ever making those types of things that last for a while for yourself," she says, "it's really nice to just make extra so that when you get invited to someone's house, you have a little jar of something personal to bring."