12 things you didn't know about poutine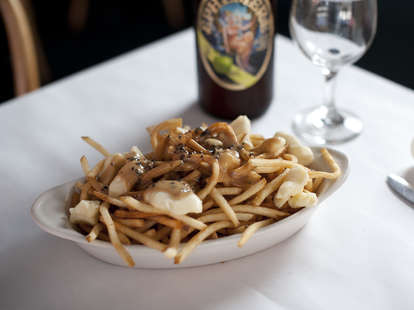 Jeff Miller
Jeff Miller
Your camp friend's model girlfriend in Canada may have been dubious, but one beautiful thing that definitely exists in our neighbo(u)r to the North is poutine, the amazing savory mess of French fries, brown gravy, and squeaky white cheddar cheese curds. This mysterious street snack is currently staging an invasion of the States, so it's high time to profile what is possibly the most American Canadian food of all time.
1. Its origins are shrouded in mystery
Poutine (pronounced by Canadians as "peu-tin" rather than "poo-teen", because they don't have America's lewd sense of humor) was allegedly invented in 1957 in rural Warwick, Quebec, but at least four other towns have laid claim to it as well, making it the Paul Bunyan of French-speaking Canada.
2. It was probably invented by a super-hungry truck driver
Fernand Lachance, chef/proprietor of Lutin Qui Rit in Warwick, was allegedly serving a trucker who ordered a bag of French fries covered in white cheddar cheese curds, and remarked to him (in French), "It will make a damn mess." He wasn't wrong. The gravy wasn't added until later, to keep the fries warmer for the long haul and to make it EVEN MESSIER.
3. Poutine has some seriously odd alternate meanings
French-Canadians apparently like having a bunch of different meanings for their words, because, in addition to "mess", poutine also means "pudding" and "fat person". So if you eat too much poutine you could become a poutine. You are what you eat, eh?
4. Poutine comes in several different varieties that're all equally glorious
A few accepted (read: Canadian-tolerated) versions of poutine are Italian (topped with Bolognese), spicy (Tabasco in the gravy), Galvaude (shredded chicken and peas), and Dulton (ground beef). Americans top their poutine with just about anything, such as foie gras or lobster, the charlatans!
5. Real poutine is fried in lard
No vegetable oil is accepted in making a real serving of the stuff, which will in turn be served in a styrofoam container. Accept no substitutes.
7. McDonald's recently started selling it in stores all over Canada
The formerly Quebec-only dish went national in December, being rolled out from the sands of Prince Edward Island to the gardens of Victoria, British Columbia and everywhere in-between. Even Regina!
8. The largest poutine ever weighed 1,001lbs
That's 454kg, for those keeping track on the metric system. You can check out the behemoth being made (and consumed) in the above video, but be forewarned -- serious food envy may result.
9. Poutine is considered one of the national dishes of Canada
And it gets sung about a lot, notably by Quebecois neo-folk band Mes Aïeux, who compare it to eating an entire pound of butter and apparently have no connection to Paula Deen whatsoever.
10. Americans got their own version of the dish in the 1970s: "disco fries"
Disco fries are a New Jersey diner staple and are basically the same as poutine except that the white cheddar cheese curds were replaced with mozzarella, and they were eaten after a night at the disco rather than after a night spent curling or whatever.
11. Poutine duped George W. Bush on the 2000 campaign trail
Comedian Rick Mercer famously joked to Dubya that he had been endorsed by Prime Minister "Jean Poutine" (the actual prime minister at the time was Jean Chrétien), and the then-governor didn't notice the switch. And that was the last time anyone made a joke about a Canadian politician.
12. It was named the 10th greatest Canadian invention of all time... placing above the electron microscope
Canadians obviously care more about enlarging their stomachs than their brains, because, in a poll conducted by the CBC, poutine took #10, beating the electron microscope, the BlackBerry, and the paint roller. When you've got enough poutine, who needs any of those things anyway?!
Adam Lapetina is a food/drink staff writer at Thrillist, and was totally the person who introduced Pizza to Bagels back in the day. Read his musings on Twitter at @adamlapetina.