Power-ranking EVERY SINGLE BLIZZARD at Dairy Queen
Going to Dairy Queen and not ordering a Blizzard is so dumb, it's like going to Taco Bell and not getting stomach cramps Doritos Locos Tacos. Since Summertime is the best time to eat the Blizzard, we're helping you select the best of the 22 Blizzards by taste-testing each one, scoring them on a scale from 1-10, and then power-ranking them from worst to first. Our four food detectives are on the case. The (fattening, delicious) game's afoot!
Rank: 22
Flavor: Hawaiian
Tasting Notes: Banana, toasted coconut, and pineapple are all fine and dandy, but they belong nowhere near a Blizzard. One taste-tester called it a "concoction of crap". On the brighter side, we also got some free DQ swag; a tiara and a wand for the lady testers.
Average Score: 0.75
Rank: 21
Flavor: Lemon Meringue Pie
Tasting Notes: See the tiara and wand? They're totally helping our tester Rebecca get into the Dairy Queen spirit. The pie pieces were a nice touch, but this is not worth ordering, even though it's a limited-time-only treat that'll be taken off the menu at the end of July.
Average Score: 5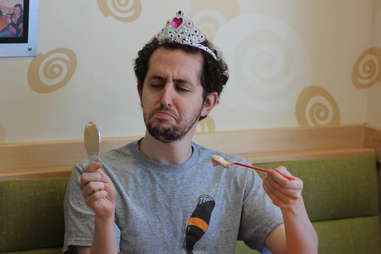 Rank: 20
Flavor: Georgia Mud Fudge
Tasting Notes: STOP JUDGING. I was feeling a little left out, so I tried it on. Turns out it's not my thing. Neither was this Blizzard. There's a subtle brownie flavor, which isn't bad, but it's got a lingering pecan aftertaste that's none too pleasant.
Average Score: 5.5
Rank: 19
Flavor: Turtle Pecan Cluster
Tasting Notes: Despite the name, this does not feature pieces of Leonardo, Donatello, or the one who was a party dude; rather, this Blizzard offers pecans and strong caramel flavors.
Average Score: 5.75
Rank: 18
Flavor: Reese's
Tasting Notes: Not much to this one, just tasty chunks of Reese's cups mixed in with vanilla soft-serve. A classic, sure, but nothing to go crazy over.
Average Score: 6
Rank: 17
Flavor: Oreo Cheesequake
Tasting Notes: Here, a DQ franchise owner shows off how the Blizzard defies gravity. She noted that new DQ employees are often afraid to do this. The mix of Oreo pieces and chunks of cheesecake blended together beautifully here.
Average Score: 6.25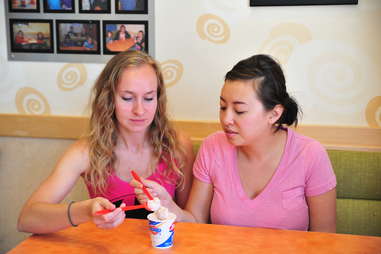 Rank: 16
Flavor: Cookie Dough
Tasting Notes: One of the two most popular Blizzard flavors around, we enjoyed the cookie dough chunks, but didn't like it as much as some of the other flavors.
Average Score: 6.5
Rank: 14 (tie)
Flavor: Double Fudge Cookie Dough
Tasting Notes: It might not look like it, but all Blizzards have a vanilla soft-serve base. To make this double fudge, it takes a whole lotta cocoa fudge. "Super chocolatey", says one tester. No doubt.
Average Score: 6.75
Rank: 14 (tie)
Flavor: Mint Oreo
Tasting Notes: "Creamy and refreshing" is how one tester describes this. And it does a nice job of balancing the Oreo and mint flavors.
Average Score: 6.75
Rank: 12 (tie)
Flavor: Chocolate Xtreme
Tasting Notes: There's enough chocolate here to satisfy any chocoholic, with dark chocolate chunks, brownie pieces, and dark cocoa fudge. It's so Xtreme, it doesn't need a friggin' "e" at the beginning of the word. Letters at the beginning of words are old news, GRANDPA.
Average Score: 7.25
Rank: 12 (tie)
Flavor: Strawberry Cheesequake
Tasting Notes: Real strawberries and pieces of cheesequakecake abound in this, and the result is a fruity Blizzard worth copping.
Average Score: 7.25
Rank: 11
Flavor: Banana Cream Pie
Tasting Notes: Graham. Cracker. Crust. Yes, yes, a thousand times yes. We were loving the real bananas in this, too.
Average Score: 7.5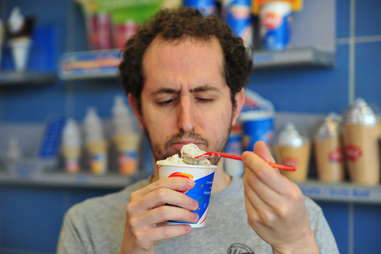 Rank: 10
Flavor: Snickers
Tasting Notes: Crunchy and creamy goodness that's like a frozen Snickers bar mated in a junk food laboratory with a cup of vanilla soft-serve. There're chocolate syrup notes, too.
Average Score: 7.75
Rank: 8 (tie)
Flavor: M&M
Tasting Notes: Like Sesame Street once wisely said, eight is great. Each bite bursts with seemingly millions of M&M chunks. Nice chocolate syrup notes, too.
Average Score: 8
Rank: 8 (tie)
Flavor: Butterfinger
Tasting Notes: A simple mix of Butterfinger and vanilla soft-serve, but one our tasters loved. Couldn't get enough of those candy bar chunks.
Average Score: 8
Rank: 6 (tie)
Flavor: Midnight Truffle
Tasting Notes: Those pellet-looking things are truffle pieces that get blended into the Blizzard, and let us tell you first-hand, those things are STRONG on their own. Mixed in with the vanilla soft-serve, however, they're a super-chocolatey delight.
Average Score: 8.25
Rank: 6 (tie)
Flavor: Choco Cherry Love
Tasting Notes: This is the best of the fruit-enhanced Blizzards, and the use of real cherries and dark chocolate chunks had us smiling. And lest you think we take our judging lightly, think again. We created a spreadsheet like someone who has a real job!
Average Score: 8.25
Rank: 5
Flavor: Banana Split
Tasting Notes: Scoring this Blizzard so high was a shock to the tasters, who did not expect to like this pineapple-, strawberry-, and chocolate-filled concoction that much. This is why we play the game, people!
Average Score: 8.5
Rank: 4
Flavor: Oreo
Tasting Notes: One of the other most popular Blizzards on the market, the cream-filled cookie ice cream treat delivers. Wins bonus points for the notes of Oreo frosting.
Average Score: 8.75
Rank: 3
Flavor: French Silk Pie
Tasting Notes: Super "crunchy" pie crust, dark chocolate chunks, and a healthy amount of whipped cream on top mean this bad boy is not something you'll want to share.
Average Score: 9
Rank: 2
Flavor: Heath
Tasting Notes: The toffee from the Heath bar gets doused with chocolate syrup and hot fudge, and blends nicely with the vanilla soft-serve. The candy bar you might not've cared for as a kid makes for a spectacular dessert.
Average Score: 9.5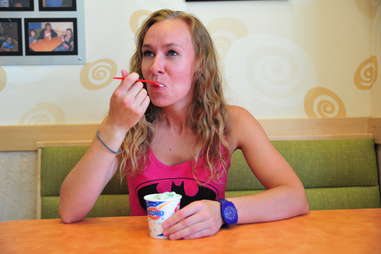 Rank: 1
Flavor: S'mores
Tasting Notes: The unanimous winner is the Blizzard only available during the Summer months. Bits of graham cracker and marshmallow cream make this taste like you're "sitting at a campfire".
Average Score: 10.0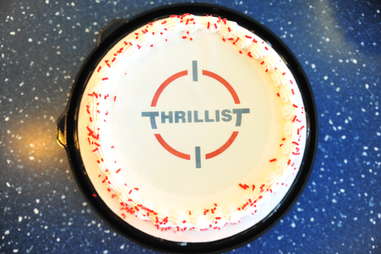 We also tasted DQ's other signature desserts, including an ice cream cake they decorated using edible spray paint and the logo of a random, super-cool company filled with handsome editors. Out of five treats (including fan-fave Peanut Buster Parfait, a Banana Split, a cake cone of cherry-dipped vanilla soft-serve, and a chocolate-dipped strawberry waffle bowl), the ice cream cake & the waffle bowl both scored 10 out of 10.

With our taste buds spent, we ventured off into the hot sun. We gave it a 9.5 because it keeps humanity alive.