In honor of today being National Cheesecake Day (it's a thing! Look it up!) and us very much enjoying hurting ourselves via food, we asked one our local correspondents to hit up The Cheesecake Factory and try ever single cheesecake they make. Almost $400 later, he had tasting notes on all 34 flavors (including a s'mores one that comes out today!) and a definitive ranking you can feast your eyes on below: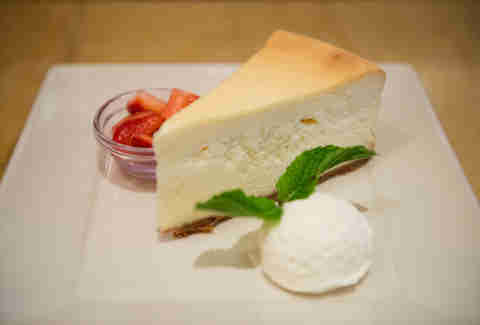 34. Low Carb Cheesecake with Strawberries
This sweetened-with-Splenda option tastes... um, like it's sweetened with Splenda, and it's relatively healthy, so it goes on the bottom of the list.
33. White Chocolate Caramel Macadamia Nut
Our correspondent Eric digs into this slice like a mack... adamia, only to find it tastes like an extremely rich version of caramel nut cluster candies, which apparently just sound like a good thing.
32. Pineapple Upside-Down Cheesecake
According to Eric, the reaction to this fruit-crusted number is the same as what Sara Webley said when he asked her to junior prom: "Awww... that's sweet" (and then, presumably, "No").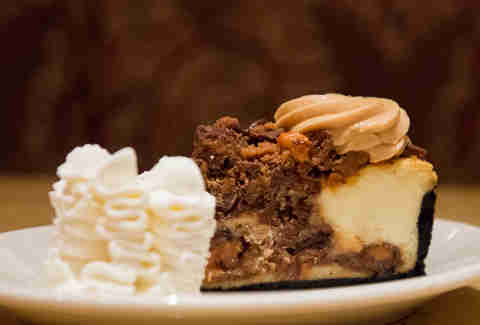 31. Adam's Peanut Butter Cup Fudge Ripple
It's near the bottom not because it isn't good (it's freakin' delicious), but because it's almost all candy, and because there's a cake in the top five that crushes it in the peanut butter cup department.
30. Key Lime
29. The Original with Cherry Preserves
28. Mango Key Lime
The key thing to remember about each of these: the Key Lime's a little too tart, the Original'd be better without cherries on it, and the mango-flavored version of the Key lime has just the right amount of acid to cut through the sweetness.
27. Dutch Apple Caramel Streusel
If you follow Eric's Instagram, you already know this fruit-based number has a texture almost like coffee cake... AND that he played with Telekinesis at this year's Capitol Hill Block Party less than 24hrs after eating 34 pieces of cheesecake!
26. Craig's Crazy Carrot Cake Cheesecake
25. Fresh Banana Cream Cheesecake
24. The Original
The best thing about each of these, respectively, is the alliteration in the name(!), the Nilla wafer crust, and the fact that there're no cherries... so take that, #29!
23. Snickers Bar Chunks and Cheesecake
Like you'd expect from cheesecake made with Snickers, this guy really satisfies, but would be better if the chunks were IN the cake instead of just strewn on top.
22. Pina Colada Cake
21. Dulce de Leche Caramel Cheesecake
20. Vanilla Bean Cheesecake
Despite No. 22 tasting a little like booze, and No. 21 like pancakes, it's the seriously underrated Vanilla Bean that stands out -- it's like eating a milkshake with a fork.
19. Wild Blueberry White Chocolate Cheesecake
18. White Chocolate Raspberry Truffle
17. Chocolate Raspberry Truffle
After trying 15 different kinds of cheesecake, Eric got some help from Liz, who clearly had a hard time choosing between the two truffle numbers.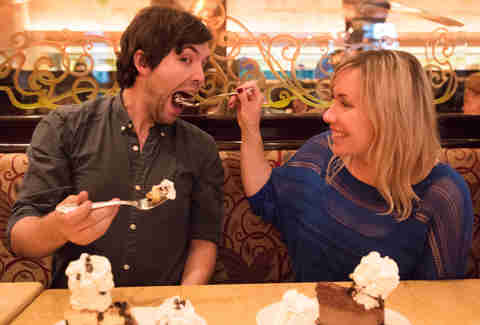 16. Caramel Pecan Turtle Cheesecake
15. Chocolate Mousse
14. Chocolate Chip Cookie Dough
The cookie dough-based slice is exactly what it sounds like... only better, as Eric could tell you if he wasn't busy FLIRTING instead of sharing vital tasting notes about cheesecake!
13. Toasted Marshmallow S'mores Galore
Available nationwide today, this towering slice could use... waitforit... s'more marshmallow flavor.
12. Ultimate Red Velvet Cake
11. Kahlua Cocoa Coffee Cheesecake
At this point, our correspondents' energy levels are going where the inspiration for No. 12 comes from (down South), and they could probably use an actual cup of coffee instead of more cheesecake that happens to taste a little bit like it.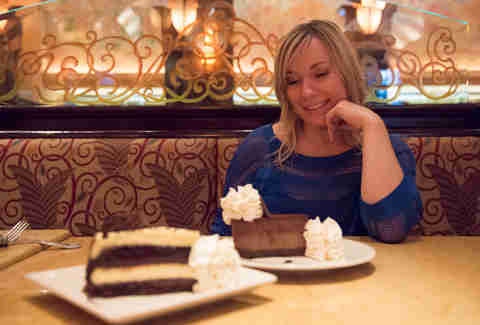 10. Godiva Chocolate Cheesecake
9. 30th Anniversary Chocolate Cake

See... Liz either really needs some coffee, or she's unhappy about the fact she's single and The CF's celebrating its 30th anniversary with a mash-up of Original Cheesecake, Fudge Cake & Chocolate Truffle Cream.
8. Lemon Raspberry Cream
This aggressively fruity number provided our correspondents with a needed break from chocolate.
7. Chocolate Tuxedo Cream
This surprisingly light and refined cake is near the top of the list, despite reminding Eric of the tuxedo he never got to wear to junior prom after Sara Webley went with some douche from the wrestling team.
6. OREO Dream Extreme
The Dream Extreme is like a warm, silky Blizzard, and eating it may finally make you understand Vince Young's dream of one day making it back to the NFL so that he can just spend all his money at The Cheesecake Factory again.
5. Hershey's Chocolate Bar Cheesecake
It's looks like Eric has caught his second wind...
... Probably because this is what he's looking at.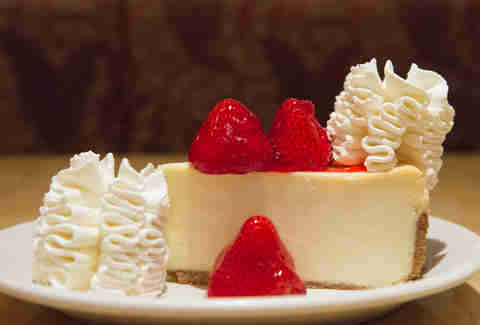 4. The Original with Fresh Strawberries
CF's most popular option has a fruit topping that shares a name with the only guy who could wreck a career faster than Vince -- Strawberry.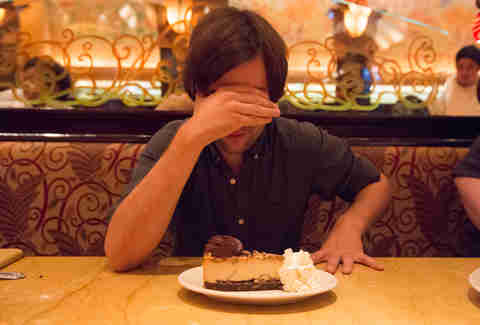 3. Tiramisu
Eric powered through this liqueur-soaked slice and put it near the top in large part because it's made with actual ladyfingers, which came in handy when...
... It came to trying
2. Reese's Peanut Butter Chocolate Cake.
Luckily, Liz was there to forcibly make Eric enjoy the surprising subtle peanut putter flavor cut by layers of fudge cake & caramel.
1. Chris' Outrageous Cheesecake
It has layers of chocolate cake, chewy brownie, toasted coconut-pecan frosting & chocolate chip coconut cheesecake, tastes a little like German chocolate cake and a lot like the last bite of cheesecake a certain Thrillist correspondent will ever have... until journalistic integrity requires we make him do it again next year.