Ranking EVERY SINGLE Signature Flavor at Cold Stone Creamery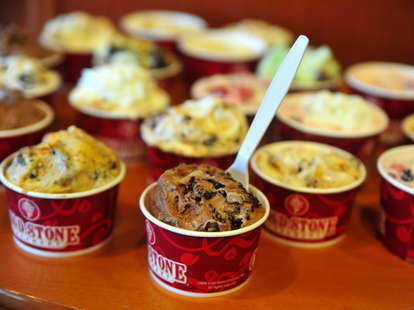 Rebecca Feder
Rebecca Feder
Cold Stone Creamery is known for combining house-made ice cream with creative mix-ins on a frozen granite stone, and employees who sing when you tip them, unlike those other ungrateful ice cream shop employees who think it's enough to say, "Thank you!" and smile. At least freestyle for us! To help you determine which of their 20 signature flavors to order next time you visit, our team of ravenous food detectives fought off brain freeze to taste-test each one, score 'em on a scale from 1-10, and then power-rank everything from worst to first.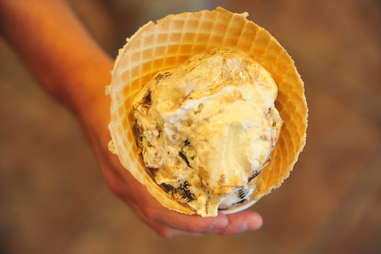 20. The Pie Who Loved Me
Tasting notes: All we spy is a creation that sounds way better than it tastes, as it's a mix of cheesecake ice cream, Oreo cookies, and graham cracker pie crust that, nevertheless, "doesn't taste like anything".
Average score: 3.25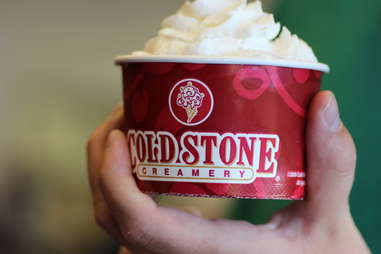 19. Strawberry Banana Rendezvous
Tasting notes: Despite a mix of real strawberries and bananas with strawberry ice cream, there weren't many flavors in this that came on very strong. A little too froyo-like for our tastes.
Average score: 4.25
18. Chocolate Devotion
Tasting notes: If you were one of those kids who just squeezed a bottle of Hershey's syrup into his mouth and called that "dessert", eating this is going to bring back a lot of memories. Very gooey and chocolatey, but not in an exceptional way.
Average score: 4.75
17. Mint Mint Chocolate Chocolate Chip
Tasting notes: There are so many chocolate chips in this, it feels like your mouth robbed the Nestle's Tollhouse factory. The minty fresh finish was nice, though.
Average score: 5
16. Cookie Doughn't You Want Some
Tasting notes: The French vanilla ice cream melts in your mouth way fast, so you're often left to chew on chunks of cookie dough alone. Will make you thirsty after eating. Order water with this one.
Average score: 5.25
15. Founder's Favorite
Tasting notes: This sucker is loaded with pecans and brownies that stand out in the sweet cream ice cream. This is more chocolatey than it looks.
Average score: 5.5
14. Banana Caramel Crunch
Tasting notes: One taste-tester commented that it doesn't remind him of ice cream, which is a strange thing to say when you're eating a bowl of ice cream. But that's because roasted almonds aren't a common mix-in.
Average score: 6
13. All Lovin' No Oven
Tasting notes: Now we're getting to the good stuff. Cake batter ice cream, cookie dough, and fudge mesh beautifully here.
Average score: 6.25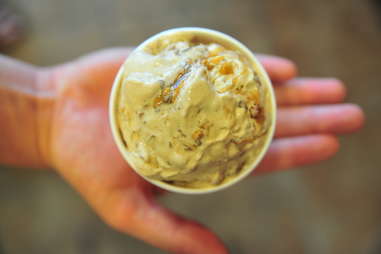 12. Coffee Lovers Only
Tasting notes: If you're not a coffee lover, don't order this, because they will have you arrested. If you are, you'll love the toffee flavors from the Heath Bar, and the roasted almonds that hang out inside the coffee ice cream.
Average score: 6.75
11. Mud Pie Mojo
Tasting notes: Strong peanut butter flavors are present in this treat with a base of coffee ice cream, along with Oreos and fudge. And we're not trying to show off with our sick, 100%-pure-silver watchband. Excuse us for balling out of control.
Average score: 7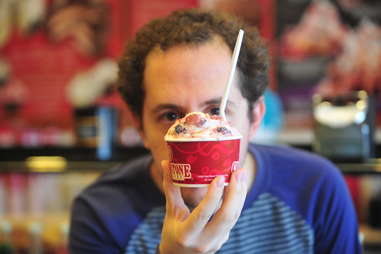 10. Our Strawberry Blonde
Tasting notes: It's like "eating a strawberry milkshake" with graham cracker pie crust mixed in.
Average score: 7.25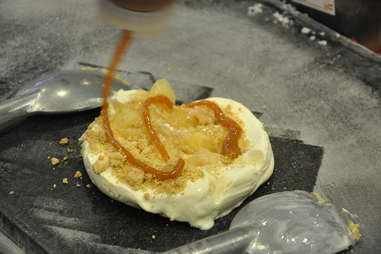 9. Apple Pie A La Cold Stone
Tasting notes: Graham cracker pie crust and apple pie filling are all kinds of delicious, and these tried-and-true flavors do not disappoint.
Average score: 7.5
7 (TIE). Berry Berry Berry Good
Tasting notes: Despite being filled with strawberry, blueberry, and raspberry, it's missing Matthew Berry, which means eating this cannot help with your fantasy team. On the upside, the strawberries come through the strongest, and that's a very good thing.
Average score: 7.75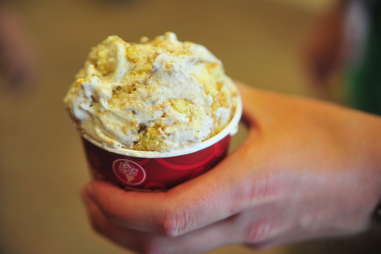 7 (TIE). That's How I Roll
Tasting notes: If cinnamon rolls were ever filled with yellow cake and cake batter ice cream, they'd taste like this. It's also super rich, but in a good way.
Average score: 7.75
6. Peanut Butter Cup Perfection
Tasting notes: You better believe this is filled with Reese's. And additional peanut butter! Not surprisingly, that leads to a strong peanut butter aftertaste, which exactly zero of our taste-testers complained about.
Average score: 8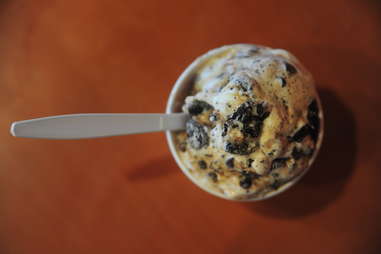 4 (TIE). Oreo Overload
Tasting notes: The sweet cream ice cream makes it taste like you're eating a bowl of Oreo filling. That is a high compliment. Love that they added fudge to this, too.
Average score: 8.25
4 (TIE). Cookie Mintster
Tasting notes: Obviously named after the beloved puppet from Serserme Strait, the Mintster's got plenty of Oreo crunch with a delicious minty finish.
Average score: 8.25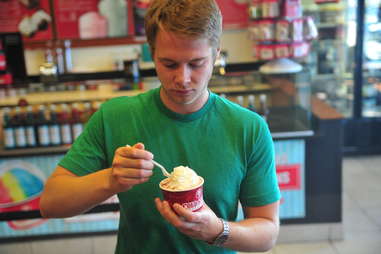 3. Cheesecake Fantasy
Tasting notes: Cheesecake ice cream, graham cracker crust, blueberries, and strawberries make for a refreshing bowl of delicious. Better than any slice of cheesecake we've ever had.
Average score: 9
2. Germanchökolätekäke
Tasting notes: This surprised us, but the mixed-in toasted coconut was super-tasty, and made for an epic frozen version of a German chocolate cake. Loved the addition of pecans, as well.
Average score: 9.25
1. Birthday Cake Remix
Tasting notes: This is one of Cold Stone's most popular Signature Creations, and it's obvious why after digging into a spoonful of cake batter ice cream, rainbow sprinkles, brownies, and fudge. This is better than any birthday cake we had growing up. Sorry, Fudgie.
Average score: 10
Sign up here for our daily Thrillist email, and get your fix of the best in food/drink/fun.