Oren Aks/Thrillist
Oren Aks/Thrillist
The air in Battle Creek, MI smelled like cornflakes, potato chips, and Pop-Tarts. In the rearview mirror, my driver glanced at the backseat through rose-tinted aviators and told me we were getting close.
"I think I'm picking up Frosted Flakes," he said, while sniffing out of the half-cracked window of his Chrysler, mullet flapping in the wind. Barren fields and thickets of trees surrounded the sprawling concrete and glass complex of Kellogg's headquarters -- it looked like any other corporate campus in Middle America.
Back in the '30s, Battle Creek was home to Dr. John Harvey's then-world-famous sanitarium, where health nuts flocked for experimental yogurt enemas. These days, it's defined by rows of sanitized monochrome, only broken by splashes of familiar cartoon logos. Prominent among them: Julius Pringles, the same mustachioed, bow tie-wearing caricature smiling back at me from a can of Pizza-flavored chips crammed in my backpack. I removed the cap. Its contents were uncrushed and unharmed despite the considerable pressure of my laptop and a hardcover edition of Moby Dick.
"Now I think I'm catching a little whiff of Pringles, too," he added. "Oh man, we must be nearby." I didn't have the heart to tell him about my open can.
Pringles has maintained Bill Belichick-levels of secrecy about its production process. But a recent run of viral urban legends -- did you hear they're made of discarded McDonald's fries? -- may have forced the corporation's proverbial hand. The company volunteered to reveal how Pringles are made. And that's how I ended up creating my very own Pringle flavors with a team of flavor engineers in Michigan's lower palm.
The Pringles headquarters moved to this sleepy town after Procter & Gamble sold it to Kellogg's for $2.71 billion several years back. As origin stories go, Pringles didn't start as a happy accident in a potato-loving immigrant's home kitchen or even with a small-time salesman, like Herman Lay of Lay's potato chips. It was a big-business operation from the get-go. In the late '60s, Procter & Gamble set out to make a "newfangled potato chip." These would not get crushed. They would not get soaked with grease. They'd be stacked in an upright cylinder able to withstand the chaos of your mom's station wagon, or the considerable weight of a 700-page American whaling epic. In 1968, the Original flavor hit the market and soon Pringles introduced variety to its line, with the likes of Sour Cream & Onion, BBQ, and Cheddar Cheese. Today, there are more than 100 flavors in 140 countries.
"You better have the details on how these things are made when you get back," my driver said as we pulled up to the lab's entrance. Soon, I would be Charlie Bucket-ing my ass all over the test plant, the first outsider to peek behind the curtain of Pringles.
"And don't forget to pick me up some Sour Cream & Onions," he added. "Man, I'll be really mad. I love those things."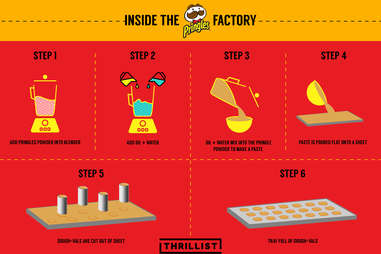 How Pringles are made
Every Pringle begins life as a bowl of blanched powder.
While Pringles officials kept an airtight seal on the contents of the powder (well, the ingredient list is on the can), I can tell you that it smelled like a bowl of baked potatoes and cornstarch, which is much more pleasant than it sounds.
The baked-potato powder is mixed with oil, a top-secret mixture, and water to form a thick, doughy paste -- it tastes like a warm Pringles milkshake. Once mixed, the dough is poured onto a tray. Not exactly a slow-moving slurry, it resembles a sheet of pasta, like the bottom layer of homemade lasagna, in both color and malleability.
Almost all of Pringles' new flavors and innovations start out in the lab here in Battle Creek. After testing and tweaking, they're sent out to the company's seven international factories for mass production.
The test factory was a tangle of whirring and purring chrome machines. Men and women with clipboards inspected and nodded their heads as if part of a synchronized engineering symphony.
Occasional tendrils of steam escaped to the rafters above in a barrage of potato smells and industrial sounds. It was like a microbrewery for potato snacks.
Our dough was poured into a funnel feeding a conveyor belt, where an automated machine punched out flat oval shapes by the tray. It was like a little sheet of sugar cookies. Just like mom used to make… except, you know, with potato dough.
In the factory, workers affectionately called the raw Pringles cut-outs "dough-vals" (rhymes with ovals).
Despite laying flat, the shape was instantly recognizable.
These were Pringles, alright. Pringles in the raw.
We left the dough-pressing area and entered a conference room, where a massive pyramid of assorted cans sat on a table. There was a product for every palate, a flavor for every disposition. Some were made from a tortilla base. One can was a chocolate-dusted dessert option -- which is definitely a thing (who knew?).
The savory taste. The cylindrical can. The duck bill you can -- and almost assuredly do -- make with two of the chips. You know these things. Pringles transcend snack classifications. Not quite chips in the traditional sense, they are their own category. These are potato crisps.
That's one of the first things a Pringles employee will tell you, actually. Pringles are called crisps, not chips. And they will remind you of this. Militantly.
The people who work at Pringles love these crisps more than anyone. More than the neurosurgeon who confessed his guilty pleasure in the BBQ variety, or my typically health-conscious co-workers who attacked the snacks like lions on a wounded gazelle, or my mulleted car driver whose nostalgia for Sour Cream led him to issue vague threats. The workers were drinking the dough-val Kool-Aid -- they wouldn't shut up about Pringles.
Standing next to the pyramid of Pringles cans in the conference room, some of the lab coats responsible for creating the bajillion flavors were debating their own favorite flavors at length, unprompted. After I cleared my throat and tossed out my predilection for the classic Pizza flavor, they turned their attention to me.
"I hope you're ready to do some actual work," deadpanned Matthew Nakashima, the senior product development scientist. He only looks a few years older than me, but he's responsible for making sure that things run smoothly at this multibillion-dollar food-engineering venture.
Nakashima handed me a hairnet. As I strapped on a set of goggles and headed to the frying room with a tray of dough-vals, I noticed the increasingly familiar face of Julius Pringles emblazoned on director of marketing Kurt Simon's socks, peeking out under the cuffs of his jeans. He told me with a smile that the lead developer behind Pringles, Frank Bauer, was cremated and buried in a Pringles can (Original flavor).
Things were getting serious in Battle Creek.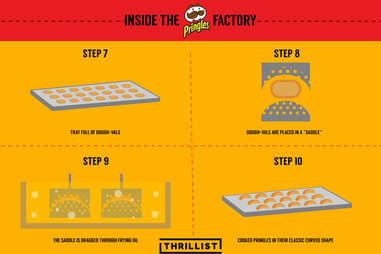 Into the fryer
Pringles are not baked. They are fried. And they're fried in a specially made apparatus.
Each dough-val is placed inside a mold called "a saddle," and then run through hot frying oil, giving the crisps their distinct, stackable shape and golden-brown hue. In the big factory, robots fry dozens of the crisps at a time. I was doing them by hand, plunging a saddle-on-a-stick into a vat of oil.
After drowning each crisp for about 15 seconds, I opened a clasp and a warm, perfectly formed Pringle popped out. The edges of each dough-val curved into a hyperbolic paraboloid. You might know it as "that Pringles shape."
I tasted those fresh, piping-hot hyperbolic paraboloids. The sensation of a heated Pringle, literally seconds removed from fry oil, reminded me of state-fair food -- crispy, buttery, dripping with savory flavor.
"For the Original, all we add is salt," Nakashima said, trying one himself with a satisfying crunch. "The rest of the flavors are a little more complicated."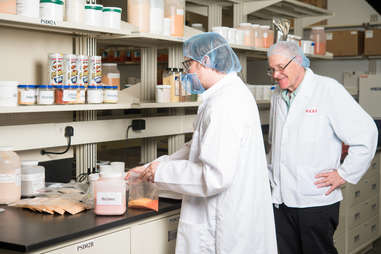 The vault of flavors
Entering the Pringles flavor vault, I was shocked by the sheer quantity of options. It's an overload. The flavors -- in dust form -- sat in bags and buckets on the shelves, like a prism of powder kegs, ready to be turned into fireworks.
Or, you know, Loaded Baked Potato crisps.
And this excess makes sense. If Pringles is known for anything -- other than making it ridiculously hard to eat the chips at the bottom of the cans -- it's the dizzying array of flavors. Aside from stalwarts like BBQ and Pizza, Pringles has idiosyncratic offerings like Hot Diggity Dog and Sriracha, joining international-only flavors like Britain's Roast Chicken & Herbs, Thailand's Salt & Seaweed, and Japan's Bruschetta.
I eyed the barrels and bags containing powdered versions of bacon, roast chicken, guacamole, and mustard with wonder and a little intimidation. Some were secret flavors that will not be named, since I signed some nondisclosure papers. But I'm pretty sure one contained the ashes of the Ark of the Covenant.
Stalking the vault's aisles were Pringles' in-house flavor alchemists, Peggy Schenke and Jay Henry -- self-described "work husband and wife" with nearly 70 years of large-scale flavoring experience between them. As I browsed the powders, the duo talked shop.
"I think we finally have it right," Henry said.
"The Fuego? I hope so," Schenke added, with a hint of exasperation.
They were working on a new flavor targeted at Latin America, where, as Schenke described it, "they want a lot of heat." Sometimes they tinker with a flavor for years before it gets through R&D and onto an actual production line. Recently, they developed a special, extra-fiery seasoning to sate the equatorial need for spice, called "Fuego." It's hotter than the inside of a Chrysler in June.
The duo treats these crisps like an artisanal baker would treat their speciality babka. Honey Mustard Pringles don't come from an age-old, guarded family recipe. But to hear them talk about flavors so personally, with such investment, you might think they do.
"Yes, there will sometimes be flavors we work on for year -- like our babies," Henry said, "only to have them die an unceremonious death. Hopefully the one you are about to make isn't one of them."
I was eager to create the greatest Pringle baby of all time. Or at least something edible. My fresh-from-the-saddle canvasses were in hand, now all I needed to do was paint my masterpiece(s).
Making Buffalo Chicken Pizza Pringles a reality
"Let me ask you this," Henry said, "if you could have any food in the world -- right now -- what would you choose?"
That was easy.
Buffalo sauce, pizza, and chicken, all in powder form. These would form the basis of my Buffalo Chicken Pizza Pringles. Henry and I carefully portioned out some powder on a drug-dealer scale (or that's what it looked like to me). This is how all the flavors are developed: on one little scale manned by two people.
Henry is a scientist, a man of precision. He helps run the scoreboard at the Great American Ball Park, where the Cincinnati Reds play their home games (he, like many Pringles employees, commutes from Cinci or Chicago to Battle Creek). That same meticulousness was on full display as he helped me figure out how to make a proper Pringle flavor. For this chip, he suggested adding a dose of ketchup to balance out the flavors. And then, we dusted my freshly made chips by hand with a spoon.
I bit into one -- it was as if Buffalo bliss dropkicked my taste buds. There was a quick hit of spice, then it smoothed out on the palate. Must have been the ranch. This was a Pringle I could get behind... a Pringle to believe in.
"Well, this is good. Really good, actually," Henry said, surprised. "And you seem to be enjoying yourself -- want to do one more?"
Facing the tasting panel
After a few more rounds of flavor engineering, I stood in my lab coat in front of four senior members of Pringles' marketing team as they eyed my three prospective additions to the Pringles family. In addition to the "Buff Chix Pizza," there was a loaded avocado bacon cheeseburger that I wanted to call "Stoner's Delight," but was later dubbed the more consumer-friendly "Kitchen Sink." And the coup de grace: "Spicy-Ass Pizza," which is pretty much classic Pizza with 100% more Fuego.
I watched -- hairnet in hand, my brow caked with Pringle dust and sweat -- as they tasted my flavors with extreme scrutiny. They closed their eyes with the disposition of master sommeliers, rolling the crisps around their tongues and breathing out slowly, catching the notes.
Simon -- the dude with the socks -- locked eyes with me, as if I was about to be fired from a job I never even had. But he told me, sans bullshit, that these flavors were "interesting" (i.e., good) enough to warrant further discussion from their internal team.
I realized this was my golden ticket out of the middle class and into a future of royalty checks from Julius himself. Like Charlie Bucket, I'd sail out of this joint in a great glass elevator, or at very least a great glass Segway (it's perfect for corporate campuses). But my great glass whatever came plummeting back to Earth when I was reminded that I had signed my creative rights away at the beginning of my trip. Another artist gets screwed in America.
So if you see Spicy-Ass Pizza on the shelves of your supermarket, please think of me and my spicy-ass ingenuity. It's the least you could do.
"You brought me some Sour Cream & Onions, right?" my driver asked when he picked me up outside the lab. "You remembered?"
I told him I hadn't and offered him Spicy-Ass Pizza before we began our long drive back to the airport.
Over the crackling sounds of Sammy Hagar on the Chrysler's radio, I heard him say, "Pretty good, but not great," under his breath, as we pummeled down the highway.
"Air still smells like Pringles though, right?" he asked.
It really did.
Sign up here for our daily Thrillist email, and get your fix of the best in food/drink/fun.