Meet the Latina Entrepreneur Transforming Las Vegas' Cannabis Scene
Priscilla Vilchis hopes the cannabis industry is more inclusive post-pandemic.
Photo: Premium Produce; Illustration: Maitane Romagosa/Thrillist
Photo: Premium Produce; Illustration: Maitane Romagosa/Thrillist
There's no denying that 2020 has been an incredibly difficult year for just about everyone -- and the cannabis industry is no exception. But one budding entrepreneur is finding the silver lining.
"The governor deemed marijuana an essential business, even though we're federally unlawful," says Priscilla Vilchis. "I believe that's going to help us become federally legal a lot quicker."
Vilchis is the founder and CEO of Premium Produce, a medical-grade cannabis cultivator in Las Vegas. The company was on track to have a stellar year. Its products were among the top sellers at dispensaries throughout the state, including the Planet 13 superstore near the Vegas Strip. However, once COVID-19 became a clear and present danger in March, Nevada Governor Steve Sisolak ordered a Nevada-wide business shutdown and Premium Produce was hit with a sudden, unanticipated drop in orders.
"It affected us in a dramatic way," says Vilchis. "We had to furlough about 80 percent of our staff."

Much like with restaurants, curbside pickup and delivery orders helped ease the burden, but some dispensaries shifted focus to pushing house brands as a way to preserve profit margins. Plus the drop in tourism didn't help. Nevada dispensaries are allowed to sell cannabis to anyone 21 or over, drawing heavy traffic from out-of-state visitors who might not have the same opportunity to buy legal weed back home.
As always, the health benefits of cannabis are helping legitimize the industry. While grocery stores and Walmarts were allowed to operate, the state also gave dispensaries permission to serve customers, understanding that cannabis can be a safer alternative to prescription painkillers. It's one of the reasons Priscilla Vilchis got into the business in the first place. Working in healthcare management, she had a frontrow view of America's opioid epidemic as it spiraled out of control. "Patients kept getting addicted," she says. "So I wanted to make a difference."
Her mission began in 2014 when Vilchis realized Nevada had the most attractive economic climate for planting a flag in an emerging, fast-moving industry. "I found my lawyer and said, find me the best state to invest in marijuana," she remembers. "Because I wanted to change the world." As an outsider, Vilchis made history, becoming the first Latina and youngest minority to secure a license for medical and recreational marijuana cultivation in Nevada. It wasn't easy. The requisite lobbying, legal wrangling, and applications added up to a risky half-a-million dollar investment with no guarantees.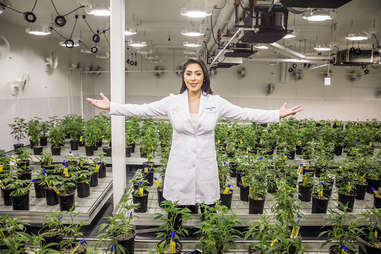 Premium Produce now produces 16 strains in a 25,000 square-foot facility. The company's signature Reina brand markets and presents marijuana as a luxury item, sold in a stylish glass container designed to be approachable and attractive to curious newbies. Yet the strength and purity of the flower itself wins over experienced users of any demographic. A wellness line includes full-spectrum CBD tinctures and lotions, while an upcoming edibles selection based on Vilchis' own hispanic culture is promising to be like nothing else on the market when it debuts in a few months.
There are already signs of legal marijuana sales bouncing back. A new data report by Leaflink reveals that after a dramatic drop in March due to coronavirus uncertainties, wholesale purchases actually began to outpace 2019 levels once cannabis was deemed an essential business by most of the seven states analyzed.
It's encouraging news for Vilchis, who says mental health issues connected to COVID-19 anxiety can be treated naturally. "A lot of people are seeking marijuana, whether it's in an edible form, which allows them to sleep better at night, or full-spectrum CBD, which calms their anxiety," she says. "We've definitely seen more people gravitate toward marijuana during this pandemic."
The need for medical cannabis during such a difficult time is a sign that changes need to happen across the board -- not just in states where cannabis is already legal. Vichis believes that once cannabis sales are formally accepted in the eyes of the federal government, doors will open for minority entrepreneurs to further serve underrepresented communities.
Vichis believes that once cannabis sales are formally accepted in the eyes of the federal government, doors will open for minority entrepreneurs to further serve underrepresented communities.
"Marijuana needs to be legalized in the United States, banks must reform their loan practices to give minority business owners fair access to these funds, and marijuana crimes need to be expunged," she says. "States need to establish social equity programs and encourage racial and gender diversity in their application process. And, as cannabis business owners, we need to hire a diverse team, create an inclusive work environment, and also dedicate time to be mentors to future entrepreneurs."
The Premium Produce staff has grown to about 45 employees -- comprising seniors, veterans, and people of color -- including a few of Vilchis' own family members. Her father runs security and her mother handles human resources. Ironically, her mother was once staunchly against the consumption of cannabis, let alone making money off it. Obviously, things changed. "She laughs about it now," says Vilchis, noting her strict Roman Catholic upbringing. "We've come such a long way."
Despite the high stakes, Vilchis isn't scared of another shutdown, saying if it happens, it will be easier to bear because they learned lessons the first go round. Yet her optimism goes beyond the frustrating resilience of COVID-19. She's happy to see government and business leaders sharing a common commitment to the health and economic benefits of cannabis in what could be a transformative post-coronavirus era.

"I see us going in the right direction," she says. "I'm looking forward to the future. I think everyone's on the same page and everyone sees marijuana as essential. That's the one thing that's come out of this that's good. The one thing."
Sign up here for our daily Thrillist email, get Eatmail for more food coverage, and subscribe here for our YouTube channel to get your fix of the best in food/drink/fun.
Rob Kachelriess has been writing about Las Vegas in
Thrillist
for more than six years. His work has also appeared in
Travel + Leisure
,
Trivago Magazine
,
Sophisticated Living
,
Modern Luxury
,
Leafly
,
Las Vegas Magazine
, and other publications. Follow him on Twitter @rkachelriess.