During the pandemic, most of us have found ourselves becoming DIY superstars𑁋mixing our own margaritas, cooking meals that should have qualified us for Top Chef, and sharing our edible creations with the world on social media. In what is being called the Great Resignation, a third of U.S. workers have pivoted career directions a year after Covid-19 hit. Many swapped corporate jobs to indulge in their creative dreams, or vice-versa. Whatever the transition, it was clear that many were following their hearts. And for Seattle native Chelsey White, that meant returning to the kitchen.
"It was a super dry job," White says, referring to her corporate job in accounting. "I was working long hours, staring at Excel all day. I would get home and need some kind of outlet. The very first thing I baked were everything cookies. They were delicious and I shared them with my friends and they thought they tasted good. I didn't even know how to properly measure flour back then."
But practice makes perfect and, over time, White has earned more than 1 million followers on Instagram and 200,000 subscribers on Youtube. She started a food blog that is sprinkled with comments and accolades from readers. But the transition to pursuing her baking passion wasn't all sweet.
"I was very cautious," White explains. "I did both as long as I could. If you do want to make a pivot and turn your passion into a full-time thing, then I think it is important to think about the not-so-exciting stuff, such as health insurance, retirement, and your cash flow." The most important thing, she advises, is trusting your gut.
A bold decision needs an equally bold dessert to match, thus the pumpkin spice macaron. Macarons, not to be confused with coconut macaroons, are delicate French cookies. Light and airy, these cookies have the ability to come in a variation of colors, flavors, and even shapes (that's if you have the patience for it). The process of baking macarons is not for the impatient.
"You have to go in with the expectation that things might not turn out amazing," White instructs. "No one wants to hear this, but it's the best way to look at it. Every time things don't turn out you're learning." There are two main methods of macaron making—the French method, which consists of creating the meringue with aged egg whites and sugar and whipping it to stiff peaks, and the Italian method consists of creating the meringue with boiled sugar syrup.
"I use the French technique. Macarons can already be intimidating to make and I feel the French technique makes it a little bit easier." White explains. "Try your best with your meringue. Don't be afraid to stop the mixer and check your peaks. Focusing on your whisk attachment and your meringue is one of the most important things."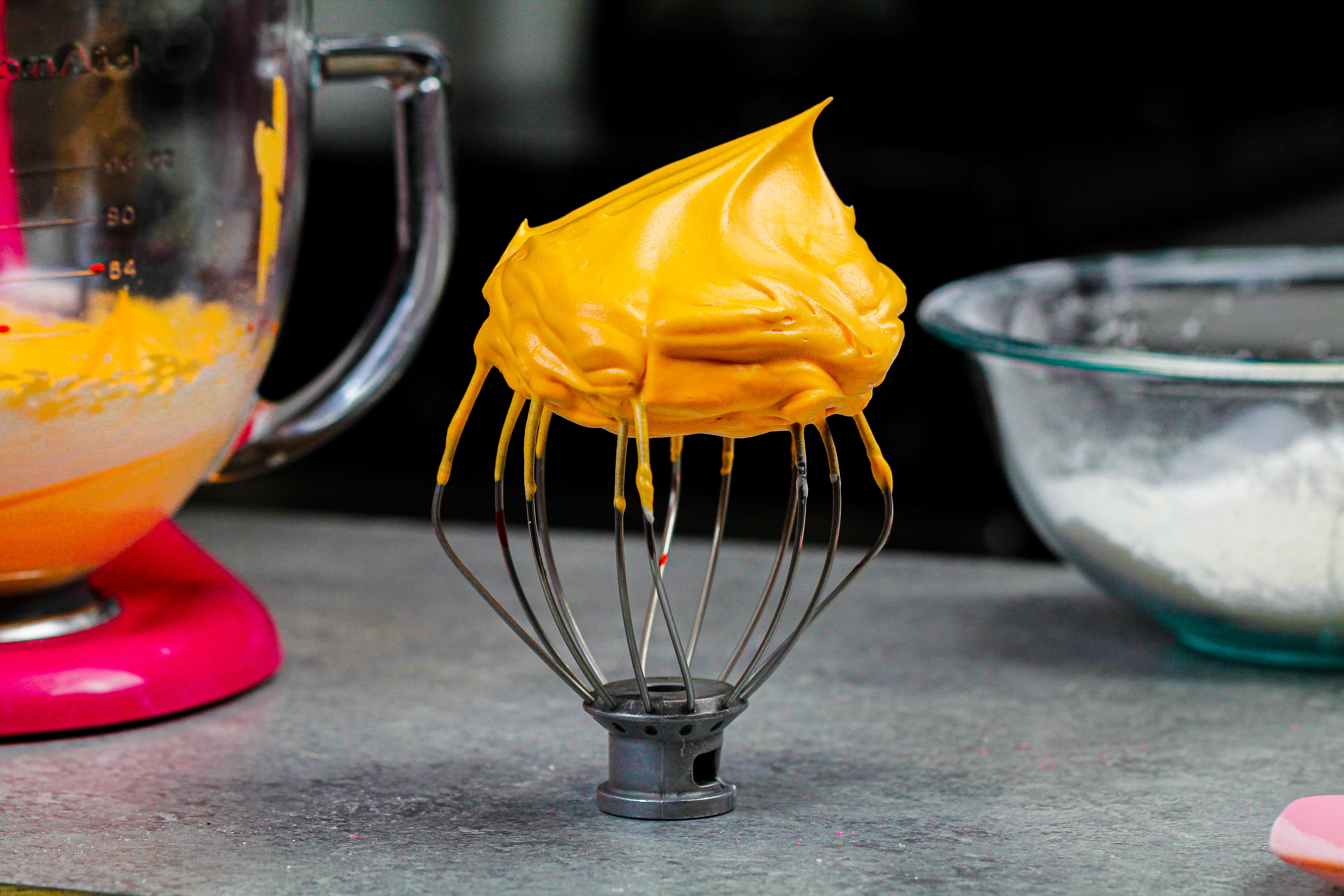 White's guide to the French style is extremely helpful. It's a lot easier to focus on just the egg whites in the bowl, versus worrying if your syrup is overdone or pouring it in while it's still too hot. While these cookies are not for the weak, they also require a level of delicacy. After preparing the meringue, you have to gently fold in the dry ingredients to make a pipeable batter. But it's tricky. Mix too much and it becomes runny and goes to the trash. Mix too little and your peaks deflate and it also goes into the trash. Do you see the dilemma here? (Insert eye roll emoji.)
"You're looking for lava-like consistency, which can be hard because how many of us have seen lava?" said White. "But you want it to look like ribbons, flowing with consistency."
The final step of baking macarons is making sure they are piped evenly and baked evenly in your oven. "[After piping] Let them rest for 30 to 40 minutes until they form a skin," says White. "Pop them in the oven, cross your fingers, and hope that your oven bakes accurately."
If you have made it to the final stage, your last step is to simply fill the macarons to create beautiful cookie sandwiches. According to White, "All the flavor is in the filling. You want to pack it with those warm, intense spices."
"My goal is to make desserts that are aspirational and achievable—to make things that look as good as they taste because you always eat with your eyes first but you also want to make things that taste good." White says. "It's a labor of love, and you have to factor that in."
As we leaf peep at the fall foliage, sip our pumpkin spice lattes, and prepare ourselves for the warm and cozy atmosphere of fall, White, and the sweet delicate crunch of macarons, reminds us that while it might take you some time and frustration to get to the final product, it's worth the effort in the end.
Pumpkin Macarons with Spiced Buttercream Filling Recipe
Yield: 36 macaron shells, 18 macarons
Ingredients:
Macaron Shells:
½ cup + 2 Tablespoons superfine almond flour, blanched (70g)
½ cup powdered sugar (63g)
2 large aged egg whites (55g)
¼ cup + 1 teaspoon of granulated sugar (55g)
Orange gel food coloring (optional)
Spiced Buttercream Frosting:
¼ cup unsalted butter, room temperature (56g)
1 teaspoon vanilla extract or vanilla bean paste (4g)
⅛ teaspoon salt (1g)
1 teaspoon ground cinnamon (3g)
¼ teaspoon ground nutmeg (1g)
¼ teaspoon ground cloves (1g)
1 cup powdered sugar (125g)
2 teaspoons heavy cream (10g)
Pumpkin Pie Filling:
¼ cup pumpkin pie filling (65g)
2 Tablespoons brown sugar (25g)
1 teaspoon ground cinnamon (3g)
Directions:
1. Sift almond flour and powdered sugar into a large bowl and set aside.
2. Pour aged egg whites into the bowl of a stand mixer with a whisk and mix on a medium speed until the surface of the egg whites is covered in small bubbles. Add in a pinch of cream of tartar and continue to mix until your reach the soft peak stage.
3. Add granulated sugar into the eggs and mix on a medium speed for 30 seconds. If desired, add in a couple drops of gel food coloring at this point, then increase the mixing speed to a medium high speed. Keep mixing until stiff, glossy peaks form.
4. Fold the dry ingredients into the meringue in two additions using circular motion until a thick ribbon of batter runs off the spatula when it's lifted. Be careful not to over mix the batter!
5. Pour the batter into a large piping bag fit with a medium-sized round piping tip and pipe 1 1/4 inch rounds on the prepared baking sheets, spacing them about 1 inch apart.
6. Bang the pans firmly on the counter a few times to release air bubbles, then pop any remaining air bubbles that come to the surface with a toothpick.
7. Let the macarons rest for 30 minutes to develop a skin. The macarons should look matte once the skin has formed.
8. As the macarons rest, preheat your oven to 300 F.
9. Bake one tray of macarons at a time on the middle rack of your oven for 16-17 minutes and rotate your pan halfway through.
10. Remove from oven and let the macarons cool on the pan (about 15 minutes), then gently remove them from the silpat mat.
Spiced Buttercream Frosting
1. Beat room-temperature butter on a medium speed for 1-2 minutes with a whisk attachment until it becomes lighter in color and smooth.
2. Mix in vanilla extract, salt, cinnamon, nutmeg and cloves on a low speed.
3. Slowly mix in 125g of powdered sugar and 10g heavy cream on a low speed.
4. Continue to mix on low for a couple minutes until the ingredients are fully incorporated and the desired consistency is reached.
5. If the frosting is too thick, add in additional heavy cream or milk (1 tsp at a time). If the frosting is too thin, add in more powdered sugar (1 Tbsp at a time).
6. Place in a piping bag with a small round tip and set aside.
Pumpkin Pie Filling
1. Mix together pre-made pumpkin pie filling, brown sugar and cinnamon.
2. Place in a small piping bag and set aside.
3. Assembling These Pumpkin Macarons
4. Pipe a thick ring of spiced buttercream or frosting of your choice around one macaron shell and fill the center with the pumpkin pie filling. Gently press a second shell on top of the frosting to create a sandwich.