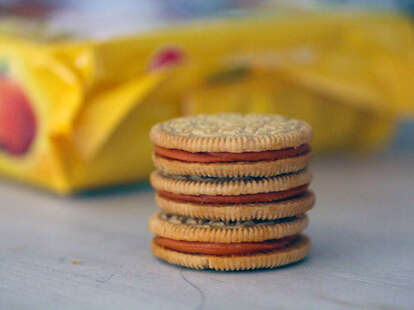 The season of pumpkin spice unofficially began in August, but now that we're two weeks into September, grocery store aisles have changed to a blinding shade of orange. In case you were looking to stockpile, here are 14 food products you can get right now with "pumpkin spice" proudly touted on the packaging. And if you're one of those rebellious anti-spicers, our condolences: you're in for a rough couple months.
Eggo Seasons Pumpkin Spice Waffles
Pumpkin Spice Hershey's Kisses
Jell-O Pumpkin Spice Pudding
Duncan Hines Pumpkin Spice Cupcake Mix
Jet-Puffed Pumpkin Spice Mallows
Kashi Pumpkin Spice Flax Granola Bars
Brach's Pumpkin Spice Candy Corn
Pepperidge Farm Pumpkin Spice Milanos
Hungry Jack Pumpkin Spice Pancake & Waffle Mix
Chobani Pumpkin Spice Greek Yogurt
Thomas' Pumpkin Spice Bagels
Superior Nuts Pumpkin Spice Malted Milk Balls
Kristin Hunt is a food/drink staff writer for Thrillist, and would like someone to report back on what exactly pumpkin spice cheese ball mix is. Follow her at @kristin_hunt.