Taste-Test: We twisted, licked, and dunked the new Pumpkin Spice Oreos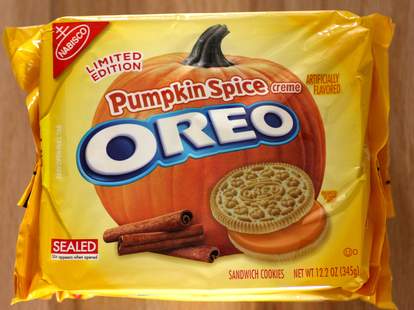 When I first learned of the existence of Pumpkin Spice Oreos, I spat out my pumpkin spice latte all over my pumpkin spice laptop and mopped it up with some pumpkin spice napkins. The ubiquitous flavor of fall would be coming soon to an Oreo near me.
Then, there they were, sitting on my desk. How would these new Oreos actually taste? Here are my verdicts, pumpkin spice masses.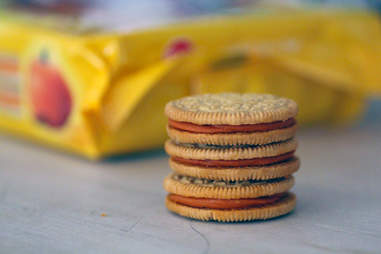 Adam Lapetina
Taste
As soon as you open the container, your nose is bombarded by a whiff of cinnamon air, not unlike walking by that Cinnabon in the mall. The cookies taste like your typical shortbread-y vanilla Oreo cookies, and the pumpkin spice "creme" sandwiched between them is a dark orange paste that doesn't really taste like pumpkin. It's more of a horchata and candy corn mashup with a hint of the artificial pumpkin flavoring found in anything with a "pumpkin spice" moniker.
Bottom line? They taste good. Not great, but definitely good, especially if you're a fan of cinnamon.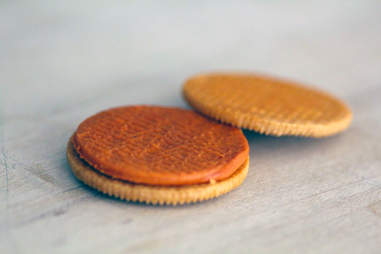 Adam Lapetina
Addictiveness
While they have more of a novel and complex taste than their standard cookies-and-cream brethren (and might be a bit much for a casual eater), these deliver a solid dose of fall flavors. They have the same consistency as regular Oreos when dunked in milk, and after repeating this process for a few of them, you'll find yourself in dire need of a full-glass chug.
And for those of you who need a clean separation of cookie from creme, you're in luck: something about the pumpkin spice filling lends itself really well to the ol' twist-and-lick.
Adam Lapetina
Verdict
While they don't taste a lot like pumpkin, these guys still have an all-around subtle and delicious fall flavor that fans of the infamous Starbucks latte should check out as soon as possible (i.e., when they drop on supermarket shelves on September 24th, for 6-8 weeks or until supplies last). Be sure to have a glass of milk on hand.
Or, y'know, your favorite pumpkin beer, if you're the type of person who can't wait to break out your sweaters and walk around remarking on how "crisp" the air is.
Adam Lapetina is a food/drink staff writer at Thrillist, and man, he really wants to break out those sweaters. Read his musings on Twitter at @adamlapetina.