Pumpkin Spice Peeps, the Most Basic Peeps Ever, Are Here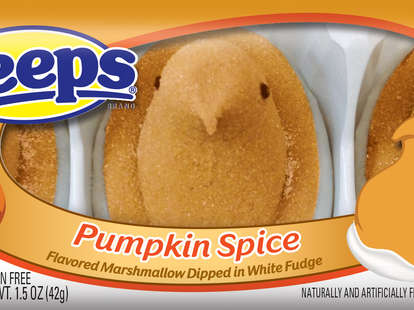 A flock of pumpkin spice Peeps are coming, presumably clad in yoga pants.
That's right, the classic, sugar-coated marshmallow chicks are about to get as "basic" as Ugg-wearing avocado toast. The new pumpkin spice peeps won't actually come wearing Lululemon or take Snapchat videos, but apparently they'll be dipped in a layer of white fudge, which is arguably just as basic. The new flavor comes as part of the new Peeps fall flavor collection, which also includes caramel apple, candy corn, and stale leftovers you find in the cupboard from last Easter.
The sweet little marshmallow blobs will land just in time for the ever-earlier start of pumpkin spice madness season on August 31st, but only at Target or from the Peeps online store. In other words, you'll be slurping PSLs and munching on pumpkin spice Peeps in no time. No pumpkin spice is safe.
Tony Merevick is Cities News Editor at Thrillist and exercises surprising restraint amid pumpkin spice season madness. Send news tips to news@thrillist.com and follow him on Twitter @tonymerevick.