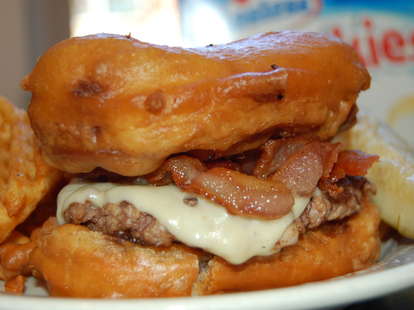 All photos by Cassie Hepler
As one of the nation's foremost creators of mutant burgers of extreme deliciousness, Philly's PYT seems determined to turn everyone in the City of Brotherly Love into the opposite of pretty young things.
Now they've done it once more with the Twinkie Burger, an abominable creation available only through next Tuesday, which is currently making state fairs around the country weep tears of processed cheese. We stopped by to get a full walkthrough of the creation of the sponge-caked beast.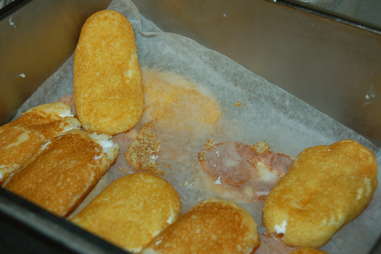 Step 1: The Twinkies get squished to widen them out, and because it's just super-fun to squish Twinkies.
After getting coated with funnel cake batter tinged with cinnamon, it's into the fryer.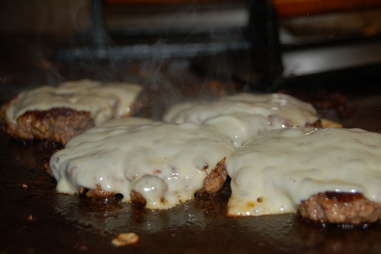 Burger time. The patties are quite awesomely constructed from beef and pork belly, and and get some white American tossed on top.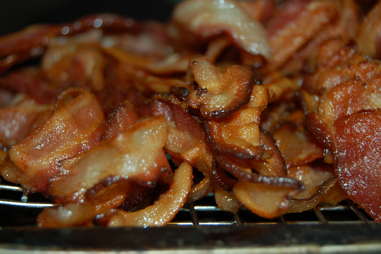 Every James Beard Award-winning chef will tell you: a Twinkie burger just isn't a Twinkie burger without a lil' applewood-smoked bacon.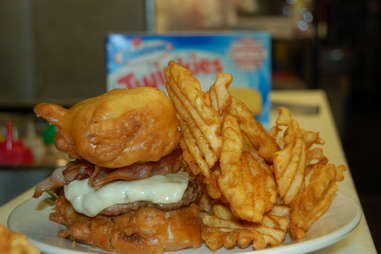 And there it is. You'll need a full ream of napkins to properly attack the sweet & savory monster. While I wasn't sure whether to pick it up or stab with a fork, I decided it was best to just grab it and shove my face into it as quickly as possible.