Watch out, Chipotle: Qdoba just dropped a trio of smothered burritos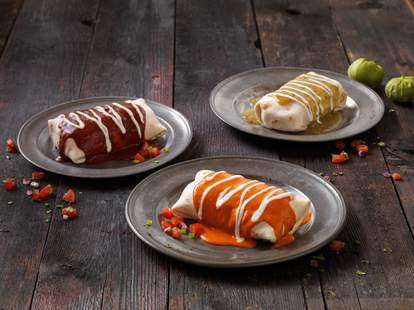 Smothering someone with affection is a good way to get dumped, and smothering someone with a pillow is straight-up illegal. But smothering a burrito with chipotle cream? That's just delicious. Starting today at Qdoba, you can sample all three of their brand-new smothered burritos -- plus a fourth one that's technically off the books.
The new line of Smothered Burritos covers the entire spectrum of spice. On the mild side, you've got the Tangy Verde, a "fresh and bright" meat pocket covered in a green sauce with a bit of a kick. Things start to heat up with the medium, slightly sweet Bold Red Chile, and then go truly spicy with the Smoky Chipotle Cream, a rich and creamy pick aimed at serious spiceheads only. Though those three are the only official Smothered Burritos, you can also ask for the Christmas Smothered Burrito. This festive secret menu find mixes the Tangy Verde and Bold Red Chile sauces into a single burrito, and is bound to make you cheerier than Buddy the Elf.
The Smothered Burritos are part of Qdoba's all-inclusive menu where you pay a flat price for your entree and get any toppings (including guac, queso, and now Smothers sauces) added in at no extra cost. Herald their arrival by snapping a selfie with your Bold Red Chile under #getsmothered, the official hashtag of this blessed event.
Kristin Hunt is a Food/Drink staff writer for Thrillist, and is glad the Christmas burrito isn't stuffed with pine needles. Follow her at @kristin_hunt.