Every year, fast-food industry magazine QSR publishes an exhaustive top 50 ranking of the brands raking in the most dough (kinda like Forbes, but with more mustard). And while the winning restaurant won't surprise you, some other stuff in the report might. Here are seven interesting revelations from the QSR rundown -- including the real reason McDonald's gave out all that free coffee. (It involves the Freemasons! Except not really.)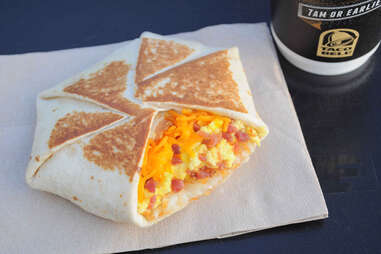 Taco Bell's breakfast menu has #1 McDonald's worried
McDonald's is sitting pretty at the top, making well over double its closest rival (Subway). But QSR points out a lot of problems for the Golden Arches: the failure of Mighty Wings, the poor reaction to their Dollar Menu & More revamp, and the launch of Taco Bell's breakfast menu. Just in case you've been stranded on that Lost island, the waffle tacos and A.M. Crunchwraps are doing very well, and that means there's suddenly major competition on the fast-food breakfast block, which McDonald's was comfortably running for ages. Ronald is probably on the phone with the Hamburglar begging him to diversify into taco theft as we speak.
Little Caesars is more popular than Papa John's
Also, Carl's Jr. is more popular than Chipotle, Long John Silver's is more popular than Krispy Kreme, and Chick-fil-A is more popular than KFC (but you already knew that last one).
Dunkin' Donuts actually added more stores last year than Starbucks
Even though Dunkin' Donuts is #7 to Starbucks' #3, DD slightly outpaced the coffee giant in new shops. Whereas Starbucks added 329 last year, Dunkin' opened 371 -- and three of those were in the previously DD-deprived California. This year will see even more stores open on Californian soil, which could mean a sales spike driven by East Coast expats... or maybe just by Al Pacino.
And two of the top five closed more stores than they opened
That'd be number four and number five seeds Wendy's and Burger King, who shuttered 26 and 28 spots, respectively. We'd feel bad for them, but we're too busy pitying Quiznos, which closed 531 locations.
The "most influential burger ever" is only #36 in the nation
Even though White Castle's sliders were such a big deal when they debuted in 1921 that Time later declared them the most influential burger of all time, the brand itself couldn't crack the top 25. Alice Cooper must be taking the news pretty hard.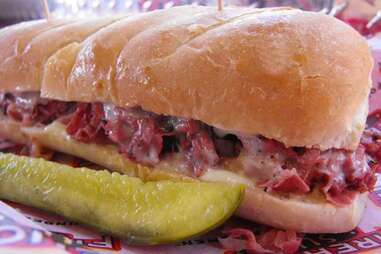 Auntie Anne's and Firehouse Subs are the next brands to beat
Along with their massive power ranking, QSR included a list of 15 "contenders" just on the cusp of the big leagues. Next year, don't be surprised to see Auntie Anne's (#51, with $447 million in 2013 sales) or Firehouse Subs (#52, with $442.9 million in '13 sales) on the new slate.
The difference in sales between the top and bottom players was over $35 billion
McAlister's Deli still has a ways to go.
Kristin Hunt is a food/drink staff writer for Thrillist, and prefers burger rankings to brand ones. Follow her at @kristin_hunt.