A Barbecue Superstar's Quest For Brisket Perfection And Tequila Wisdom
Living up to your father's expectations can be daunting -- but if you're Michael Mixon, it can also be a hell of a lot of fun. The son of barbecue legend Myron Mixon will spend the summer road-tripping through the South on a two-pronged quest, all chronicled in a raucous video series. The first goal: Take his brisket game to unprecedented heights in order to blow minds and taste buds at Kansas City's sprawling, massively important American Royal barbecue competition. The second: Soak up all the inspiration needed to throw the most epic party the Royal has ever seen.
Michael's brisket evolution from "really good" to "it is not humanly possible to add more flavor to a cut of boneless beef, how on earth did you pull this off" will be accomplished through a holistic set of stops wherein hardcore experts give him the full spectrum of bovine knowledge. His travels will take him from a Texas ranch (to more completely understand how cattle-raising methods can affect taste), to a Florida spice market famous for exotic ingredients you'd never expect to find in barbecue (until now).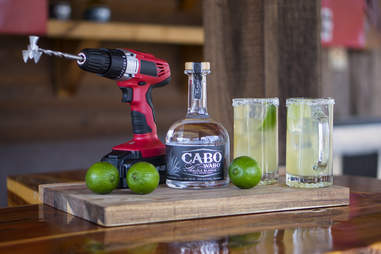 Fusion Marketing
The mission draws inspiration from the family's favorite tequila, Cabo Wabo, whose refusal to take production shortcuts and wholehearted embrace of bold flavor represent everything Michael wants to accomplish with beef, in liquid form. It all adds up to a life philosophy called Thick Cut: Work damn hard at whatever you do for a living, work damn harder at however you play when you're not working, and get as creative as possible as you take every conceivable aspect of your life to a new level of deliriously fun excellence.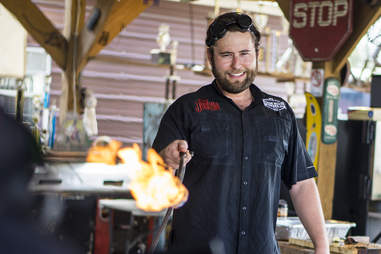 Fusion Marketing
Practically speaking, that means understanding how the sausage is made before you make your sausage (covered in Chapter 3's visit to a hardcore, old-school butchery). It also means that instead of a margarita, you make a Grand Caborita. And instead of blending it, you:
1. Take a titanium drill bit
2. Punch triangles out of 2" x 2" stainless steel square
3. Smooth the edges and weld them to the drill bit
4. Scotchbrite polish the finished product
5. Proudly proclaim that you've invented the Drill Bit Margarita Mixer, the world's most over-the-top bar tool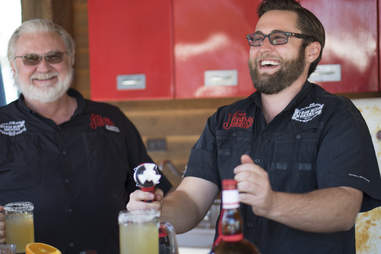 Fusion Marketing
You don't just do this because it's awesome. You do it because the end result merits extreme levels of hard work, craftsmanship, and creativity. Check out Michael's methodical madness in the video above, and get ready for a Thick Cut of summer.
Grand Caborita
INGREDIENTS:
2 parts Cabo Wabo Tequila
1 part Grand Marnier
4 parts Margarita mix
Toss in an orange slice
DIRECTIONS:
Salt the rim of a mug
Fill mug with ice
Add Cabo Wabo & Grand Marnier
Top with margarita mix
Toss in an orange slice
Stir