While your 10-minute breakfast may consist of opening up a pack of Pop-Tarts in a glassy-eyed morning haze and setting the toaster to medium while contemplating if you have time to shower or not, professional chefs do their morning meals a little differently, even in a limited time frame.
If you have these 17 kitchen skills mastered, you can definitely make these 10-minute breakfasts at home. So do that, and then bask in the glory of what it would be like to wake up as a chef.
Recommended Video
You Can Now Get Artisanal Twinkies Delivered to Your Door in NYC
The French special
"My motto is, 'No baguette, no breakfast.' I always take home a baguette of the day when I leave the restaurant at night. My everyday breakfast is that baguette, lightly toasted with butter and jam or honey (and don't tell anyone... sometimes Nutella). Then there is the art of dipping it into your cafe au lait... just for a quick second, as to not allow the butter to melt in it. On a special day you slice the baguette in the middle and lightly toast it, then you give it a light spread of butter, a slice of Swiss cheese, and put it back in the toaster for 30 seconds. Top it with a slice of ham and two sunny-side fried eggs. I like this breakfast because I can eat it while standing up by the kitchen and it takes less than 10 minutes, including the time to eat it." -- Jean Pierre Bosc, Kendall's Brasserie and Bar (Los Angeles, CA)
A classic combo
"Peanut butter and banana smoothie. The kids love it, too. For a little extra kick sometimes I add a ¼ cup of granola to give it a little texture." -- Geoffrey Zakarian, too many restaurants to name (all over)

The hangover burger with waffled tots
"I like making a special breakfast burger -- best served with a terrible hangover. I make tater tot buns with a waffle maker. Basically, taking defrosted store-bought tater tots and smashing them in a waffle iron, then searing a 5oz burger patty, melted American cheese, pickled onions, ketchup, and assemble." -- Dale Talde, Talde (Brooklyn, NY/Miami, FL), Pork Slope (Brooklyn, NY), Thistle Hill Tavern (Brooklyn, NY)
Simple rice and veggies
"At my house, I always have a rice cooker going. My quick go-to breakfast is frying up an egg and tossing on some rice with pickled vegetables." -- Brandon Kida, Hinoki & the Bird (Los Angeles, CA)
Zen soft-scrambled eggs
"Soft-scrambled eggs (recipe here!) are my favorite breakfast -- and double for a light supper when accompanied with a green salad. I think the process of slowly cooking the eggs is as enjoyable to me as eating them. It's not a rushed or stressful process. When I am barely caffeinated, cooking this dish makes for a soothing morning activity." -- Valerie Gordon, Valerie Confections (Los Angeles, CA)
Shakshuka, seafood-style
"I love cooking breakfast! My favorite go-to breakfast on the fly is a seafood riff on a shakshuka. I almost always have a tomato sauce kicking around. I'll sauté some shrimp in a cast-iron with cumin, paprika, cayenne, peppers, onion, and olive oil. Pour in the tomato sauce, some fresh oregano, parsley, and some mussels. Next I crack a couple eggs on top and bake it in the oven until the eggs are cooked but the yolk stays runny. Serve it in the pan with some toasted sourdough and enjoy my coffee." -- Bobby Will, Saltaire Oyster Bar (Port Chester, NY)
Healthy brown rice and quinoa
"My wife and I eat a mixture of brown rice and quinoa almost every day. We use the timer on the rice cooker and we wake up to the nutty, steamy smell of the rice and quinoa. I put water on for green tea and to poach two eggs. While the water is heating, I put the eggs in a tiny jar and add a little vinegar to them. When the water is up to temp, I pour them in and poach. These go on the rice/quinoa mix with a healthy sprinkle of bonito furikake. This is generally the healthiest meal I eat in a day and it is also just a little bit of zen before the day hits the fan. I also freaking love cereal, which your publication has touched on plenty of times." -- Justin Warner, chef/author/television personality
Oatmeal with peaches
"My favorite quick breakfast is oatmeal. I like to cook it with whole milk and lots of butter, sweetened with a touch of honey. I usually add whatever fresh fruit I have at home, but my favorite is peaches." -- Josh Graves, Faith & Flower (Los Angeles, CA)
The supercharged breakfast sandwich
"Here is our power breakfast we are enjoying these days. We're cooking two eggs for seven to eight minutes. While the eggs cook, we toast English muffins, and then build breakfast sandos with a sliced egg and sauerkraut -- we have two kinds in the fridge at all times! We add a piece of sliced ham and voila! A power sando to pair with coffee." -- Gayle Pirie and John Clark, Foreign Cinema (San Francisco, CA)
Caccio y pepe (it's Spanish)
"I scramble eggs with creme fraiche (soft) then I finish with Parmesan, cracked black pepper, and chives. Put it on a slice of buttered sourdough toast." -- John Mooney Bell Book & Candle (New York, NY) and Bidwell (Washington, DC)
French frog in a French toast hole
"I make a French toad-in-the-hole, a riff on the classic egg-in-the-hole but made with French toast. It's quick and delicious!" -- Chris Pandel, B. Hospitality Co. (Chicago, IL)
Scrambled eggs and... shrimp paste?
"One of my favorite breakfasts is eggs scrambled with diced tomatoes -- and if I have it available, Filipino brine shrimp paste (called bagoong). It's as easy as it sounds. I dice tomatoes, fold in some bagoong, a bit of salt, pepper, and soy sauce. Then, I sauté the tomatoes in a nonstick pan with a neutral oil until the tomatoes start to weep. Add scrambled eggs and stir rapidly as they cook until the eggs are soft scrambled. Serve over rice!" -- Michael Hung, Viviane at the Avalon Hotel (Beverly Hills, CA)
Breakfast burrito pinwheel
"It's simply fried egg, jalapeños, cheese, and a meat product in a pan topped with a large tortilla. The egg mixture sticks to the tortilla, so when the tortilla is warm to the touch, just flip it out of the pan so the tortilla is on the bottom. Throw some sour cream, salsa, or another favorite condiment in the middle and roll it up. Boom!" -- Greg Denton and Gabrielle Quinonez Denton, Ox Portland and SuperBite (Portland, OR)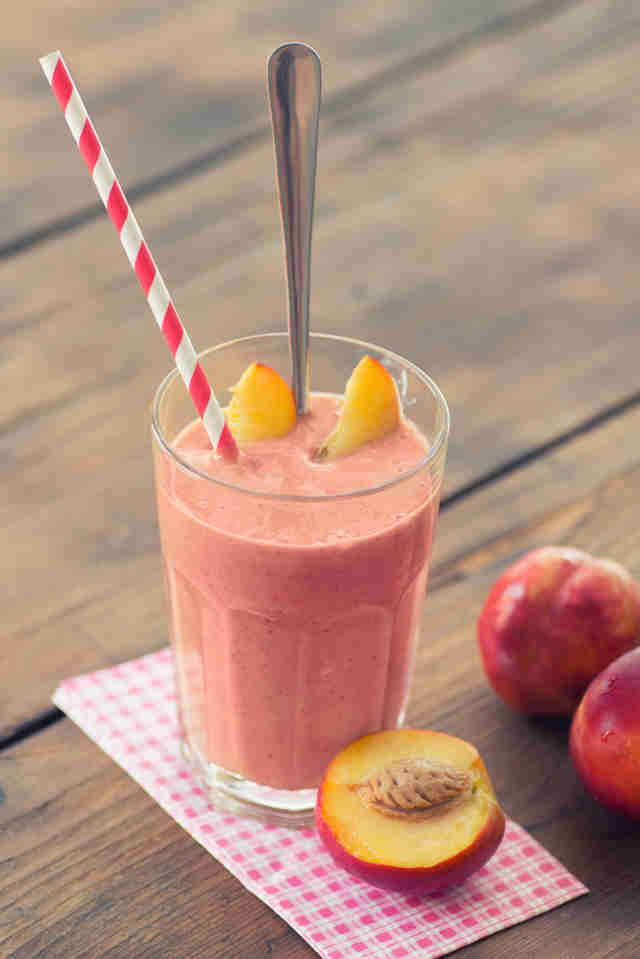 The obligatory breakfast smoothie
"My morning smoothie is just peach kefir/plain kefir, Greek yogurt, banana, frozen peaches and strawberries, milk & honey granola." -- Keith Potter, Cindy's Rooftop (Chicago, IL)
The breakfast salad?
"I've spent so many years being unhealthy with my diet, but this year I decided to cut back on some things like carbs, dairy, and sugar, and I started working out. At my restaurant Estrellón, we work with this really great olive oil-canned bonito, so I started throwing together this salad (also with mixed greens, cherry tomatoes, and radishes, topped with a six-minute egg and a sherry mustard vinaigrette) for myself -- sort of inspired by a niçoise. It's quick to make, high in protein, and has lots of vegetables, but it's delicious and something I tend to crave." -- Tory Miller, L'Etoile, Estrellón, Sujeo, and Graze (Madison, WI)
Cheese omelets with a kick
"I love making a cheese omelet with cream cheese grits, kielbasa sausage, some pepper and onions... and then, of course, I top it all off with some Texas Pete hot sauce." -- Kenny Gilbert, Gilbert's Underground Kitchen (Fernandina Beach, FL)
Avocado toast
"Avocado toast with toasted country bread, chile de arbol, and fried egg. This is a good morning 'pick-me-up' dish -- easy to make and also very heathy. Chile de arbol is added into the avocado mash as it offers a nice addition of spice. I like to put a kick in my breakfast, because in the morning I need to wake up." -- Julian Medina, Toloache, Tacuba, Yerba Buena, Coppelia (New York, NY)
Sriracha and pork oatmeal
"I make a bowl of instant oats, add in rough-chopped Italian breakfast sausage, cilantro, fried shallots, soy sauce, Sriracha, and a poached egg. I eat my oatmeal like porridge when I don't feel like cooking. -- Gary Nguyen, Westbound (Los Angeles, CA)
The saltine omelet
"The cracker omelet -- it's a handful of saltines crushed and thrown into scrambled eggs with whatever random herbs and vegetables you have around. It's cooked until it's just set (also works with leftover spaetzle, cooked till crispy, and eggs dumped over). Usually I'll eat it with some kind of hot sauce or Sriracha, too." -- Patti Jackson, Delaware and Hudson (Brooklyn, NY)
Thai-style omelet
"My go-to is to make a Thai-style omelet stuffed with ground pork. I'll also add a little fish sauce, chili, kaffir, garlic, and cilantro to it, too." -- Leah Cohen, Pig & Khao (New York, NY)
And finally, muesli
"The great thing about muesli is you can make it the night before and it is ready when you wake up the next morning. Very easy to make also. You should have just a little bit more volume of the wet ingredients vs. dry ingredients. Stir together and place in a Mason jar, cover with a lid, and refrigerate overnight. Just before eating, I like to top with a little Greek yogurt and fresh berries." -- Jim Kyndberg, FireLake Grill House & Cocktail Bar, (Minneapolis, MN)
Sign up here for our daily Thrillist email, and get your fix of the best in food/drink/fun.