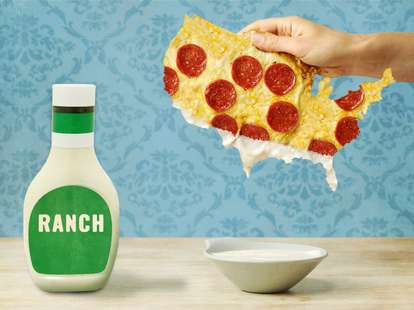 Evan Lockhart/Thrillist
Evan Lockhart/Thrillist
Why Americans Are So Obsessed With Ranch Dressing
Because America's too big and beautiful to confine its birthday celebration to a single day, America Week keeps the party going the way the founding fathers (well, at least Franklin) would have wanted.
Ranch dressing is as American as playing football with your hands, talking about temperatures in Fahrenheit, and going broke paying for college. Hell, if you leave the country and see something ranch-flavored abroad, it's often called "Cool American." Born just a few decades ago on a literal ranch and still not understood by the rest of the world, the white stuff started out as an obscure salad dressing and is now practically a way of life.
To call America a country obsessed with ranch is an understatement. By Hidden Valley Ranch's studies, at least a third of American households have some kind of ranch product in their house at any given time. People put it on everything from chicken fingers to Cinnamon Toast Crunch. There's even a company making ranch-flavored soda and an all-ranch restaurant in St. Louis. Europeans might still shoot us the side-eye over absurdly high drinking ages, but they're also missing out on the joys of the creamy, tangy, herb-flecked sauce that is one of America's most-craved condiments.
Americans can thank Steve Henson, a real life cowboy and the founder of the very real Hidden Valley Ranch, for their addiction. Born as Kenneth Henson in Thayer, Nebraska, life eventually led Henson to Alaska, where he was employed in 1949 as a plumbing contractor. It was there that he created his liquid gold: Henson would cook for his co-workers and started developing a buttermilk-based salad dressing in the process.
Eventually, he left Alaska and migrated south with his wife, Gayle, and the couple purchased a 120-acre ranch near Santa Barbara, California. They changed its name from Sweetwater Ranch to Hidden Valley Guest Ranch and began hosting tourists, who took in the natural beauty of the Santa Ynez mountains, rode horses, and ate plenty of Henson's unique buttermilk dressing made from a dry mix of garlic, onions, herbs, spices, and a bit of mayonnaise. The reaction? Guests were in love -- not with just the scenery, but also the salad. (Though the drinks may have helped. Rumor has it things got pretty wild back in the day at Hidden Valley Guest Ranch.)
It was tradition for Henson to send visitors home with a souvenir jar of dressing. Guests would frequently order even more dry seasoning packets via mail and demand became so large that in 1964, Henson began putting the packets on sale at Kelly's Korner, a grocery store in Santa Barbara. It quickly flew off the shelves, and it was obvious that ranch was a hit. Soon after that, the Hensons gave up the dude ranch business and dove into making the dressing full-time.
In 1972, Henson unloaded his cash cow by selling the rights to the brand and product to Clorox for a cool $8 million. It was the bleach company's idea to transform the dressing mix into a shelf-stable bottle of creamy dressing in 1983, launching a flavor revolution throughout the country. From there, it was a quick slide into crazy popularity, becoming a dip in the late '80s, and then, in 1992, overtaking Italian as the country's most popular salad dressing (where, according to consumer market information company NDP, it remains).
Henson, who died in 2007, was smart enough to trademark the "Hidden Valley Ranch Dressing" name, but failed to coin "ranch dressing." Oops. A number of forward-thinking companies glommed onto the phrase and started cashing in on the new star of the salad world. The combination of tangy buttermilk, herby dill, zesty alliums, and mustard became extremely profitable for everyone -- especially the snack industry. In 1986, only three years after the bottled dressing launched, Doritos released its iconic Cool Ranch flavor.
Considering ranch's viral success in America, it's surprising that the dressing has failed to take off in other parts of the world. It's not that the flavor combination lacks in global appeal. It's that Hidden Valley Ranch kept the dressing, well, hidden. Hidden Valley Ranch and its powerful parent company openly admit that it focuses all of its marketing efforts in the the US. The company doesn't really bother with marketing ranch elsewhere. And why would they? After all, a market where ranch is already in a third of all households is far easier to sell to. So, ranch mostly stays close to home, but there is a seemingly endless thirst for the dressing here.
Two years ago, Jim Hayden and Chad Allen found a way to channel their own love of ranch into a unique -- and uniquely popular -- enterprise: Twisted Ranch, an "all-ranch" restaurant in St. Louis that's been known to command lines as long as three hours.
Hayden claims that Allen was the driving force behind building a restaurant with 27 different flavors of house-made ranch dressing. "But it made sense," Hayden says of his first thoughts on the idea. And they were ideally located, since, as he says, "the Midwest is a bit heavy on ranch." Hidden Valley's sales figures confirm that: 17% of the company's sales -- which is the highest in the company -- come from the Great Lakes region.
"Our goal isn't to douse everything in ranch," Hayden says. But even he was surprised at how good the bloody mary with house-infused ranch vodka worked out and that the dessert experiments were enough of a hit to earn a permanent spot on the menu. "So many people put ranch on everything," says Hayden.
It's also a testament to just how deep ranch dressing devotion can run. It's something Hidden Valley Ranch marketing rep Jacquie Klein has seen first-hand from super-fan teenagers dressing up like bottles of the dressing, to reality TV star Stassi Schroeder tweeting her devotion with comments like "On my tombstone, I want 'ranch is bae.''
This year, the company even live-streamed a ranch fountain during Super Bowl Sunday as a marketing stunt ("a more delicious version of the Yule log," says Klein), and was inundated with requests from brides who wanted to get the fountain for their wedding. (It has since gone up for sale on Hidden Valley's website for just $89, but -- sorry, summer brides -- the ranch fountain is already sold out through at least July.)
While ranch is not immune to backlash -- the Washington Post once published a piece positing that "Ranch dressing is what's wrong with America," calling the dressing "revolting milk-rot" -- it's most definitely not going anywhere. If anything, ranch dressing is just getting started, says Klein. "It's relatively young as a flavor, if you look at the broader world of condiments."
This means there's much left to be explored when it comes to the world of ranch. Hidden Valley, like many other companies, plans to keep figuring out new ways to use the dressing. In recent years, they've expanded their line to include new flavors like cucumber and Sriracha -- ensuring that America remains one nation, under ranch, with dressing and dips for all.
Sign up here for our daily Thrillist email and subscribe here for our YouTube channel to get your fix of the best in food/drink/fun.

Naomi Tomky is a freelance food writer who believes ranch's highest purpose is as a better dip for mozzarella sticks than marinara. Follow her edible adventures on Twitter @Gastrognome and on Instagram @the_gastrognome.