7 American Barbecue Styles You're Insane for Overlooking
For years, pitmasters outside of Texas turned a blind eye to the glory of an immaculately smoked brisket. Now brisket's the darling of the BBQ world, which leaves room for more lesser-known regional BBQ delicacies to jump into the low-and-slow limelight. These seven old-school meats deserve new-school attention. Come for the mutton, stay for the white sauce.
Pit beef
Maryland
Most people would think Baltimore was a little too close to the Mason-Dixon line to develop a barbecue style of its own, but when it comes to cooking beef, the city's doing its own thing. Low-and-slow naysayers might call it a glorified roast beef sandwich, but anyone who's eaten one can tell you that there's absolutely nothing wrong with that description. Hunks of bottom round or top roast soak up a light hint of smoke from the open fire below, then are sliced thin and piled onto kaiser rolls topped with raw onions and a horseradish/mayo mixture referred to as Tiger Sauce, which has nothing to do with Charlie Sheen.
Mutton shoulders
Kentucky
In an introduction to Kentucky 'Q for the Southern Foodways Alliance, BBQ scholar Wes Berry coined the phrase "mutton tree" to describe the area in Western Kentucky where pitmasters have perfected the art of softening what's traditionally a tough and gamey meat. The practice came about thanks to a surplus of older sheep, and although it used to be the norm to roast the whole animal, these days the shoulder is the preferred cut. The method is a low-and-slow smoke for anywhere from 12 to 18 hours, with regular bastings of Worcestershire- and vinegar-based marinade to keep the meat moist and flavorful.
Smoked bologna
Tennessee and Oklahoma
Poetically known as Oklahoma prime rib or Tennessee tenderloin, make no mistake that if this dish had a first name it'd most likely be Oscar. For a hearty, cheap upgrade to traditional deli sandwiches, BBQ joints in Tennessee and Oklahoma are known to throw a log of bologna on the smoker for an hour or so, slice it, and serve it on a sandwich topped with mayo and slaw.
Dan Gentile/Thrillist
Crispy snoots
St. Louis and Kansas City
If you've got a nose for unusual cuts of meat, pig snoots might just be up your alley. The St. Louis (and sometimes Kansas City) specialty features pig noses cooked to a crunchy consistency similar to pork rinds, then mops them in sauce. You can also find the snoots boiled, but the crispier version is more widespread because it's much harder to love a runny nose.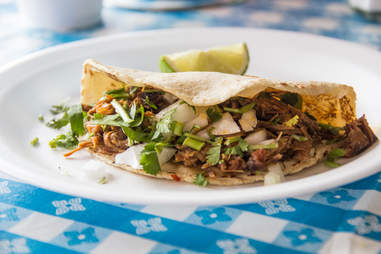 Dan Gentile/Thrillist
Barbacoa
Texas
Texas has been borrowing from Mexican cuisine ever since it flew its flag in the early 1800s, and one of the most savory appropriations is certainly barbacoa: tender beef or goat head meat that's traditionally cooked in a hole in the ground covered in smoldering wood. It's a rarity to find barbacoa cooked in this old-school, health department-enraging fashion, but the stringy, tender texture's easily recreated using an oven or smoker. It's usually served on a corn tortilla dressed with cilantro, onions, and hot green salsa.
Joshua Lurie/Thrillist
Grilled tri-tip
California
Sticklers for the dichotomy between grilling and barbecuing might scoff at the tri-tip, but the tasty steak-like cut deserves serious national attention. Originated in the Santa Maria Valley in the 1800s when a butcher innovated a new approach to slicing sirloin, the meat's typically rubbed in salt, pepper, and garlic pepper, then grilled over an open flame of red oak. If you're aiming to cook it at home, tri-tip can be tough to find outside of California, but it's quickly earning a rep as a money-saving butcher cut.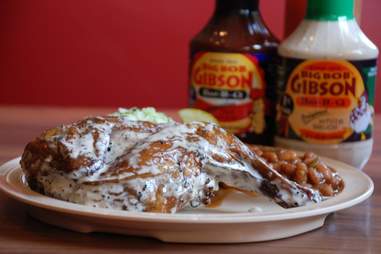 Big Bob Gibson's
Chicken in white sauce
Northern Alabama
Although smoked-meat fanatics have certainly heard of Big Bob Gibson's in Decatur, the general public's still in the dark when it comes to his signature white sauce. Big Bob turned toward the light back around 1925 when he began smoking chicken in a pit in his backyard and smothering it in a creamy mayo-based sauce with touches of lemon and vinegar, but for no good reason at all this style still hasn't taken its proper place on mainstream barbecue menus alongside Texas brisket and Memphis ribs. As such, it's still one of the few major styles that's severely underrated, but if Big Bob's trophy case of competition wins is any indication, the rest of the country should start paying more attention. 
Dan Gentile is a staff writer at Thrillist. He personally has severely overlooked any pork-based barbecue, and is perfectly okay with that. Follow him to Texas forever at @Dannosphere.