Most hot sauce addicts already have a preferred poison, but a true Scoville junkie is always looking for a new fix.
To offer a few alternatives to mainlining Sriracha or huffing Frank's, we visited the Tears of Joy Hot Sauce Shop in Austin, Texas and had their staff pick out seven little-known hot sauces that could pucker the palate of even the pickiest sauce fiend.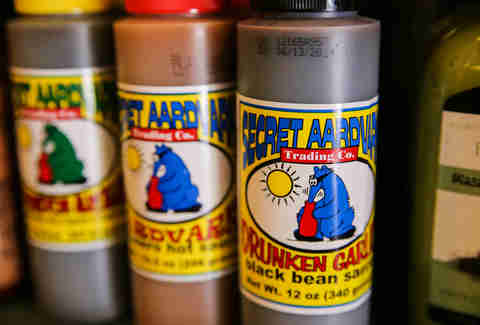 Secret Aardvark Drunken Garlic Black Bean Sauce
With a name like Secret Aardvark, you're either a comic book villain or were born to celebrity parents. And while it will certainly antagonize your thirst, this whiskey-spiked sauce outta Portland -- along with its hugely popular habanero counterpart -- is served on the table of over 100 fine local establishments, but rarely seen in cities that don't have excellent bicycle infrastructure.
Pain is Good Habanero Garlic Salsa
An imprint of Kansas City hot sauce titans Original Juan, the small batch Pain is Good line is composed of well-balanced, but seriously masochistic sauces ranging from Habanero Garlic Salsa to Sweet Caribbean Jerk Screamin' Wing Sauce.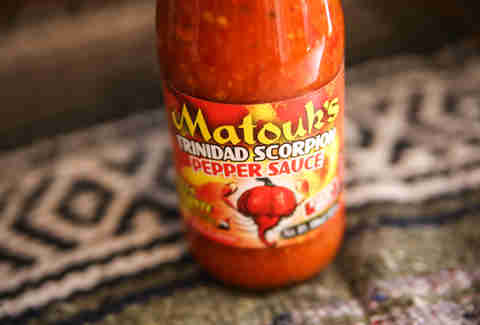 Matouk's Trinidad Scorpion Pepper Sauce
Replacing the brand's West Indian Flambeau as the spiciest in their line, the Trinidad and Tobago-based company's Scorpion Pepper Sauce will obliterate your spice tolerance, but, unlike many dangerously-hot sauces, it doesn't take a scorched earth policy when it comes to flavor.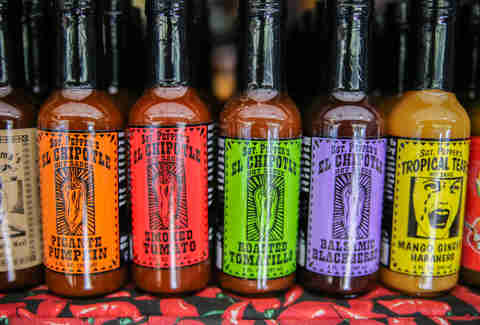 Sgt. Pepper's El Chipotle Picante Pumpkin
With a serious local rep for sweeping the Judges' Awards at the yearly Austin Chronicle Hot Sauce Festival, Sgt. Pepper's pumpkin variety offers a unique flavor profile that spans both the creamy and smoky ends of the spice spectrum.
Reaper Sling Blade
In late 2013, the Guinness Book of World Records pronounced Smokin' Ed's Carolina Reaper as the hottest pepper in the world. You should definitely fear the Reaper, because even when cut with vinegar, lemon juice, and tomato paste, as soon as the 1.5mill Scoville units hit your pearly gates, they'll send you straight to hell.
Pickapeppa Sauce
One of the only pickled options on the hot sauce market, this liquid fire is so popular in the Caribbean that it's referred to as Jamaican ketchup, a term that previously referred to back-up harmonies from the I Threes. The peppers and other ingredients (including cane vinegar) spend a year inside oak barrels before getting bottled and shipped to discerning sauce shops around the world.
Tears of Joy Tequila Lime Hot Sauce
The hot sauce shop Tears of Joy originally opened as a tamale restaurant in '93, before converting into a storefront after their sauces eclipsed the tamales in popularity. Now, they crank out a slew of fiery liquids, ranging from the habanero August in Austin to specialty batches for local musicians like metalheads The Sword. Their matriarch recommended her own specialty: a sweet tequila-lime hot sauce that won't destroy your taste buds, though, if you run out, it'll certainly break your heart.
Dan Gentile is a staff writer on Thrillist's national food and drink team. He puts Sriracha on everything, including this bio. Follow him to more breaking of fourth walls at @Dannosphere.