Lee Breslouer/Thrillist
Lee Breslouer/Thrillist
Microwaveable TV dinners are everyone's favorite because they're cheap, delicious, and made to be eaten while watching Catfish with tight terry cloth shorts on. But with so many options in the freezer aisle, it's impossible to know which TV dinners are tasty, and which ones shouldn't even be eaten by a super Hungry-Man. So we snapped up nine cheap, popular frozen food options from the grocery store and taste-tested them all to find out.
TV Dinner: Banquet's Meat Loaf Meal
Price: 88 cents
How Does the Box Describe It? "Good Source of Protein"
Ingredients: Pork, beef, gravy, mashed potatoes, corn
Nutritional Info: 250 calories, 11g fat, 930mg of sodium (39% of your daily value)
Tasting Notes: Hey, what's a dog doing eating this? Turns out that Carmen was the only one who happily ate this microwaveable sadness. It smelled like the garbage can in a prison cafeteria, and not on Taco Tuesday. One of our tasters commented that "the meat was squishy like a gummy worm," so pass them out to trick-or-treaters who come to your door this Halloween! At 88 cents a pop, it's practically the same price as a Hershey bar, but it has the added benefit of making the trick-or-treaters' parents extremely weirded out.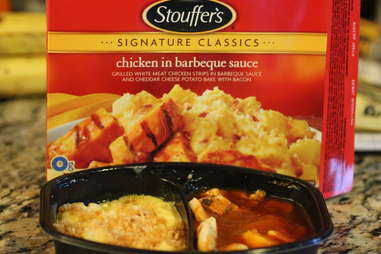 TV Dinner: Stouffer's Chicken in Barbeque Sauce
Price: $2.00
How Does the Box Describe It? "0g of trans fats" and that it was "Inspected for Wholesomeness by the USDA"!
Ingredients: Cooked white meat chicken, potatoes, ketchup, skim milk, cheddar cheese
Nutritional Info: 430 calories, 17g fat, 970mg of sodium
Tasting Notes: The breadcrumbs on top of the potatoes weren't half bad, but the cheese tasted like it was straight outta 7-Eleven, and the chicken was covered in a taste bud-destroying ketchup-vinegar substance that seems like it was made by the Devil himself, but was most likely just made by a very nice person at Stouffer's.
TV Dinner: Hungry-Man Selects Classic Fried Chicken
Price: $2.59
How Does the Box Describe It? "Tender white and dark chicken portions with homestyle mashed potatoes and sweet corn. Includes a chocolate brownie!" and the creepy catchphrase, "Satisfy your craving!"
Ingredients: Cooked chicken, potatoes, ketchup, skim milk, cheddar cheese
Nutritional Info: 970 calories, 59g fat (91% of your daily value!), 20g saturated fat (100% of DV!)
Tasting Notes: Our hats go off to Hungry-Man for actually including identifiable pieces of chicken in their meal, and we also give a thumbs up to the best-tasting potatoes of the bunch. And while we were super-excited to eat the moist-looking brownie, eating it was more like licking dry Swiss Miss powder. We still finished it though, because JOURNALISM!
TV Dinner: Marie Callender's Country Fried Pork Chop & Gravy
Price: $2.77
How Does the Box Describe It? "Breaded pork chop with cheddar-topped mashed potatoes, homestyle gravy, and cinnamon glazed apples" and it has only "460 Delicious Calories!"
Ingredients: Chopped and formed pork chop, rehydrated potato flakes and granules, butter, apples, cheddar cheese, roux
Nutritional Info: 460 calories, 19g fat (29% DV), 1060mg sodium (44% DV)
Tasting Notes: Eating the pork was like chewing on one of those red rubber balls you played with as a kid, and the apples were a lot like eating green apple Jolly Ranchers. The worst part was that it made one taster salivate similar to the way you would before vomiting. If we could go back in time and not spend the $2.77 on this, we would. We'd also do other more important stuff, too, though.
TV Dinner: Lean Cuisine Wood Fire Style BBQ Recipe Chicken Pizza
Price: $2.00
How Does the Box Describe It? "White meat chicken, red onions, cilantro, reduced-fat mozzarella cheese, and a tangy BBQ sauce on a thin crust," plus a warning to "COOK THOROUGHLY"
Ingredients: Mesquite-flavored white meat strips, white pasteurized/processed cheese, onions, tomato paste
Nutritional Info: 340 calories, 7g fat (11% DV), 400mg sodium (17% DV), 20g protein
Tasting Notes: Our favorite dinner out of everything we tasted, the crust was deliciously crunchy, the chicken fell apart in your mouth "like it's supposed to," and the BBQ sauce tasted like actual BBQ sauce that you might buy in a supermarket, and not like it was made in some weird super-lab by food scientists.
TV Dinner: Healthy Choice's Lemon Pepper Fish
Price: $2.59
How Does the Box Describe It? "Breaded white fish with whole grain rice pilaf, broccoli, and caramel apple dessert"
Ingredients: Pollock, cooked brown and wild rice, apples, broccoli, brown sugar, red bell peppers
Nutritional Info: 330 calories, 4g fat (6% DV), 530mg sodium (22% DV), 14g protein (20% DV)
Tasting Notes: After ingesting so many rubbery meats and artificial flavors, it was a relief to consume fish that actually tasted like well-seasoned fish! Well, for some of us. One taster just had "that fishy taste." Gross. More bad news: the rice was undercooked, and the apples were so caramel-y, they tasted like they were grown on a farm in the board game Candy Land. But all that for only $2.59? That's a steal.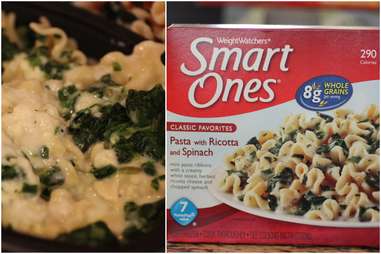 TV Dinner: Smart Ones Pasta with Ricotta and Spinach
Price: $2.19
How Does the Box Describe It? "Mini pasta ribbons with creamy white sauce, herbed ricotta cheese, chopped spinach"
Ingredients: Cooked enriched pasta product, cream sauce, ricotta cheese blend, spinach
Nutritional Info: 290 calories, 6g fat (9% DV), 570mg sodium (24% DV), 14g protein
Tasting Notes: It says something that the one WITHOUT any rubbery meat was the worst of the bunch. But this clumpy cheese'd gross mess made us wish for another helping of rubbery Banquet meat.
TV Dinner: Healthy Choice Top Chef Inspired Barbecue Seasoned Steak with Red Potatoes
Price: $2.79
How Does the Box Describe It? "Beef with roasted potatoes, vegetables, and uncured bacon in a whiskey BBQ sauce"
Ingredients:Tom Colicchio's approval Roasted potatoes, cooked beef and binder product, corn, red and green bell peppers, onions, BBQ seasoning, whiskey, salt
Nutritional Info: 330 calories, 6g fat (9% DV), 550mg sodium (23% DV), 20g protein (25% DV)
Tasting Notes: Ahh, remember the days when prizes on Top Chef were furnished by Healthy Choice? You can taste the corporate synergy in every bite, as well as in the beef, which required you to chew it -- like real beef does! It almost makes up for the whiskey sauce (which Gail Simmons would totally hate on), as it made us want to drink an entire bottle of whiskey to erase the taste from our mouth.
TV Dinner: Boston Market's Chicken Alfredo with Fettuccine and Broccoli
Price: $3.34
How Does the Box Describe It? "Chicken white meat with a creamy alfredo sauce and tender fettuccine with broccoli"
Ingredients: Cooked enriched macaroni product, cooked chicken breast strips, broccoli, alfredo sauce
Nutritional Info: 470 calories, 17g fat (26% DV), 9g saturated fat (45% DV), 1080mg sodium (45% DV), 29g protein
Tasting Notes: You'd be right to ask what the four horsemen of the apocalypse are doing in the same photo as chicken alfredo. All we know is that as we tasted this, the four horsemen appeared. That's bad, right?
Sign up here for our daily Thrillist email, and get your fix of the best in food/drink/fun.