10 Regional American Burgers You Should Be Grilling All Summer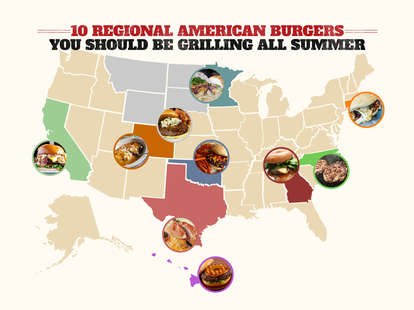 Think burgers are boring? If you do, you probably haven't tried any of these regional varieties, all of which deliciously re-imagine a zeitgeist-y American meal. You don't have to pack the car for a taste of Colorado or California. Just get your grill, and get ready to never see burgers as basic ever again.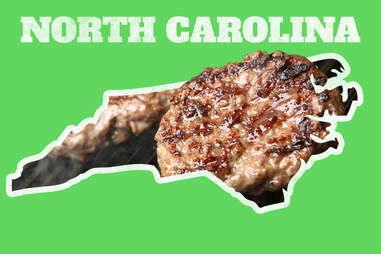 1. The No-Burger
WHERE IT'S FROM: North Carolina.
THE SKINNY: AKA: Breaded Hamburger, Old Fashioned. A Depression-era creation, the no-burger was the Appalachian answer to scarce meat supplies. To make it, you take a blend of ground beef, mix in crumbled cookie biscuits and some day-old bread, and then cook the patty; it's served sans-bun.
2. Luther Burger
WHERE IT'S FROM: Georgia.
THE SKINNY: This burger calls for glazed donuts in lieu of one or both buns; it has 1,500 calories. While its true origin is disputed, that the burger was named for singer/songwriter Luther Vandross is a popular speculation. It's thought Luther either loved it or invented it or both. No matter its origins, the Luther Burger is popular throughout the South at State Fairs, and was featured in an episode of the Boondocks called "The Itis."

3. Juicy Lucy
WHERE IT'S FROM: Minnesota
THE SKINNY: In true Midwestern fashion, this here burger is stuffed with molten cheese, probably very politely. Two bars in Minneapolis (Matt's Bar and the 5-8 Club) both claim to have invented it. As long as the pair keeps those cheesy patties coming out hot and gooey, we're staying out of it. (Unless one of them starts calling their city "the Mini Apple," then we'll take sides.)
4. Butter burger
WHERE IT'S FROM: North Midwest US.
THE SKINNY: Unsurprisingly, butter is a main patty ingredient, unless it's spared until the end, when a big chunk of butter is left to melt atop the patty.
5. Slopper-burger
WHERE IT'S FROM: Colorado.
THE SKINNY: This burger comes well-soaked in either red chili, green chili, or chili sauce, and topped with white onions and french fries. Unlike NY pizza, it's no crime to eat this treat with a fork and knife. Additionally, this spicy foodstuff starred in a Travel Channel show called Food Wars (of course), in which five restaurants from Pueblo, CO (where the S-b was invented in the '70s) competed to determine who served the top Slopper.

Different parts of America might have different takes on the burger, but there's at least one addition that's universally welcome: TABASCO® Sauce. And while you're grilling up countrywide flavors, why not take it a step further, and whip up a world-colliding burger, like this here Vietnamese/American mashup.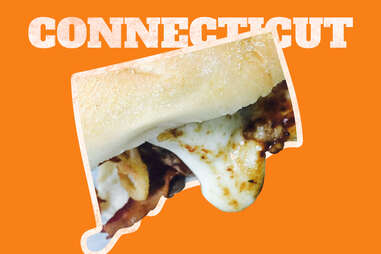 6. Steamed Cheeseburger
WHERE IT'S FROM: Connecticut.
THE SKINNY: These require you to cook the burger patties in water vapor, which you can do on a grill if you pour water onto the patty and wrap it loosely in aluminum foil, along with some h20-saturated vegetables. Served at room temperature.

7. Hawaii burger
WHERE IT'S FROM: Hawaii, duh.
THE SKINNY: A tropical take on the burger, slathered with teriyaki sauce and topped with pineapple and sometimes bacon.

8. San Antonio Bean Burger
WHERE IT'S FROM: San Antonio, Texas (double duh).
THE SKINNY: This burger comes topped with refried beans, Fritos, Cheez Whiz, and white onions.
9. Theta Burger
WHERE IT'S FROM: Oklahoma.
THE SKINNY: It comes topped with hickory BBQ sauce, mayo, shredded cheddar, and dill pickles. This burger began in the 1930s, as a creation of the University of Oklahoma's Kappa Alpha Theta sorority. Rather than whip up the dish themselves, they'd order it from a joint called Town Tavern. Eventually, after many, many orders, the spot just added Theta's hedonic hamburger order to their menu, and named it after them.
10. 50/50 burger
WHERE IT'S FROM: California.
THE SKINNY: As its name suggests, the 50-50 burger has two parts: it's a ½ bacon and ½ beef burger patty, first developed by Scott Slater for Slater's 50/50 Restaurant. It's crowned with a sunny-side up egg, avocado mash, pepper jack cheese, and chipotle adobo mayo, all held together by a white brioche bun. More recently, Slater invented a half-kangaroo meat, half-bacon burger, which is said to be tasty, lean, and weird.