9 impressively old restaurants you need to eat at before they turn into an Arby's
If a restaurant is older than your grandparents, odds are that it smells much better than they do. And as awesome as it is to hit up the hottest spots to open in, say, New York this Summer (hint hint!), it's also important to respect their elders. Here are 10 of the oldest restaurants in the country that you absolutely must visit before they kick the proverbial bucket full of whatever food they used to put in buckets in the early 1900s.
In the late 1800s, people carried around these fragile little smoking vessels called churchwarden pipes. Keens Steakhouse in NYC (open since 1885) is so old that not only do they remember said pipes, but they have examples smoked by patrons like Winston Churchill and Babe Ruth displayed all over the restaurant. Over their 130yr history, the 36th St institution has poured Scotch for everyone from J.P. Morgan to Buffalo Bill, has served up a delicious mutton chop, and is still cutting prime rib that's almost as thick as Star Jones's blazers.
The Old Ebbitt Grill in DC has been across from the White House since back when James Buchanan trounched Millard Filmore. The upscale DC institution, known for "American saloon food", has been open since 1856 and was a fave of everyone from Ulysses S. Grant to Teddy Roosevelt, who, according to legend, hunted the very animals whose taxidermied busts adorn the bar to this day.
Lockhart is the epicenter of Texas BBQ and Black's is the oldest joint in town, operated by the same family since 1932 -- and they still smoke some of the finest brisket in the state.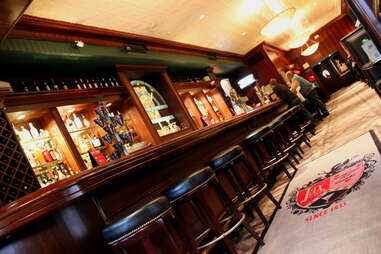 Seeing themselves as steak-setters, not trend-setters, the folks at Jax Cafe in the Twin Cities have been dishing out classic fine-dining fare since 1933 (from a building they constructed themselves in 1911!) and are still racking up accolades, like entry into the Minnesota Restaurant Association's Hospitality Hall of Fame and a Beef Backer Award (great award) for outstanding meat preparation. And, despite their historic rep, they're not afraid to innovate with special dinners featuring bizarre foods like rattlesnake cakes.
To celebrate their 175th anniversary, NYC's Delmonico's Kitchen (open since 1837) opened a Midtown branch, but the original Beaver St location is still dishing out a style of rib-cut steak that has its own Wikipedia entry, as well as other original-but-now-ubiquitous creations like eggs Benedict and Baked Alaska.
A favorite of Revolutionary War reenactors and non-weirdos alike, Newport, Rhode Island's White Horse Tavern has been open since the days of the British Colonies (1673, to be exact). Back in the day, it functioned as not just a bar, but also a meeting place for the City Council, General Assembly, and Criminal Court. These days, they pay homage to their historic past with a serious of heritage dinners themed around whiskey, pork, and wine.
New Orleans culture is steeped in tradition, and it doesn't get much more traditional than Antoine's. Just off Bourbon St, Antoine's claims to be the birthplace of oysters Rockefeller (named for its filthy rich flavor!) and boasts a complete recreation of their 1840 private dining room, featuring ephemera like cookbooks dating to the 1600s.
A happy accident by the founder of Los Angeles institution Philippe The Original resulted in the #50 greatest sandwich of all time: the French dip. Just like back in 1908, this joint is still a cash-only affair, and sticks to an old-school serving system based around 10 "carvers" who'll sculpt you a near-perfect sandwich.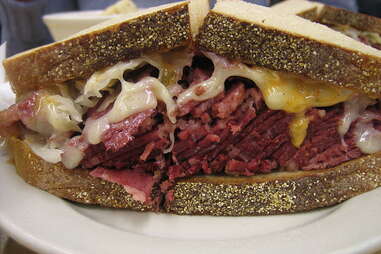 Originally known as Iceland Brothers, then Iceland & Katz, and finally Katz's Delicatessen, this NYC sandwich shop has been a Lower East Side institution since 1888, thanks to perfectly smoked pastrami, 30-day dry-cured corned beef, and last remaining Jewish waiter who is really, really grumpy.