15 Reasons to Quit Your Job and Make Cheese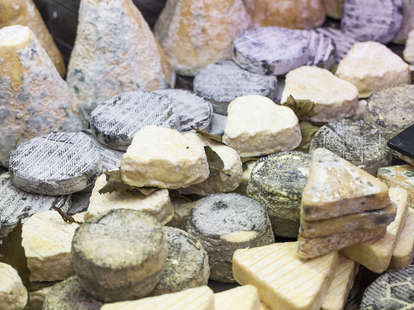 We set out with a very clear mission, salute the hardworking dudes and gals who create one of the greatest culinary gifts mankind ever invented: cheese. Yet once we started interviewing pros from every school of fromagerie, we realized we didn't just want to salute them... we wanted to be them. Why? New York City cheese caves, classes in abandoned French subway tunnels, and DNA sequencing are just a few of the shockingly crazy stuff cheese makers get into. So read on and discover why Roquefort wranglers deserve plenty of respect and maybe even more envy.
1. You want to live on a small farm with lots of cows
It's a beautiful dream, but producing milk isn't going to get you there, as Andy Kehler and his brother Mateo learned in 1998 when they bought the 213-acre plot of land in Greensboro, Vermont, that now houses Jasper Hill Farms. That same year, 30 percent of Greensboro's dairy farms shut down. "The dairy economy is brutal," says Andy. "Cows are very expensive to maintain. You have zero control over what's going to happen in Russia or New Zealand, the global factors that affect national milk processing. And here in Vermont, we only get about 90 days between frosts." Basically, Vermont is Norway, so the brothers had to...

2. But you actually want to run a business
...figure out a way to "make a decent living, send our kids to college, pay for retirement, to make sure the farm could support the current generation and the next one," continues Andy. The way was cheese. A company that started in 2003 as two guys hand-packing and loading onto FedEx trucks twice a day, seven days a week (with zero days off for 18 months), now boasts 43 employees and rakes in $8 million-a-year. That is also a lot of cheese.
3. You own a cave but are not Batman
Not everyone wants to flee civilization for a rural town of 66. But that doesn't mean you can't work in cheese. Brooklyn-based Benton Brown and his wife, Susan Boyle, were looking for a property to renovate when they stumbled upon a 14,000-square-foot, 19th-century brewery, dilapidated and covered in graffiti, in Crown Heights. They converted the building into a complex of eco-friendly residential and commercial lofts. But one space, they couldn't figure out how to use: a labyrinth of lagering tunnels 30 feet underground. "Our friends were weighing in with ideas from bars to archery [Editor's note: wtf?]," says Brown. "But I said, 'This really seems like the place for cheese.'"
"We used to describe cheesemaking like being a god, but blind and dumb."
4. You don't even want to make cheese! And you hate farms!
Cheese agers, or affineurs, buy fresh cheese from producers and age it in their own facilities, then sell it to a hungry urban market. "It's an old French model of aging cheese in the city," Brown says. It took three years to refurbish one tunnel, but Crown Finish Caves was finally born in the spring of 2014. "If all goes well, and it's leaning in that direction, we'll take over another tunnel, then another, and then we'll have 100,000 pounds of cheese under the street here," says Brown. "A gigantic cheese lair."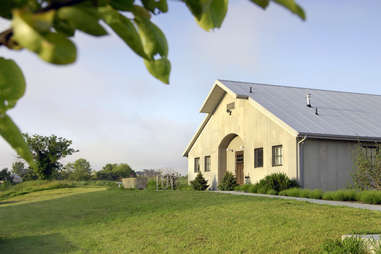 5. You enjoy travel
You'll hopefully head to Europe to hawk product at events like the annual Bra and Slow Food Cheese Festival in Italy's Piedmont region (referred to among the fromageratti as simply "Cheese"). Andy Kehler cites his own Continental connections as one of the cooler, more surprising aspects of the job. "For a company that always just expected to be milking cows and making cheese in our really small community, to visit producers in the mountains of France or collaborate with third-generation affineurs there is amazing."

6. And you'll finally do that study abroad thing
The French are shockingly welcoming. Brown studied with Hervé Mons, a celebrated cheesemonger who runs an affinage operation in some renovated Parisian train tunnels. Hopefully he also met Vampire Antonio Banderas.

7. You believe the world can be united by cheese
The challenges that globalization places on all of them -- Kehler notes that only two farmstead Camembert producers are left in France, the rest having been snatched up by giant multinationals -- have fostered a spirit of bonhomie rather than antagonism. "You'd think there would be competition, because there's only so much room in the cheese game," Andy says, "but ultimately we're all fighting for the same thing." Vive la cheesistance!
8. You're a science nerd
The process of turning milk into cheese is unquestionably scientific. Raise the temperature of the milk you're working with by as little as a half-degree for just a few minutes, for example, and you'll totally change the texture and taste of your final product. Perfect for anyone who put "20x Microscope" on his bar mitzvah wish list.

9. And you want to make beautiful art
But there are creative aspects to the job, too -- playing with different washes on the rinds, mixing in different flavoring agents, and constantly tasting, touching, and smelling. There's a sensory experience that you just wouldn't encounter working in a lab (we really hope).
10. Or you want to merge the two in beautiful harmony
Brown, who was a sculptor before he became a cheese producer and has welded much of the stainless-steel equipment housed in his cheese cave (that never gets un-amazing), recognized the kinship between the two worlds right away: "We're growing molds and bacterias and yeasts and creating these interesting, unusual products." The art part? "Then you have these different retail shops, which are kind of like galleries showing your work." And your work is allowed to totally stink!

11. You're covered if you're into design too
California's Cypress Grove created a cheese box that's like its own little aging room, so the cheese is perfectly handled by the time it gets to the end user. In fact, it maybe gets a little better.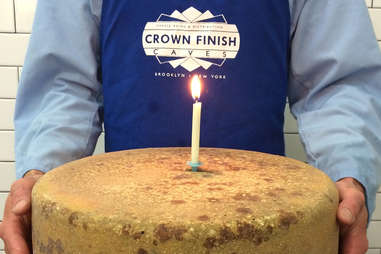 12. You have a messianic complex
"We used to describe cheesemaking like being a god, but blind and dumb," says Kehler. Now thanks to advances in technology, producers are learning more and more about the microbiology of cheesemaking -- and how much power they have. "Until the last couple of years, making cheese was like magic," Kehler says. "You start with milk, you add some foo foo dust, you make cheese." Ah, yes, delicious foo foo dust.

13. You can live Jurassic Park fantasies
Cheese makers can run milk or cheese through a DNA sequencer and find out exactly what genes are present. No one is, uh, exactly sure how to put the information to use yet -- "so we're not blind, but we're still dumb," Kehler says -- but it's a shiny new weapon in the arsenal.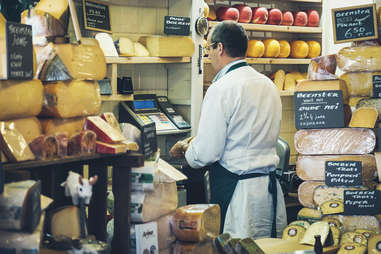 14. You want to follow your dreams -- literally
The first soft-ripened goat cheese in the United States, Humboldt Fog, an airy, creamy-white bite that's bisected by a line of midnight-blue ash, came to creator Mary Keehn in a dream. She started in her kitchen and now has 65 employees and probably keeps a really comprehensive dream journal.

15. You really, really like eating cheese
Andy Kehler estimates he eats upwards of 200 lbs. of cheese a year for his job alone. And he still likes it enough to eat it at home regularly -- Kehler just brought eight pounds of European cheeses back from the Italian cheese festival… which has to be some kind of delicious, delicious customs violation.
Sign up here for our daily Thrillist email, and get your fix of the best in food/drink/fun.